This is the easiest way to cook bacon and it results in nice, flat, crispy pieces of bacon every time! No more messy skillets or grease burns while slaving over the stove.
Bacon is definitely a favorite food in my family. Some of our favorite bacon recipes include Crockpot Cheesy Bacon Dip and Healthy Chicken Broccoli Casserole with Bacon!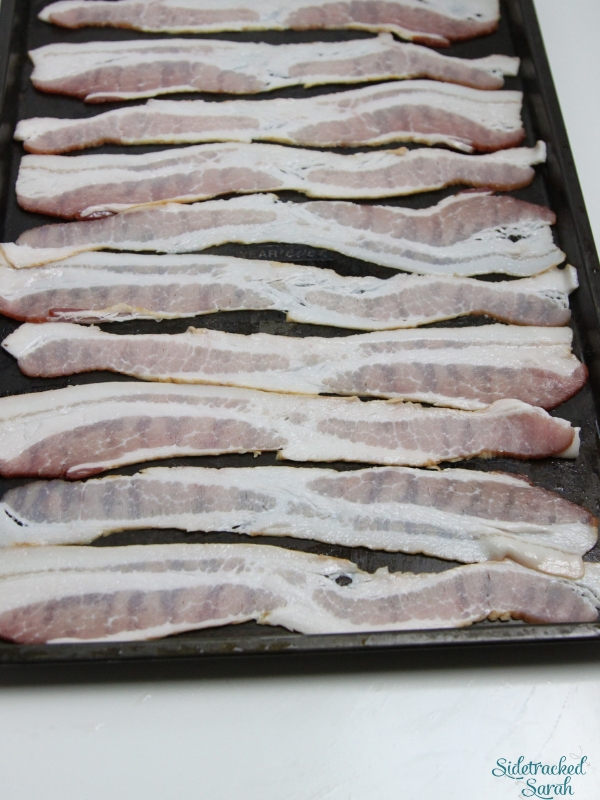 HOW TO COOK BACON IN THE OVEN
Bacon is a favorite food for so many people, but it's so easy to over or undercook it. If you're looking for a way to cook as much or as little bacon as you need (and get it right every time), you're in luck!
Cooking bacon in the oven is such a fantastic time and energy saver. No more having to babysit the bacon to make sure it's not raw or burnt to a crisp!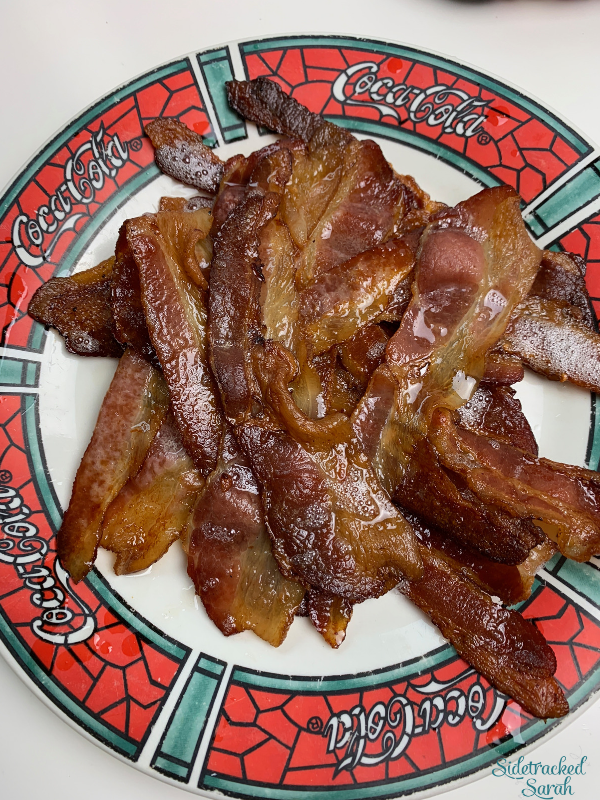 DOES THE BACON REALLY STAY FLAT IN THE OVEN?
As much fun as the curly little pieces of bacon can be, I much prefer the crispy, flat pieces. They're so much easier to cook with and are a lot easier to serve and eat.
When you cook bacon in the oven, the heat surrounds the bacon instead of hitting it from only one angle (i.e., the bottom of the skillet). Because of this, the bacon cooks evenly and the pieces stay flat while they crisp up!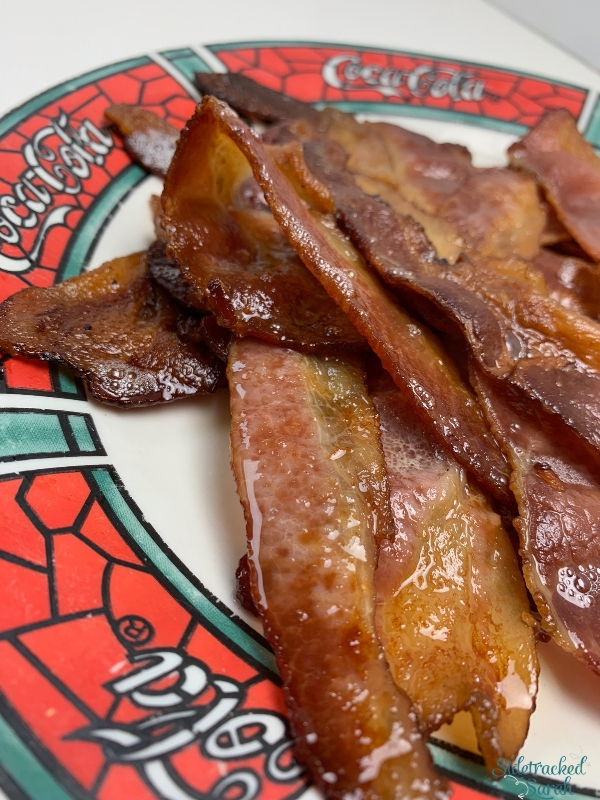 IS THERE A LOT OF CLEANUP WHEN YOU COOK BACON IN THE OVEN?
Seeing the greasy mayhem that can happen when cooking bacon in a skillet, this is a great question! It's also one of the reasons I love this method. The cleanup is so easy!
Because the bacon is cooked easily and a bit more gently, there really is no grease spatter to clean up. Just clean the pan as usual and you're good to go! I usually tip the cookie sheet over a bowl or cup to let it accumulate.
CAN I COOK BACON IN THE OVEN TO FREEZE FOR MEAL PREP?
You definitely can! Because you can cook a large quantity of bacon at the same time (with little to no mess), this is a great method to use for meal prep. You can just cool the bacon, wrap it up and freeze it, and then pull out what you need whenever you need it!
If you prefer to chop the bacon into smaller chunks or bacon bits before freezing, that's fine too! Just freeze it in an airtight container or freezer bag and take out whatever you need. Have fun!
WANT MORE EASY BACON RECIPES TO TRY?
How to Cook Bacon in the Oven
Instructions
Preheat oven to 400 degrees

Place bacon on 2 cookie sheets or broiler pans (to catch the grease), making sure that no pieces are touching or overlapping.

Cook for about 10-15 minutes, then flip and cook for another 10-15 minutes (or until desired crispiness).

Place on paper towel to remove as much grease as possible.
Notes
The results are nice and flat, crispy pieces of bacon.
MADE THIS RECIPE?

Show me what you made on Instagram or Facebook and tag me at @sidetrackedsarah or hashtag it at #sidetrackedsarah.