Crock Pot Italian Sausage & Peppers is a Simple and Delicious Recipe for Lunch, Dinner, or Entertaining!
We love Crock Pot recipes! Some of our favorites include Slow Cooker Honey Barbecue Brisket and Crock Pot Philly Cheese Steak Sliders!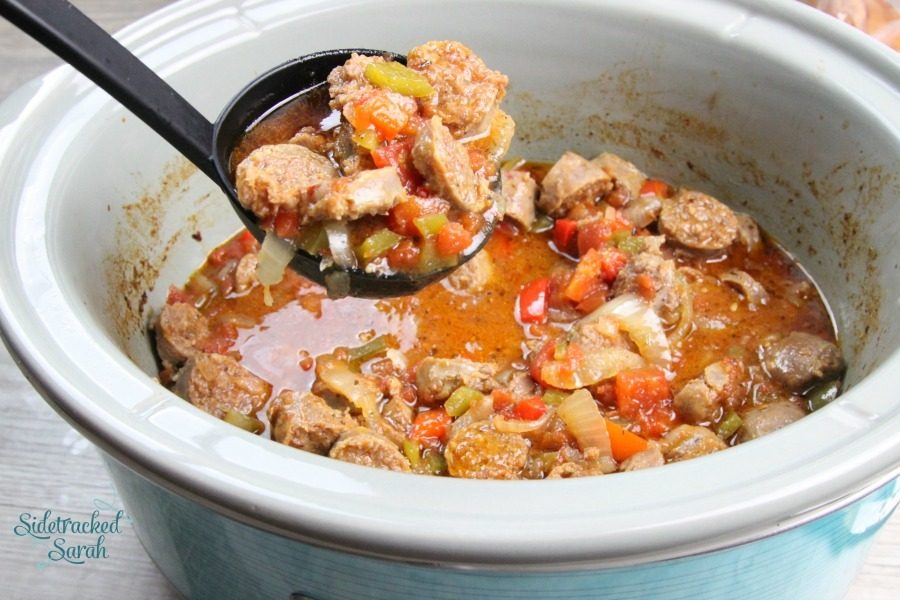 CROCK POT ITALIAN SAUSAGE & PEPPERS
Crock Pot Italian Sausage & Peppers is one of those meals.  Either you'll love it or you won't. For me, it's a huge win, because…. it's so easy to make, it tastes incredible, and it's a perfect fit for so many occasions!  People who don't like Italian sausage though, they may decide it's not for them.   Also, it can be a little on the spicy side, so if you or your kids don't love spice, this isn't for you without making a few modifications.  I'll share more about those a little further down in this post.  
This recipe is so easy to make in the crock pot! It's a great choice for those days when you want something warm and comforting but don't have a lot of time to prep.  I just threw the sausages in, without chopping them, and then when it was time to serve, I pulled them out and chopped them into coin sized, bite-sized pieces.  It just saved time that way.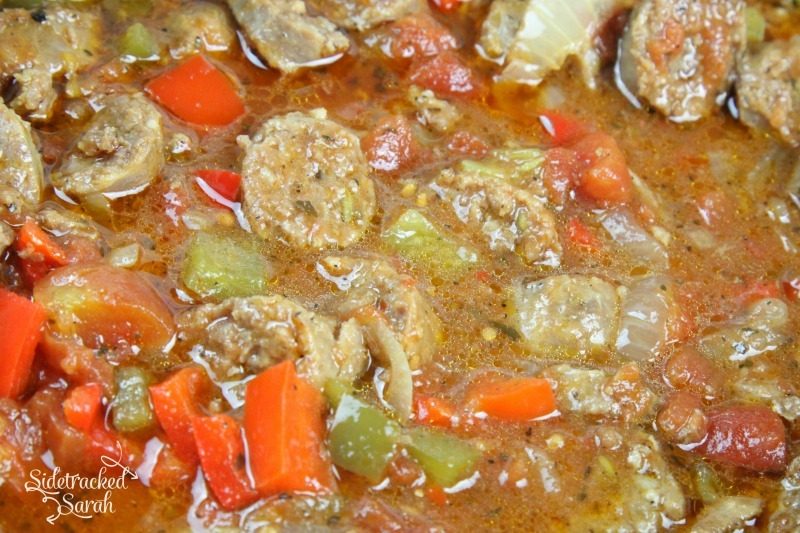 DO I NEED TO ADD ANY EXTRA LIQUID TO THIS CROCK POT ITALIAN SAUSAGE & PEPPERS RECIPE?
With a lot of crock pot recipes, it's good to add some extra liquid. With Crock Pot Italian Sausage and Peppers, you don't have to! The vegetables will give off liquid as they cook down. The end result is a wonderful, flavorful mix!
Of course, if you want to add a bit of broth for extra depth of flavor, feel free! It's completely optional, though. Either way, it's just plain yummy, and I know it will end up on your regular meal rotation!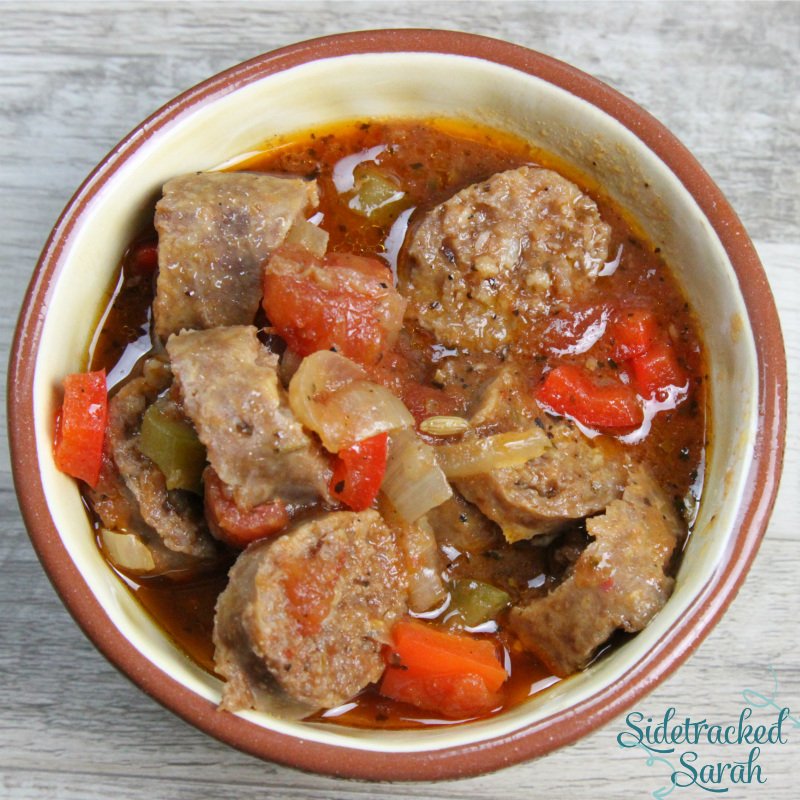 ARE THERE DIFFERENT OPTIONS FOR SERVING CROCK POT ITALIAN SAUSAGE & PEPPERS?
Of course! The most common way to serve this delicious dish is with a hoagie roll or crusty roll, but it's also delicious with pasta or even vegetable noodles. 
Honestly, though, I just eat them just as they are, in a bowl with some bread and butter. They are truly that good!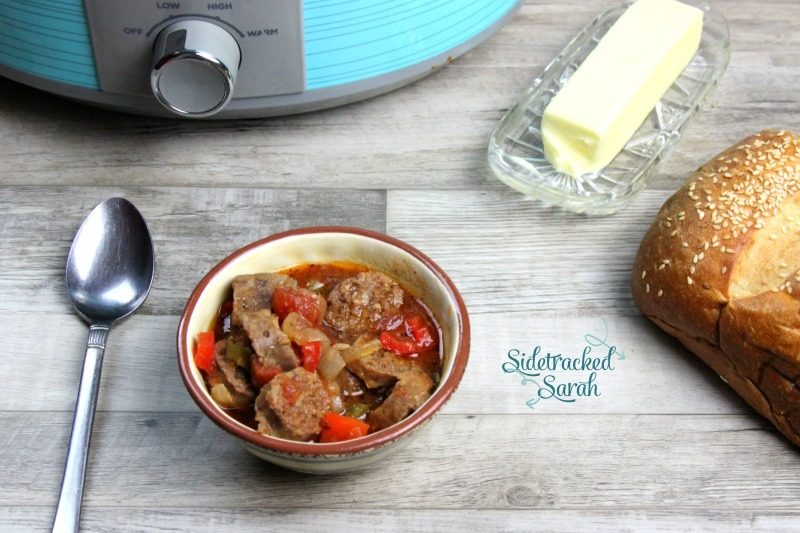 WHAT DO I DO IF I DON'T LIKE SPICY FOODS?
The main thing that makes this Crock Pot Italian Sausage & Peppers Recipe so spicy is the crushed red pepper.  Leave it out and your recipe will not have the added heat.  Of course, leaving out the black pepper will leave out any extra heat that may have provided as well.
DOES CROCK POT ITALIAN SAUSAGE & PEPPERS FREEZE WELL?
Yet another reason to love this recipe…it freezes so well! When you find peppers and onions on sale, be sure to stock up. 
You can freeze them in strips on their own or pack them with the other ingredients as a Crockpot Freezer Meal. Then, all you have to do is pull them out and you're ready to go!
Check out the Freezer to Slow Cooker Meal Plan

Want to spend less time cooking each week?  Consider joining my Freezer to Slow Cooker Meal Plan Subscription.   It comes with 6 dinners each week, grocery list, assembly instructions, side suggestions and more.  We have a regular plan AND a low carb plan.
WANT MORE EASY CROCK POT RECIPES?
Print
Crock Pot Italian Sausage and Peppers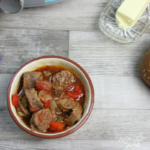 Crock Pot Italian Sausage & Peppers is a Simple and Delicious Recipe for Lunch, Dinner, or Entertaining!
Author:
Prep Time:

10

Cook Time:

360

Total Time:

6 hours 10 minutes

Method:

Slow Cooker

Cuisine:

Italian
Ingredients
8 thawed Italian sausage links
1 green pepper
1 sliced yellow onion
1 28 oz can of crushed tomatoes
¼ cup chicken broth
1 teaspoon salt
1 teaspoon black pepper
1 teaspoon fennel seeds
½ teaspoon oregano
½ teaspoon basil
½ tsp garlic powder
¼ teaspoon red pepper flakes
Instructions
Chop 1 green pepper and slice 1 onion.
Place all ingredients in slow cooker
Stir to combine.
Cook on 6 hours on low.
Freezer bag instructions:
Place all ingredients into freezer safe gallon bag
Label & lay flat to freeze
Remove from freezer the night before cooking
The morning of cooking place contents of bag into slow cooker
Cook on low for 6 hours
Keywords: Crock Pot Italian Sausage and Peppers
MADE THIS RECIPE?

Show me what you made on Instagram or Facebook and tag me at @sidetrackedsarah or hashtag it at #sidetrackedsarah.
Family Happenings From our Family of 9
This is my son Baylee.  He is the oldest and just turned 21 this month.  Hard to believe I've been a mom for 21 years, and yet I still have 6 other kids at home, the youngest of whom is 4.  We took him out to one of our favorite Mexican food restaurants and he drank his first Margarita.  The manager said he made sure to grab the LARGEST hat they had, lol.  So fun!  He was a great sport.