Instant Pot Turkey Breast is delicious, easy, and quick to prepare. It's a wonderful way to prepare turkey for your holiday dinner or busy evening!
We love Instant Pot recipes. Some of our favorites include Instant Pot Apple Pork Chops and Instant Pot Sweet Potatoes!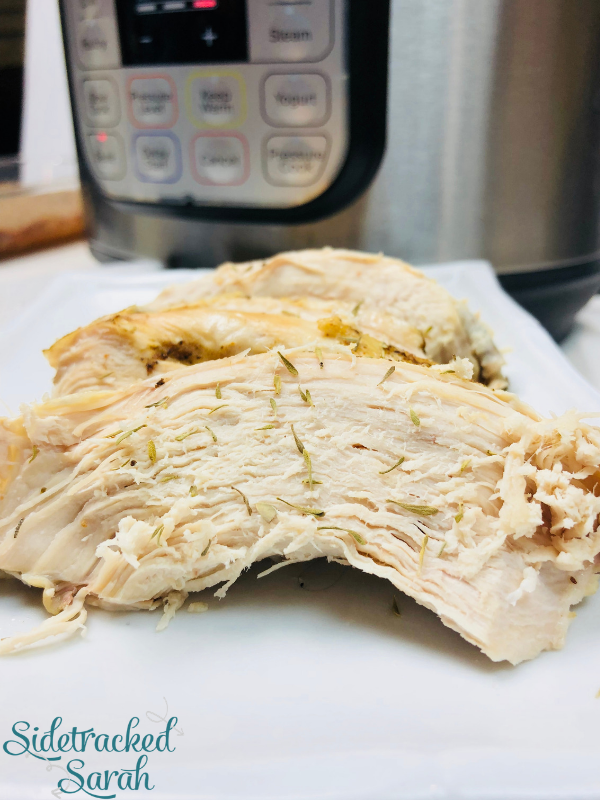 INSTANT POT TURKEY BREAST & GRAVY
Turkey is the centerpiece of many holiday meals, but it can be quite a production to prepare and bake! There has to be an easier way to do it, right? Right! By preparing your turkey breast in your Instant Pot, you can just about guarantee a delicious, juicy turkey breast every time. You can also save a lot of time and free up your oven!
If you're making a whole turkey, you will still want to use your oven (as a whole turkey won't fit in the Instant Pot). However, if you're cooking for a smaller crowd or making a turkey breast for a family dinner, this recipe is the perfect solution!

DO I HAVE TO BASTE INSTANT POT TURKEY BREAST?
This is one of the wonderful things about this recipe – it is almost completely hands-off! No need for basting bags, foil tenting, or any of the other tricks we use to get juicy, delicious turkey breast. The quick cooking time and pressure-sealed environment do all the work for you!
And even better, the gravy is made right in the Instant Pot! No more having to babysit the turkey breast and do a bunch of dishes. That makes it a winner to me!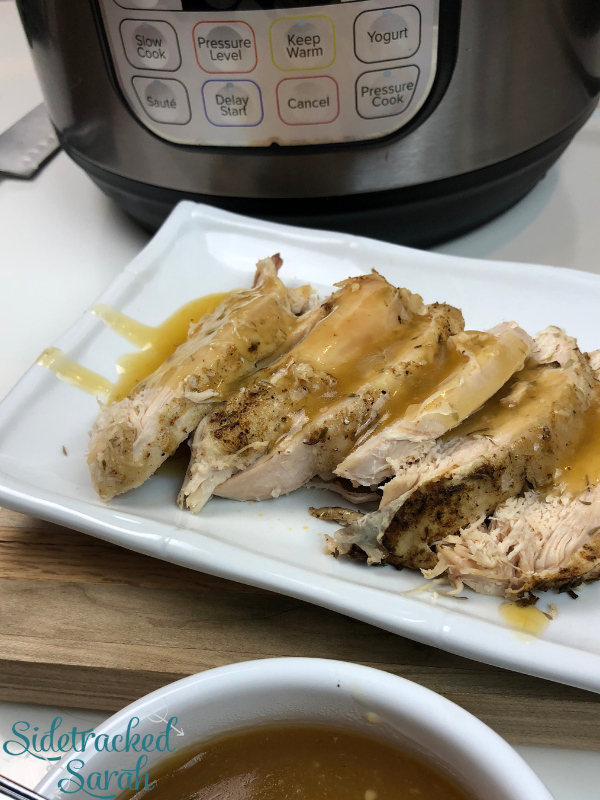 WHAT SHOULD I SERVE WITH INSTANT POT TURKEY BREAST & GRAVY?
If you're making this recipe for a holiday meal, just add all of your family's favorite sides and fixings. This turkey breast is also easy enough to make for a weeknight dinner, though. In that case, you may want to add some mashed or baked potatoes, veggies or a salad, and some warm dinner rolls!
WILL INSTANT POT TURKEY BREAST AND GRAVY FREEZE WELL?
It certainly will! I would suggest freezing them separately, but both the turkey breast and the gravy will freeze well.
I hope your family loves this recipe as much as we do!
WANT MORE EASY INSTANT POT RECIPES?
Print
Instant Pot Turkey Breast and Gravy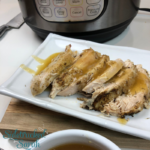 Instant Pot Turkey Breast is delicious, easy, and quick to prepare. It's a wonderful way to prepare turkey for your holiday dinner or busy evening!
Ingredients
7 lb turkey breast (bone in, skin on)
3 tablespoons olive oil
3/4 tsp paprika
1 tsp rosemary
1 tsp sage
1 tsp thyme
1 tsp salt
1/2 tsp pepper
2 cups chicken broth
4 teaspoons minced garlic (I use the jarred kind)
2 celery stalks
Instructions
Place trivet in bottom of Instant Pot insert.
Pour in chicken broth. Place onions, garlic and celery in bottom of Instant Pot.
In small bowl, mix together olive oil with paprika, rosemary, sage, thyme, salt and pepper.
Wash the turkey breast, remove gravy packet and pat dry.
Rub or brush the spice mixture onto the turkey breast, making sure to cover the whole thing as much as possible.
Put lid on Instant Pot, close valve and set timer for 35 minutes on Manual/Pressure Cook, high pressure.
Natural release pressure (which means wait until the pin drops on the valve and all pressure has released).
Remove turkey from pressure cooker.
Measure out 2 cups of liquid from the Instant Pot, being sure to strain any chunks.
Remove all remaining liquid and/or turkey pieces from Instant Pot and put the 2 cups that you had removed back in.
Mix together 2 tablespoons of cornstarch with 1/4 cup cold water.
Turn Instant Pot on Saute.
Pour mixture in slowly and cook until gravy thickens.
Slice turkey breast and serve with gravy served over the top.
MADE THIS RECIPE?
Show me what you made on Instagram or Facebook and tag me at @sidetrackedsarah or hashtag it at #sidetrackedsarah.