Easy Skillet Chicken Fajitas are a delicious, easy dish your family will love!
We love easy chicken recipes! Some of our favorites include Easy Crockpot Chicken and Dumplings with Biscuits and Slow Cooker Chicken Alfredo.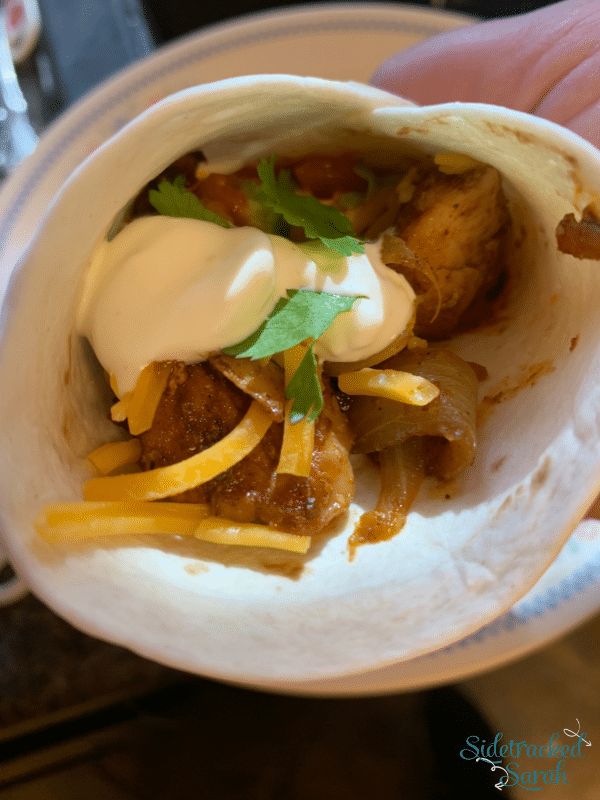 EASY SKILLET CHICKEN FAJITAS
Whenever we go out to eat, one of my favorite things to order is chicken fajitas. They're so delicious, and such a treat! They can get a bit pricey, though. I decided to try my hand at making them at home!
I think you'll really like the results. My family loves my Easy Skillet Chicken Fajitas – and I love how easy (and inexpensive) they are to make!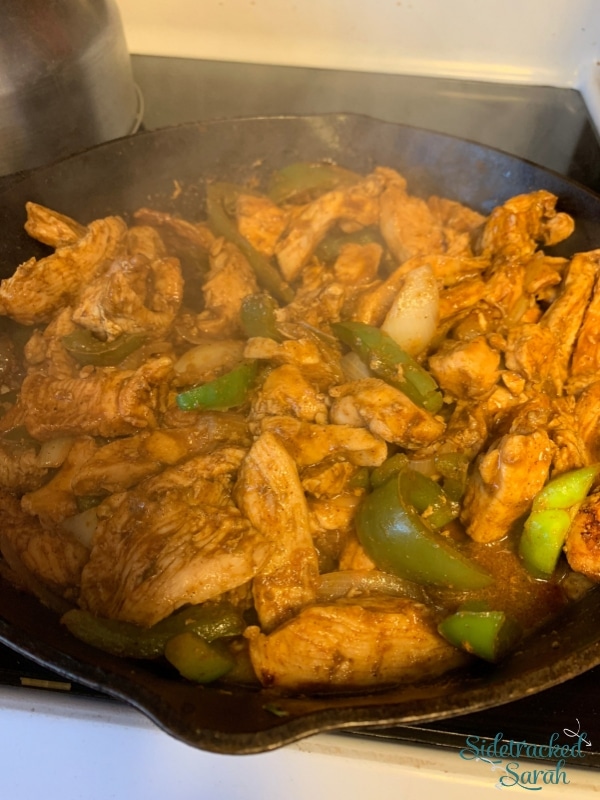 DO I NEED ANY SPECIAL EQUIPMENT TO MAKE EASY SKILLET CHICKEN FAJITAS?
That's one of the beautiful things about this recipe…you probably already have everything you need! Using a cast iron skillet will give you that "restaurant fajita" taste, but these fajitas are delicious in a regular skillet as well!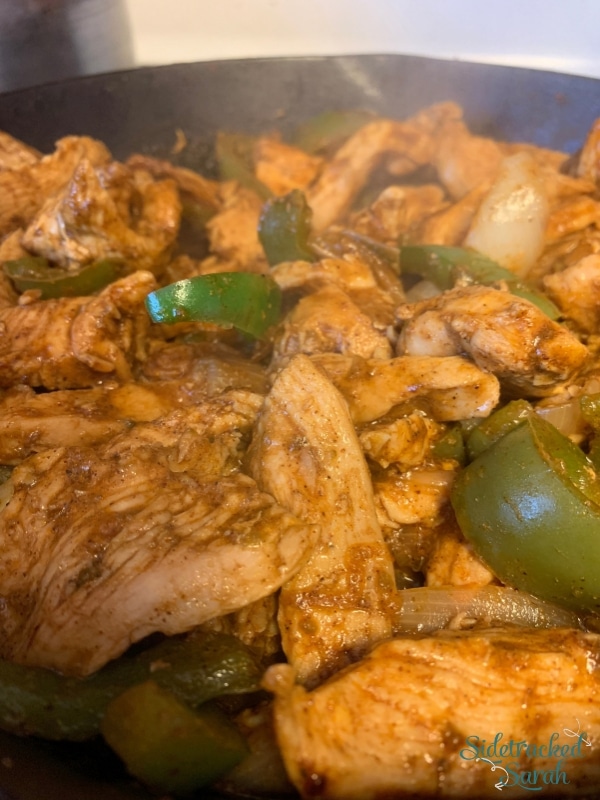 WHAT SHOULD I SERVE WITH EASY SKILLET CHICKEN FAJITAS?
This recipe is so flexible! You can serve Easy Skillet Chicken Fajitas in a simple way, just letting their naturally delicious flavor shine. However, you can also make a whole theme night out of it and set up a fajita bar for your family to enjoy! It could include homemade or storebought tortillas, shredded cheese, guacamole, and whatever other fixings your family prefers. Have fun with it!
WILL EASY SKILLET CHICKEN FAJITAS FREEZE WELL?
This recipe freezes very well! You can easily make a freezer meal out of the prepped ingredients, but you can also freeze any leftovers. Feel free to double or triple the recipe to make sure you'll have extras on hand!
I hope you love this recipe as much as we do! It's easy enough to be a regular on our meal rotation, and it's always a crowd pleaser!
This recipe is a family favorite. When we forget to plan anything, as long as we have the right ingredients on hand, we will often turn to this as our go-to, easy skillet meal.
For more of our other Mexican family favorites that you can make in the slow cooker or Instant Pot go here:
Print
Easy Skillet Chicken Fajitas

Easy Skillet Chicken Fajitas are a delicious, easy dish your family will love!
Scale
Ingredients
2

pounds boneless, skinless chicken

2

–

3

green peppers, sliced

1 tbsp

oil

1

onion, sliced

1

packet of chili seasoning or taco seasoning
Tortillas
Shredded Monterey Jack, Mexican Blend or Cheddar Cheese
Fresh Cilantro (optional)
Sour cream (optional)
Salsa (Optional)
Instructions
Slice chicken, onions and peppers into strips.
Turn on skillet and pour olive oil in it.
Sprinkle taco seasoning over the top of the chicken.
Add chicken, onions and peppers into skillet and add any additional taco seasoning over the top.
Sauté for a few minutes in oil and then add about 1/2 cup of water.
Continue sautéing until the vegetables are tender and chicken is thoroughly cooked.
Serve on warmed tortillas, with cheese, sour cream, sals and fresh cilantro.
MADE THIS RECIPE?

Show me what you made on Instagram or Facebook and tag me at @sidetrackedsarah or hashtag it at #sidetrackedsarah.
Happenings from our family of 9
These two sisters don't always get along. But they do love each other and its moments like this that make me smile so much!