Today is the beginning of a series I am sharing about on crisis cooking.  3 months ago, I gave birth to our 6th child, a bouncing baby boy.  He has also been a grumpy baby boy and in need of being held and nursed almost constantly.  I was desperate to find easier ways to feed our family than boxed pizzas, so I came up with a meal plan where it would be easy for my children to get it into the crockpot if I'm not able to.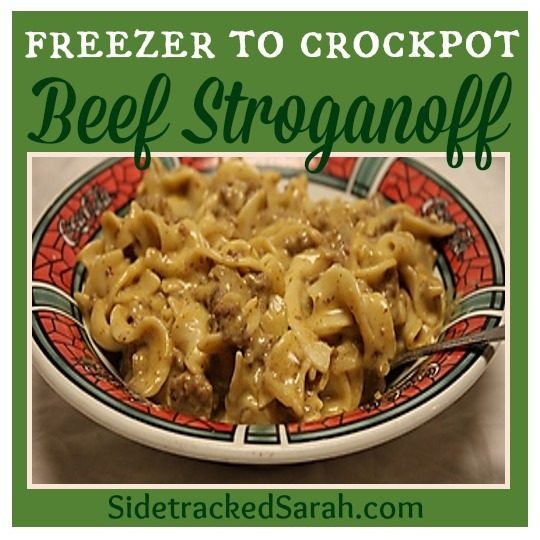 Beef Stroganoff
Tweet this recipe!
Click To Tweet
2 pounds of cubed Beef Stew Meat or 4 cups of cooked Ground Beef
4 cans of Cream of Mushroom Soup (recommend golden mushroom soup if your store carries it)
1 cup chopped Onion
2 T Worcestershire Sauce
1/2 c Water
1 c. Sour Cream
2T minced Garlic
packet of Onion Soup Mix
Egg Noodles (to serve over & cook that day)
optional (chopped Mushrooms)
Option 1:  Mix all ingredients in freezer safe bag except egg noodles.  Freeze as flat as you can.  Remove and defrost night before if possible.  Put in crockpot on low for about 6-8 hours or if meat is precooked, 3-6 hours.  Serve over egg noodles.
Option 2:  (this is a freezer space saver option if you have more room in your pantry than you do in your freezer)  Put 4 cans of mushroom soup and egg noodles in paper bag.  Staple and label "Beef Stroganoff" so that these ingredients will be saved for cooking day.  In a freezer safe bag, put meat, onion, onion soup mix, worcestershire sauce, water, sour cream, garlic and optional mushrooms.  Mix together, lay flat and freeze.  On cooking day, put in crockpot on low for 6-8 hours or if using precooked ground beef, for 3-6 hours.  Serve over cooked egg noodles.