Before we start, many of you have asked me what is the best slow cooker for your family. There are many variables for every family, but I tell you all about them here:  Best Slow Cooker Choices.
I know I've said it before, but how in the world did I ever live my life without utilizing my crockpot on a regular basis?  I mean…. did we ever eat?  🙂  This fall schedule has been kicking my tail.  Yesterday, I spent driving from here to there starting at 1:00 in the afternoon.  I finally got home and stayed there at 9:00 p.m.!  And guess what?  I forgot to get anything into the crockpot this morning so we ended up grabbing dinner out.  Not a cheap thing for a family of 8!
Every day that I utilize this freezer to slow cooker plan, I feel more at ease.  I feel better able to attend to the children's needs and schedules.  I usually dread winter, but there's one thing about winter to look forward to.  The slowing down!
Until then (and no, I'm not rushing it), here's another slow cooker recipe to keep you going!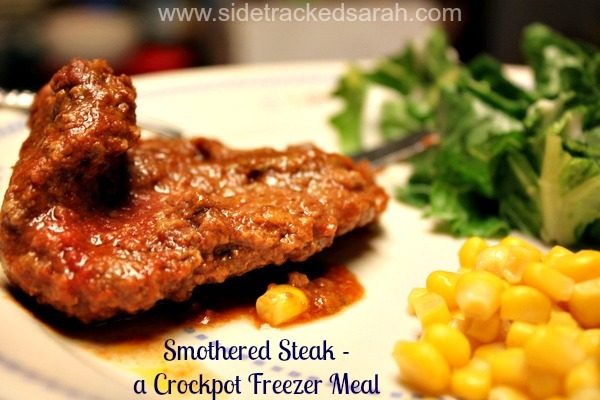 Smothered Steaks
Tweet this recipe!
Click To Tweet
Serving Size:  6
Ingredients:
2-3 lbs cubed steak (or enough pieces for your family) 2 cans cream of chicken or mushroom soup 2 6 oz cans of tomato paste 2 15 oz cans of tomato sauce salt & pepper 1 teaspoon oregano 3/4 cup water
Directions:
Place all ingredients together in slow cooker.  Cook on low for 7-8 hours or high for 3-4 hours.
(You can serve this over rice or pasta or all by itself.  We chose to do it all by itself, so because we've been eating lots of pasta this week)
Freezer to Slow Cooker Instructions
Place all ingredients into freezer safe gallon size bag.  Squish around so that the ingredients are distributed evenly.  Lay flat.  Label.  Freeze.