This meal is pretty simple.  My husband was out of town when we had this one, but my children all had different takes on it.
I was planning to eat mine plain.
One daughter thought that it tasted like a Tex-Mex sloppy joe, so she ate it on a hamburger bun.
Another daughter thought it tasted more like the fillings of a burrito and ate it inside of a tortilla.  LOL.
So….eat it however you want but the pictures you'll see will be of my plate, where I ate it plain, with a side of green beans.  I thought it was good just how it was.  🙂  Of course, a little extra cheese never hurts anything!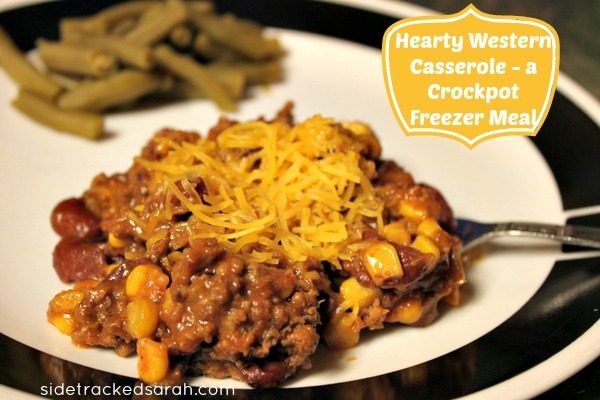 Hearty Western Casserole
Tweet this recipe!
Click To Tweet
Serving Size: 5 (we needed to double it, but didn't)
Ingredients:
1.5 lbs ground beef, browned 16 oz can of corn, drained 16 oz can
kidney beans
, drained 10.75 oz can
tomato soup
1 cup Cheese (your choice) 1/4 cup milk 1 teaspoon minced dry onion flakes 1/2 teaspoon
chili powder
Directions:
Combine all ingredients.  Cover and cook on low for 3-4 hours or high for 1-2 hours.
Freezer to Slow Cooker Instructions:
Combine all ingredients in a gallon size freezer safe bag.  Label & Freeze flat.
*Some links in this post are affiliate links.