Before we start, many of you have asked me what the best slow cooker you should get is.  It varies for every family, but I tell you all about it here:  Best Slow Cooker Choices.
My husband Ryan and I tend to steer clear of a lot of recipes that call for pork chops, pork roast or pork shoulder.  But, as I've been getting a little more daring these days using these crockpot meals, I've found some good ones!  This – Slow Cooker Shredded Pork Soft Tacos Meal – falls into the "good one" category!
My husband had a stressful day at work today and he went to sit down and eat his food.  It's not long before I hear him call in to the kitchen, "This meat has amazing flavor!"  Can you hear that sigh of relief?  I fed him pork AND he likes the flavor.  Whoohoo!  Let me do a little happy dance.  🙂
It is a bit spicy, but not overwhelmingly so.  My 4 year old bravely ate half of hers, but then decided it was too spicy hot.  I kept some refried beans on hand so that I could make her a bean and cheese burrito just in case.  No other kids complained  about the spice and everyone raved about this recipe!
Simple and delicious – this slow cooker shredded pork soft taco meal can easily be prepared for the freezer as well. Be sure to make adjustments to suite your families tastes with the chili powder and peppers – and you are sure to hit a home run with this recipe.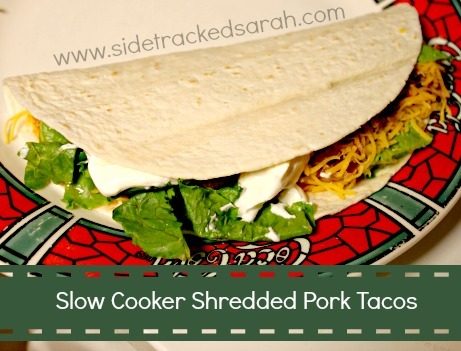 Shredded Pork Soft Tacos
Tweet this recipe!
Click To Tweet
Serves 6-8 Ingredients
4-5 pounds of bone-in pork shoulder 1 Tablespoon of
chili powder
(or
taco seasoning
) salt Pepper 1 Large Onion – chopped 1 cup of
root beer
1 4 oz can of canned
chipotle peppers
in adobo sauce, finely chopped
Flour
or
Corn Tortillas
Directions
Rub meat with chili powder, salt and pepper.
Place in slow cooker.
Place chopped onions all around the meat.
Chop 3-4 chipotle peppers into fine pieces (the more you do, the spicier it will be)
Mix chipotle peppers with 1-2 Tablespoons of Adobo sauce from the can with 1 cup of root beer.
Pour over the meat and onions.
Cook on Low for 8-10 hours or on high for 4-6 hours.
Shred meat with a fork
Serve on tortillas and top with your favorite taco fixings!
Freezer to Slow Cooker Directions:
Be sure you bought meat that is raw, not yet frozen.  If you discover yours is frozen already, just be sure to keep it seperate from the rest of the bag ingredients below so that you can rub it once it's thawed on cooking day.
Rub meat with chili powder, salt and pepper and place in gallon size freezer bag.
Chop 1 large onion
Chop 3-4 chipotle peppers from the can.
Mix chopped chipotle peppers, 1-2 T. of adobo sauce (from same can) and 1 cup of root bear.  [you can use the whole can, but you may want to add more root beer if you do]
Pour mixture over meat and onions in freezer safe bag.
Label bag and freeze flat.
Remove bag from freezer the night before cooking day to let thaw.
I hope your family enjoys this as much as our family did!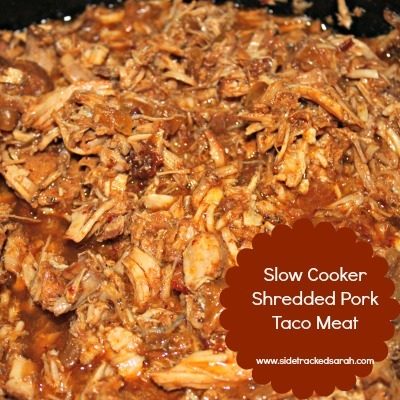 If you are looking for the printable Slow Cooker Menu's – Go Here
*Some links in this post are affiliate links.