Before we start, many of you have asked me what the best slow cooker you should get is.  It varies for every family, but I tell you all about it here:  Best Slow Cooker Choices.
When I pulled this meal out of the freezer and opened the bag up, it already smelled good.  There's something about the smell of chopped green peppers, onions and garlic to make you feel like you're going to eat something really delicious!  Of course, getting to smell it all day while it slow cooked in all those juices, made me excited for dinner.  In fact, as I sit here writing this past midnight, I'm getting hungry just thinking about it.  Too bad we didn't have any leftovers!
OK, so you can tell.  I liked this awesome meal.  🙂  I'll quit "talking" now.
How about the recipe?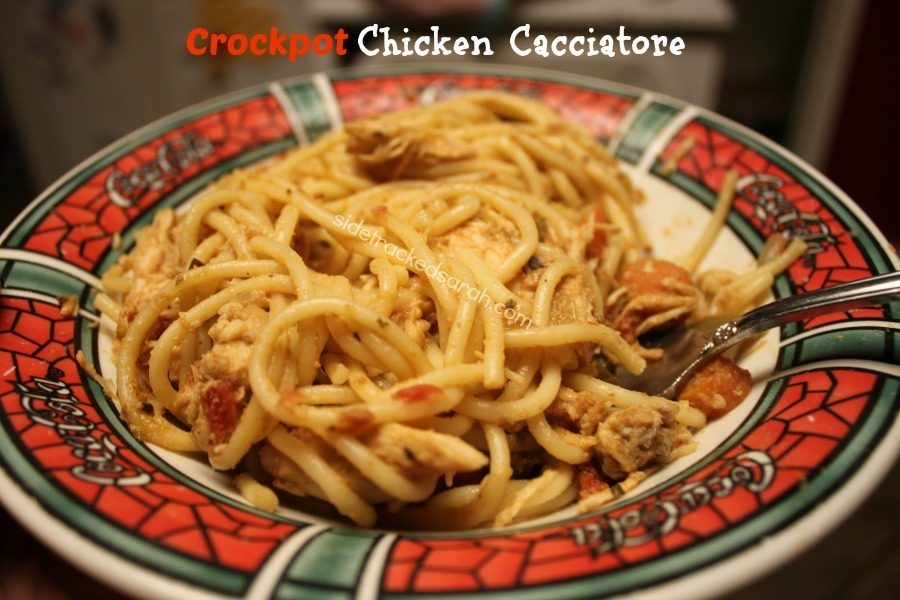 Tweet this recipe!
Click To Tweet
Ingredients:
2 cups sliced mushrooms 1 cup sliced celery 1 cup chopped carrots 2 medium onions, chopped 1 green pepper, cut into strips 4 teaspoons of minced garlic (or 4 cloves of garlic, minced) 5-6 boneless, skinless chicken breasts 1/2 cup chicken broth 1/4 cup dry white wine 2 bay leaves 1 teaspoon dried oregano 1 teaspoon sugar 1/2 teaspoon salt 1/4 teaspoon black peper 1 14.5 oz can of diced tomatoes 1 can tomato paste Italian Bread Crumbs (optional:  to thicken sauce at the end) Parmesan Cheese Hot Cooked Pasta (we used spaghetti noodles)  
Directions:
Combine all ingredients except pasta, Parmesan cheese and bread crumbs.  Mix it up well so that everything will evenly cook and mix flavors together well.  Cook on low for 7-8 hours or on high for 3-4 hours.  Once cooked, mix in about 1/4 cup of bread crumbs and 1/4 cup of Parmesan cheese to thicken it up just a tad. Shred meat with two forks.  Leave the lid off and cook for another 30 minutes.  Serve over hot cooked pasta or rice.
Chop mushrooms
Chop Celery
Chop Carrots
Chop Onions
Chop Green Peppers
Mince Garlic (unless you bought it in a jar)
Place all ingredients except Parmesan cheese, pasta and bread crumbs into the bag.
Label & Freeze
On Cooking day, if you forget to get it out the night before, place in slow cooker frozen, but add an extra hour of cooking time if cooking on Low or an extra 30 minutes if cooking on High.
Here's a picture of what it looked like before I added the pasta in: