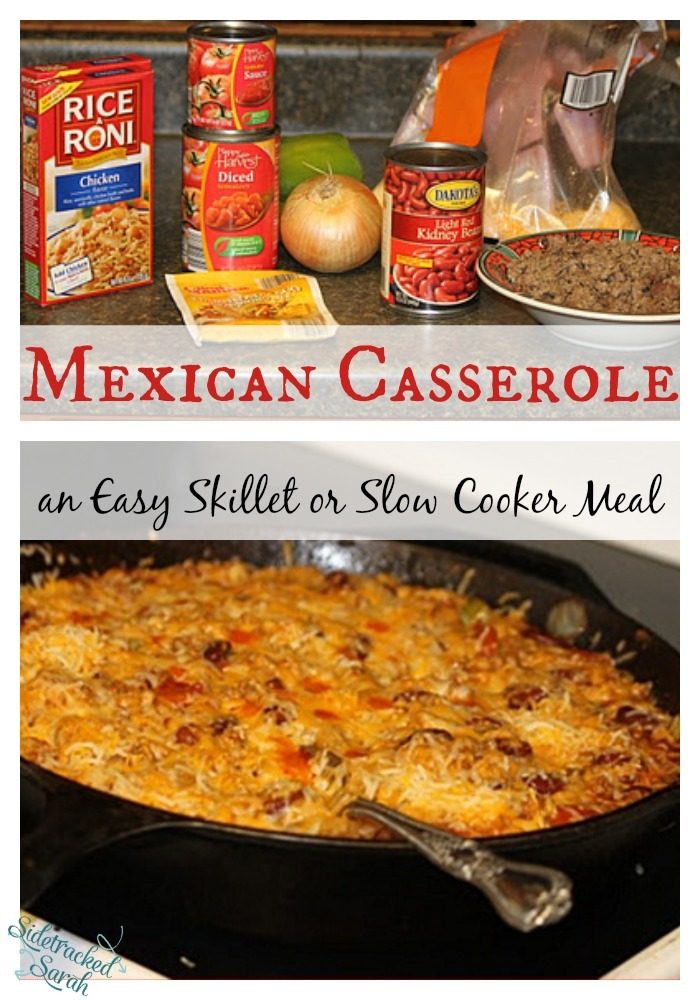 This recipe is part of the Freezer to Slow Cooker, Week 1 meal plan.  It is available for purchase in a printable one week menu.  The printable menu comes with 6 recipes (and pictures), assembly instructions, shopping list AND freezer labels.
Before I get to the recipe, many of you have asked me what the best slow cooker you should get is. It varies for every family, but I tell you all about it here:  Best Slow Cooker Choices.  It all depends on family size and feature preferences.  
Mexican Casserole
Tweet this recipe!
Click To Tweet
1 pound ground beef (cooked)
1 medium onion (chopped)
1 small green pepper (chopped)
16 oz can kidney beans (drained and rinsed)
14.5 oz can diced tomatoes
8 oz tomato sauce
1/4 c water
1 pkg taco seasoning
1 T chili powder
1 1/3 c. uncooked instant rice (or 3 c. cooked rice)
1 c. cheddar cheese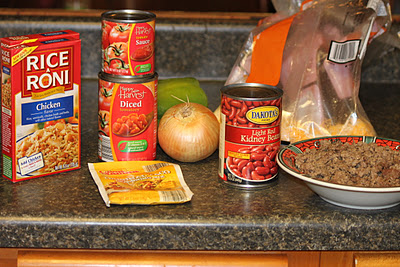 Mix all ingredients (but instant rice and cheese) in freezer bag.  Put cheese in extra bag and staple onto casserole bag along with bag of rice of using instant.  Cook on low for 4-6 hours. If you're using the instant rice, you'll want to add the rice about an hour before you're ready to eat and don't put in original freezer bag.  Top with cheese a few minutes before serving.
I made this meal tonight for dinner as a skillet meal instead of a crockpot meal.  It works great if you haven't had a chance to get anything into the freezer yet or if you're like me and forgot about starting supper in the morning….yeah, I do that all.the.time!  I had gotten a bunch of Rice-A-Roni for 33 cents a box, so I decided to use that as my rice this time.  My family seemed to like it better than the plain rice I used last time.  Doesn't that figure?  Rice-A-Roni, isn't nearly as healthy as the other stuff!  Oh well…..they like it either way and hopefully they'll forget about that Rice-A-Roni.  It was a big hit with the whole family except for the one who doesn't like green peppers and onions.  I'm pretty sure if she couldn't see the chunks she would've loved it!