Instant Pot Italian Beef Stew is so Delicious!  You Can Use Beef Stew Meat or Ground Beef!  With Plenty of Italian Seasoning, it's Got a Slightly Different Taste Than Your Other Beef Stew Recipes.
We love using the Instant Pot for dinner and think you'll love the Instant Pot Ground Beef Stroganoff, along with all of these other Instant Pot Ground Beef recipes!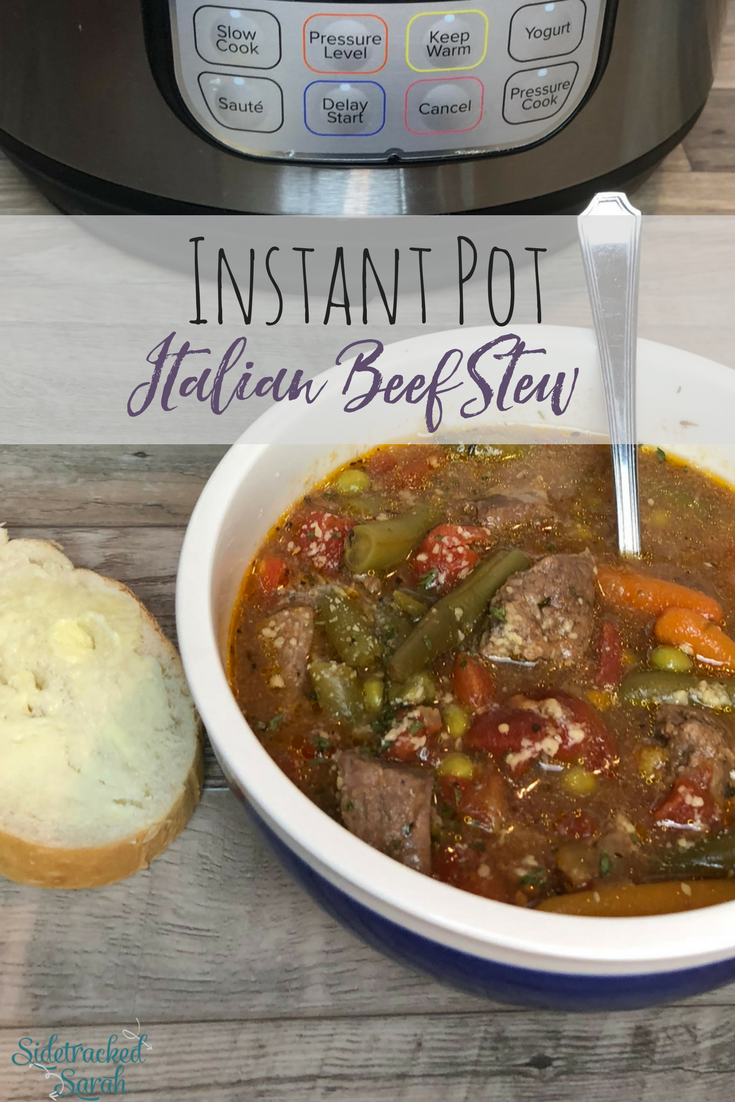 Instant Pot Italian Beef Stew
I've always loved the idea of making Instant Pot Beef Stew, but since I'd only ever made it in my slow cooker, it took me a while to decide to take the plunge and try it out in the Instant Pot.  Let me tell you, the results were stellar!  We loved it!  For this particular recipe, we used Beef Stew meat, but I have also used ground beef in the recipe and it turned out very good, as well.  It just depends what is in your budget and what you have time for.
If you choose to make it with ground beef, keep in mind, you'll need to drain the grease.  We often use our Easy Greasy Colander for this, as the colander has a bowl under it.  The bowl catches the grease and then we can scoop the grease out and throw it in the trash after it hardens.  It's pretty awesome!  Here's a quick picture so you get the idea: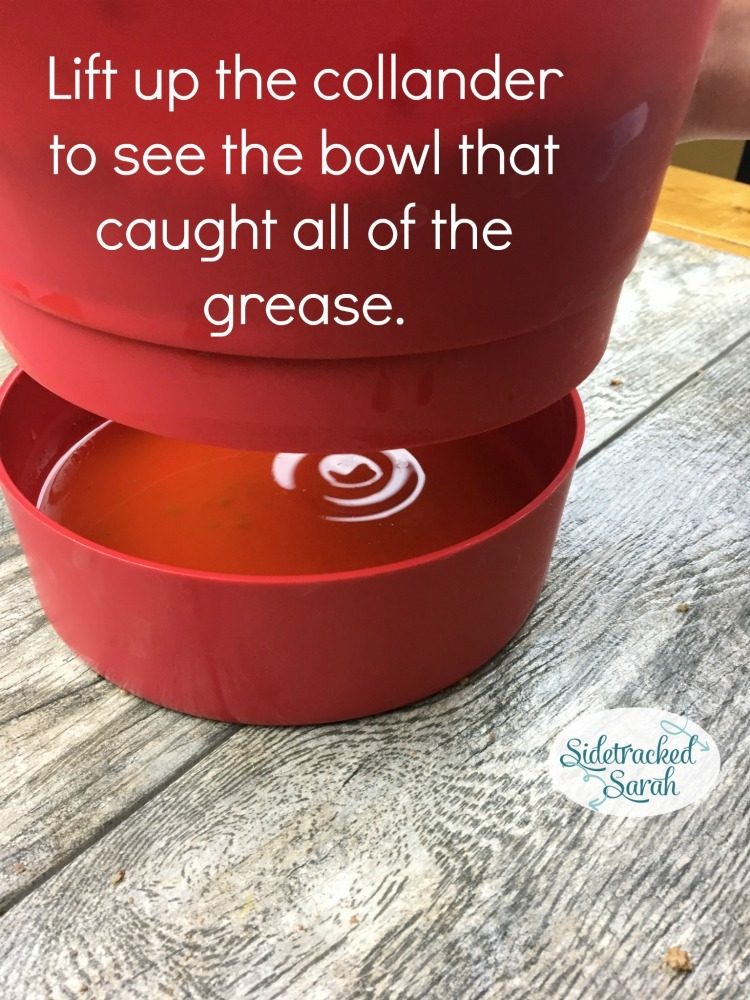 HOW LONG DO YOU PRESSURE COOK BEEF STEW?
For this particular recipe, you should pressure cook it for 35 minutes if you are using raw, uncooked stew meat.  If you are using cooked ground beef, you can get away with doing it for 10-20 minutes.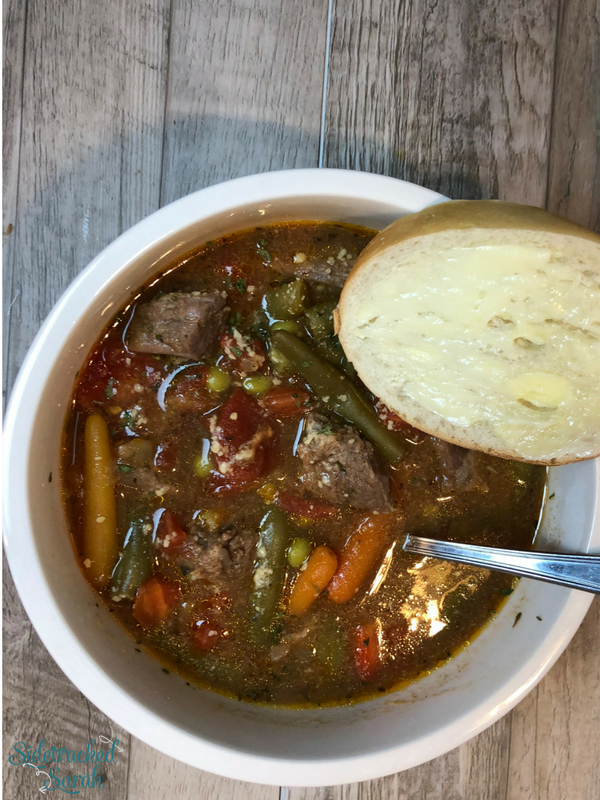 CAN YOU OVERCOOK A BEEF STEW?
Yes, you definitely can.  The longer you cook it, the more mushy the vegetables will get.  Of course, you could wait to add vegetables toward the end, but then you'd also be waiting to let the pressure build up again.
We cooked this Italian beef stew for 35 minutes and the vegetables were getting a little bit on the soft side, but still entirely enjoyable.  Probably similar to having them in the slow cooker.  As you can see from the pictures, they're not really falling apart yet.
HOW MUCH CAN YOU FILL YOUR INSTANT POT?
There is a Max Fill line in your Instant Pot.  Be sure to not go over that line, or your contents will spew out the vent, when you Quick Release the pressure.  I did that once and it made a huge mess!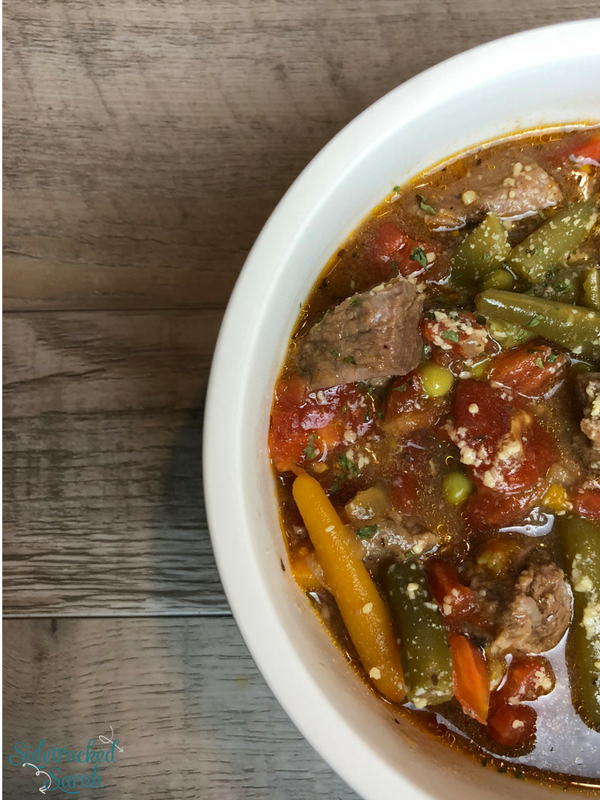 HOW DO YOU THICKEN UP BEEF STEW?
You can add flour to the mixture at the beginning of the cook time, like we do in this recipe. It will help it to be a little less runny, but it doesn't make an extremely thick broth.
You can add Cornstarch.  To make sure there's no lumps, add it to cold water first, then slowly stir it into the Instant Pot and continue to cook while it thickens up.
Make a flour slurry.  This is similar to using Cornstarch.  Mix equal amounts of flour and cold water into a cup and stir until no lumps, then stir it into your stew.
WANT MORE EASY INSTANT POT RECIPES?
Instant Pot Cilantro Lime Rice
Instant Pot Ground Beef Enchilada Pasta
30 Gluten Free Instant Pot Recipes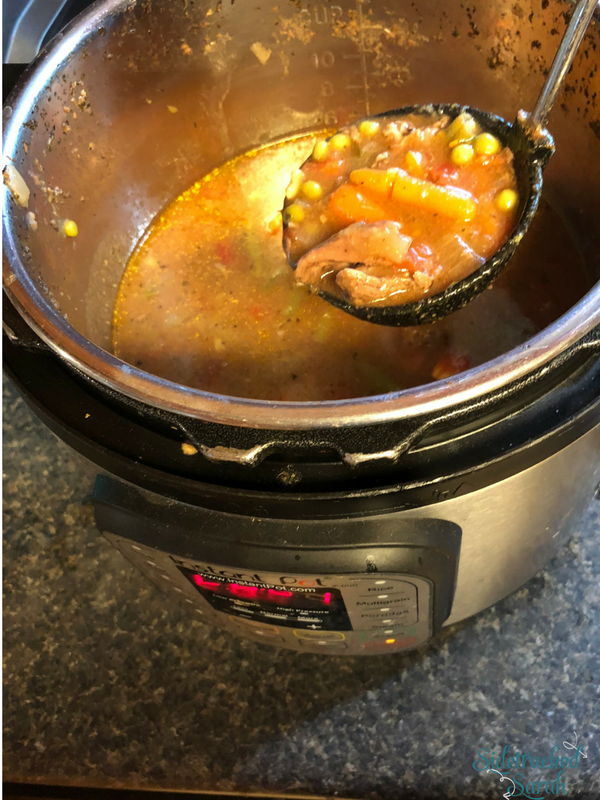 Instant Pot Italian Beef Stew
Ingredients
3

lbs

beef stew meat OR 2 lbs of ground beef

browned.

1

onion

4

carrots

8

oz

fresh baby portabella mushrooms

optional

24

oz

beef broth

15

oz

can diced tomatoes

3

Tbsp

flour

1

tsp

dried basil leaves

1

tsp

dried thyme leaves

1

tsp

salt

1

tsp

pepper Dried parsley
Instructions
Dice 1 onion, 4 carrots & slice 8 oz mushrooms.

Place meat in Instant Pot.  If using ground beef, saute then drain grease.

Add carrots, broth, flour, basil, thyme, salt, pepper and diced tomatoes to Instant Pot; stir.

Place lid on Instant pot and close valve.

Cook on Manual, High Pressure for 35 minutes.

Quick release the pressure (AKA QR) and remove lid.

Stir in mushrooms (if you have them)

Stir
Notes
Optional Slow Cooker Instructions:
Dice 1 onion, 4 carrots & slice 8 oz mushrooms.
Place meat in slow cooker, add carrots, broth, flour, basil, thyme, salt, pepper and diced tomatoes to slow cooker; stir.
Cook on low 7-8 hours.
Stir in mushrooms (if you have them)
Cover; cook 20 to 30 minutes longer. Sprinkle with parsley.
MADE THIS RECIPE?
Show me what you made on Instagram or Facebook and tag me at @sidetrackedsarah or hashtag it at #sidetrackedsarah.