Before we start, many of you have asked me what the best slow cooker you should get is.  It varies for every family, but I tell you all about it here:  Best Slow Cooker Choices.
We love barbecue in this house.  So good!  I've never tried cooking my pork chops in barbecue sauce, but I had this new sauce that I thought would taste great on it!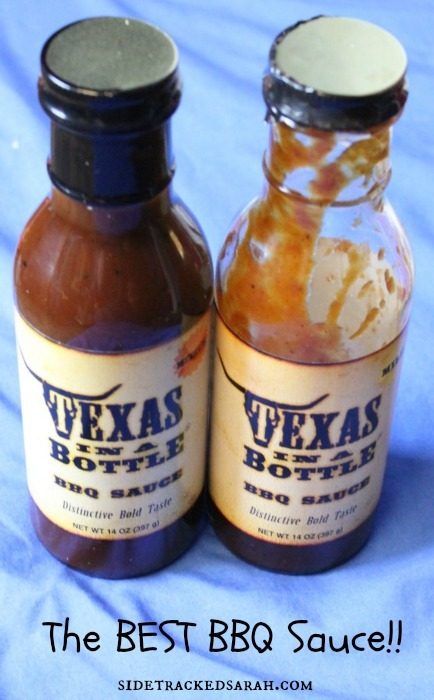 Let me tell you a little about how I came across this amazing sauce though.  I recently noticed that one of my readers was also an owner of a company called Texas in a Bottle.  Texas in a Bottle….. That name intrigued me!  It had to be good, right?  If there's one thing I know about Texas, they know how to do their BBQ.  We lived there for 8 months while my husband was in the Army, plus we honeymooned in San Antonio and we loved our Texas experience!
Since I do a lot of slow cooker cooking on this site, I sent the owner an email telling her that I'd love to try some of their new barbecue sauce.  She sent me two bottles.  I received the Mild Version and the Medium Version.  We love them!  It's hard to describe a BBQ sauce in words, but to me, this sauce has a little bit of a steak sauce taste to it, but not overwhelmingly so.  It still tasted like BBQ sauce.  Both the mild version and the medium version taste very similar, but the mild tastes a bit smokier to me.  The medium had a bit of a spicy kick to it.  They're both amazing.  Ahh.mmmm.a.z.i.n.g!!
I prefer a little spice in my sauce, so I preferred the medium sauce, but we used the mild to cook the meat in, that way it wasn't too spicy for the kids.  I just slathered a little of the medium sauce on top of mine to give it a little more spice.
Are you ready for the recipe?  Yeah… I thought so!  Guess what?  It's super simple….with only 3 ingredients…  my specialty!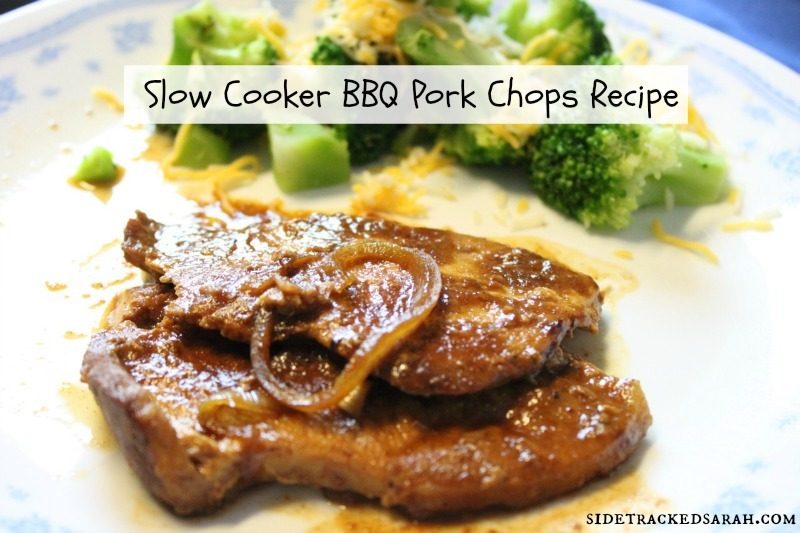 Click to tweet and share.
Click To Tweet
The BEST Slow Cooker BBQ Pork Chops Recipe
Ingredients
1

Large Onion

sliced

Pork Chops

enough for your family

*Be sure to save some to put on top once it's on your plate.
Instructions
Layer onions and BBQ sauce over the pork chops so that they are evenly covered.

Cook on low for 8 hours or on high for 4.
Freezer to Slow Cooker Instructions:
Slice onions.

Place onions and meat in freezer safe bag.

Label and lay flat to freeze.

On cooking day, pour contents of bag into slow cooker and cover in BBQ Sauce.

Cook on low for 8 hours or on high for 4.  The meat will be more tender the longer you cook it.
That's it.  As good as it tastes, you'd think it was more complicated!  Of course, having an amazing BBQ sauce is what makes it!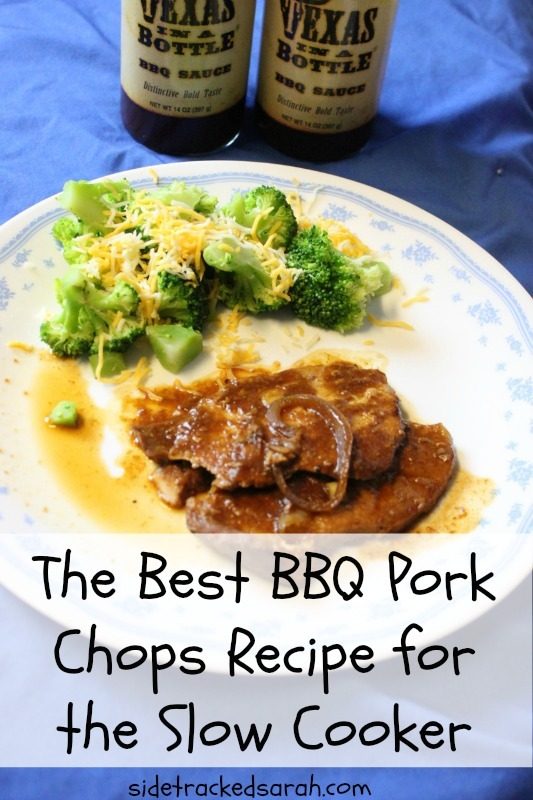 You may be wondering how a couple living in the Pacific Northwest came to name their company Texas in a Bottle.  Click here:  Texas in a Bottle, to read more about how they got started.   You can order some BBQ sauce or find out where you can purchase it in stores, too.  They even have a no high fructose corn syrup variety!
This is not a sponsored post.  I am sharing this with you because it is a brand that I love and think you'll love it, too.