Before we start, many of you have asked me what the best slow cooker you should get is.  It varies for every family, but I tell you all about it here:  Best Slow Cooker Choices.
This recipe is so easy!  It's a dump it in and be done type of recipe.  While you could use dry beans, I like having a canned version so that if I happened to forget to plan ahead, I could throw it all in the crockpot and put it on high for a few hours.  OR if all else fails, I could even make it on the stovetop pretty quickly, too.  We enjoyed it, I hope you will, too!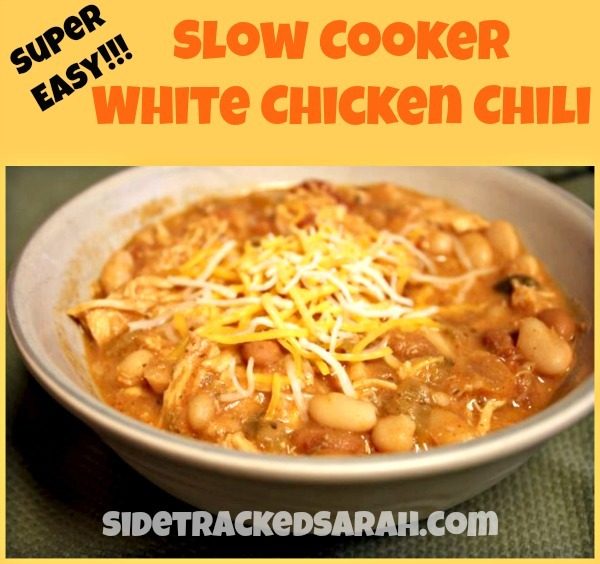 Tweet this recipe!
Click To Tweet
Super Easy Slow Cooker White Chicken Chili
Instructions
Place all ingredients except chicken in slow cooker and stir so that it is well mixed.  Place chicken breasts on top and cover with bean mixture.  Cook on low for 7-8 hours or on high for 3-4 hours.
Freezer to Slow Cooker Instructions
This is one of those meals that you could prepare it all and put it in a freezer safe bag OR you could just throw it all in that day.  If you plan to prepare it, my recommendation is to do the following:
Place all ingredients except chicken in freezer bag and mix well by stirring or squishing bag.

Add chicken breasts.

Label and lay flat to freeze.

Follow cooking instructions above.
*Some links in this post are affiliate links.