Before we start, many of you have asked me what the best slow cooker you should get is.  It varies for every family, but I tell you all about it here:  Best Slow Cooker Choices.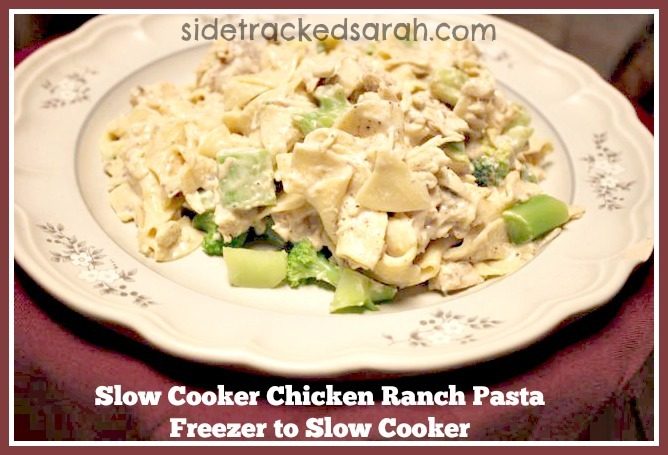 Do you like cream cheese as much as I do?  Of course I like it!  It's fattening!!  I have a knack for liking the most fattening foods…. go figure!  Well, this Chicken Ranch Pasta's base ingredient (as in the one that makes the delicious sauce), is cream cheese.  It's bound to be a good one if that's the case, right?  Well, let me tell you, it WAS good.  But don't just let me tell you about it, you should try this one on your own!
Here's how:
Slow Cooker Chicken Ranch Pasta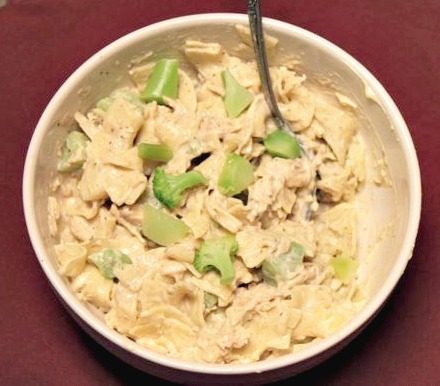 Tweet this recipe!
Click To Tweet
Slow Cooker Chicken Ranch Pasta
Ingredients
1 3

pound

bag of frozen boneless

skinless chicken breast

2

tbsp

butter

melted

paprika

1

oz

package of Ranch Dressing mix

2

cans cream of chicken soup

2 8

oz

cream cheese

cubed

1/4

tsp

dried oregano

1/2

tsp.

dried parsley

1

tsp

minced garlic

2

cups

frozen broccoli

egg noodles - 16 oz package
Instructions
Sprinkle paprika and ranch dressing mix over both sides of each chicken breasts.

Pour melted butter over all of the chicken breasts.

Cook on low for 4-5 hours.

Remove chicken from slow cooker and using a slotted spoon, strain any fatty chicken pieces, etc. that you would not mixed into your sauce.

Put remaining ingredients, cream of chicken soup, cream cheese, oregano, parsley,minced garlic, and frozen broccoli in slow cooker.  Stir and/or whisk around until it's not clumpy.

Replace chicken into the slow cooker and cook another 1-2 hours on low.

Boil egg noodles on stove top about 10 minutes before you're ready to serve.

Using scissors or a knife, chop chicken into smaller pieces.

Add egg noodles and stir well, being sure to coat all noodles with the white sauce.
Freezer to Slow Cooker Instructions:
Melt cream cheese in microwave.

Stir together cream cheese, cream of chicken soup, oregano, parsley and minced garlic.

Place mixture into a freezer safe bag.

Staple to the 3 pound bag of chicken, being sure to label as Chicken Ranch Pasta.

On cooking day, sprinkle frozen (or thawed) chicken breasts with paprika and ranch mix.

Cook on low for 5 hours.

Follow Directions 4-9 above.
Please note:  If you are going to be away for the day and it is not possible to add the ingredients in the middle of the day like that, it is possible to cook them all together.  The only reason that I give to add the other ingredients later into the cooking time is because milk products sometimes separate when cooked too long or boiled.  It's not really a big problem though, you will just have to stir it back in once you get home.
Also, if you need to cook this on high, it is fine to do so, so long as you are following the instructions to add the sauce ingredients later.  Otherwise they will scorch if cooked on high for that long.  Cook on high for 4-5 hours total with 1 of those hours being for the sauce.
Let me know if you have any questions!
*Some links in this post are affiliate links.