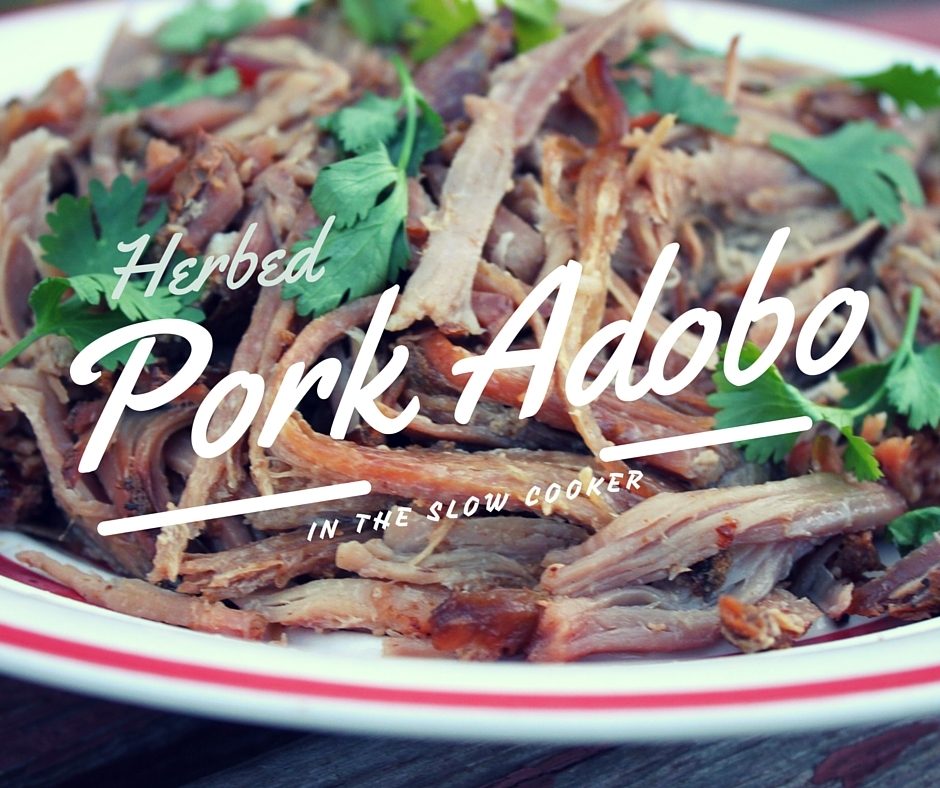 Before we start, many of you have asked me what the best slow cooker you should get is.  It varies for every family, but I tell you all about it here:  Best Slow Cooker Choices.
When I first decided to make this recipe, I didn't really realize that it was a Mexican flavored type of dish.  I guess I always gravitate towards Mexican food.  I hope you don't mind.  😀  Really though, this dish can be pretty versatile.  You can have it as a Mexican food (like on tortillas or tacos with cheese, sour cream and salsa), you could serve just the meat and eat it with sides OR you could even put it on a salad with loads of vegetables.  The flavor isn't overly Mexican, it just tastes great that way.  Look how amazing that picture looks.  Makes my mouth water a bit…every time I see it.
Herbed Pork Adobo in the Slow Cooker
Tweet this recipe!
Click To Tweet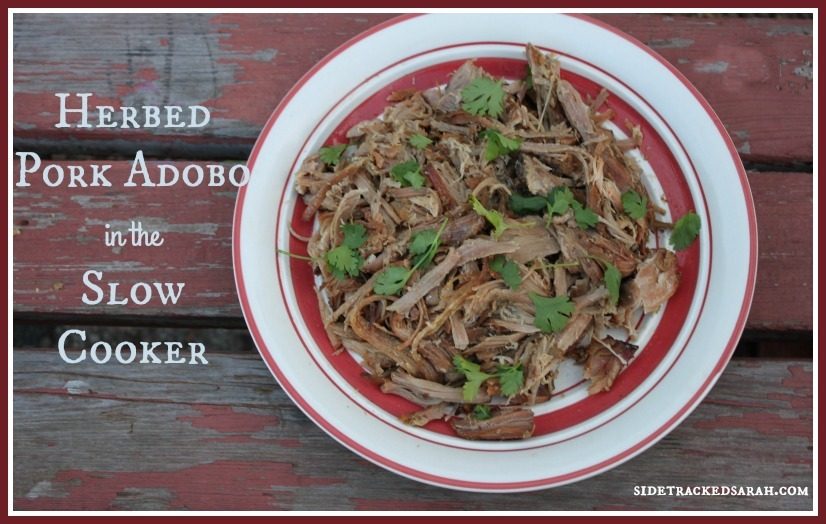 Slow Cooker Pork Adobo
Instructions
 Pour both cans of chipotle peppers in adobo sauce into bowl.

If you're OK with spicy, cut up the peppers with scissors or a knife.  If you prefer less heat, pull out the chipotle peppers.

Mix in all spices and a cup of water.

Place pork shoulder in slow cooker.

Salt and pepper the pork shoulder.

Pour adobo mixture over the meat.

Cover and cook on low for 8 hours, until the pork is fork tender.

Pull the pork apart using two forks and mix together with the sauce remaining in the slow cooker.

Garnish with freshly chopped cilantro.
Freezer to Slow Cooker Instructions:
Follow instructions 1-5 above.

Place pork shoulder in a gallon sized freezer safe bag.

Pour adobo mixture over it, swishing it around so it's well covered and marinating in the freezer.

Label & Lay as flat as possible to freeze.

On cooking day, it's best to have the meat thawed out before beginning, but if you forget, you can defrost bag in microwave or run it under hot water until it is able to slip out of the bag (sometimes I cut the bag off).  Be sure to add an extra 1-2 hours of cooking if any of the food goes in frozen.
You can serve this on tortillas, taco shells, over taco chips or even on a bun for a spicy pulled pork sandwich with amazing taste.   You can even serve it over lettuce for a low carb friendly meal.  It's great to know we can eat so well and be off of most carbs if we want to!