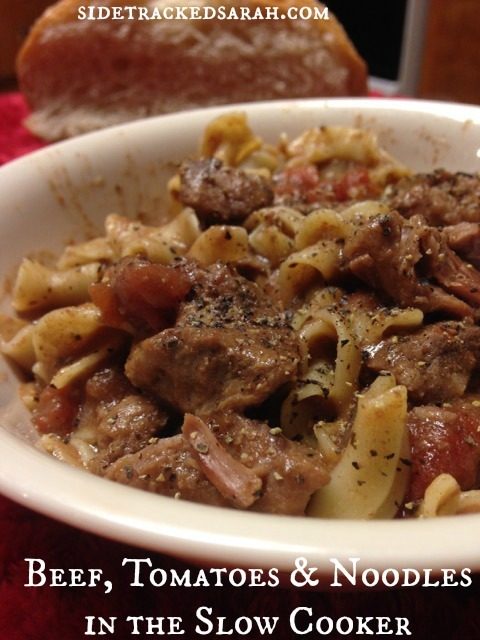 Before we start, many of you have asked me what the best slow cooker you should get is.  It varies for every family, but I tell you all about it here:  Best Slow Cooker Choices.
I'm feeling a little deprived on beef dishes lately.  I've been trying to save money, so we've been eating more pork and chicken.  But, I really LOVE a good recipe that calls for stew meat.  When it slow cooks all day, it really does taste amazing!  Especially if it's been cooked in any tomatoes or tomato sauce.  This one definitely fit the bill!  This dish is similar to a beef stew, but didn't have quite as many vegetables.  It's also similar to beef stroganoff (the non-ground beef variety), but it doesn't have the creamy sauce.  I'm going to give you the recipes as I made it, but at the end, I'll give you some other suggestions to change it up a little.
Beef, Tomatoes & Noodles Recipe for the Slow Cooker
Tweet this recipe!
Click To Tweet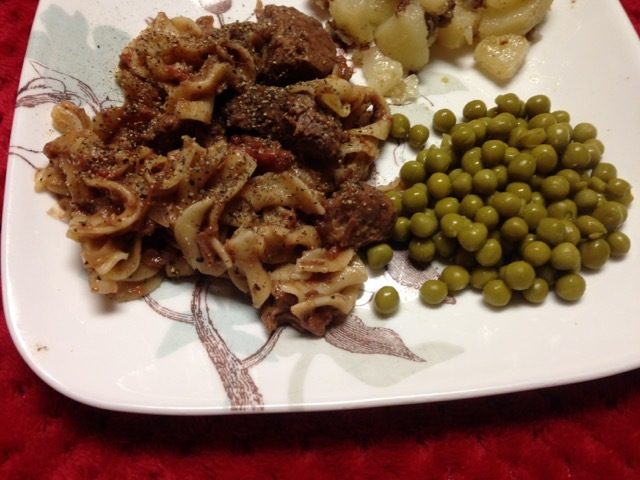 Beef, Tomatoes & Noodles in the Slow Cooker
Instructions
Combine meat, tomatoes, salt, pepper and onion in the slow cooker.

Cook on low for 7-8 hours or on high for 3-4 hours.

At the end of cooking time, if it looks pretty soupy, add a little bit of corn starch, stirring it in well and leave lid off for a while and it will thicken up.

Serve over cooked egg noodles (or rice would work, too).
Freezer to Slow Cooker Instructions:
Place meat, tomatoes, salt, pepper and onion in 1 gallon freezer safe bag.

Lay flat to freeze.

Label the bag.

On cooking day, set out bag the night before and throw it in the slow cooker when you're ready to begin cooking.

About 15 minutes before you're ready to eat, cook egg noodles and enjoy!
Notes
Variations:
Some people may find this needing more flavor.  If you're one that really prefers heavy flavor, you may want to add more tomatoes, perhaps some spaghetti sauce and some garlic and maybe even some basil or Italian seasoning, making it a bit of an Italian dish.  I thought it was great as it was, but my husband thought it needed more flavor.  Don't be afraid to experiment.