Before we start, many of you have asked me what is the best slow cooker for your family. There are many variables for every family, but I tell you all about them here:  Best Slow Cooker Choices.

I enjoy using our slow cooker, roast being one of my favorite meals to make in ours.  In fact, I've met some people who only know how to make roast in a slow cooker. They never make anything else.  Isn't that weird?  OK, well, maybe not weird, but, if you're like me and use the slow cooker for everything under the sun, it may seem weird.  LOL.  Or maybe I'm weird.  I don't know.  I'll let you decide.  😛
[spacer height="20px"]
The onion soup mix gives this recipe the extra spice that it needs!  I'm not going to add this to the recipe, but cutting up fresh onions is also a good addition if your family likes onions.  My 5 year old hates them so I try to leave the obvious pieces out when possible.
[spacer height="20px"]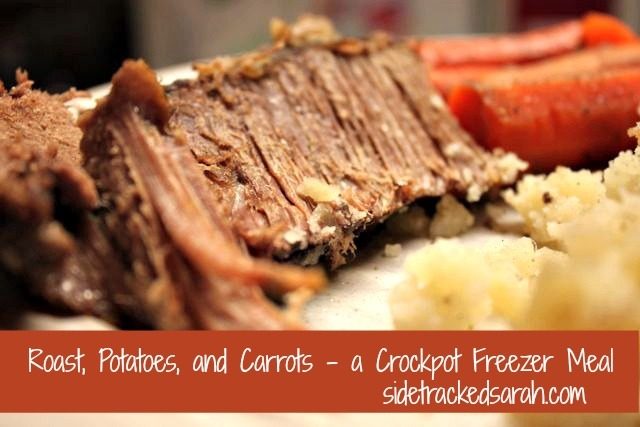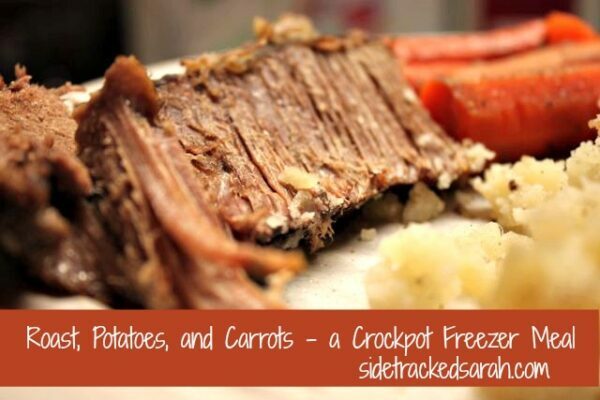 Ingredients:
[spacer height="20px"]
Roast
Potatoes (Peeled and quartered)
Carrots (peeled and halved)
One packet of onion soup mix
Water
[spacer height="20px"]
Directions:
[spacer height="20px"]
Put contents in slow cooker.  Cook on low for 8 hours.  If you cook it on high, your meat will be done, but not quite as tender if you only cook it for 4 hours.
[spacer height="20px"]
If you'd like to prepare this for a freezer to slow cooker meal, you will do as follows:
[spacer height="20px"]
Dissolve onion soup mix in 2 cups of water

Pour into freezer safe bag with roast that was removed from it's packaging.  

Freeze together

Peel and slice carrots and freeze in a separate bag.

Remember to pull contents out the night before and let it begin thawing in the refrigerator.  If you happen to forget, just throw it all in the crock frozen, but you'll want to give it about an hour of extra cooking time.

On cooking day, peel potatoes that you need for your family size.

Put roast in the water/soup mixture on the bottom and then stack the potatoes and carrots on top of that.  I prefer the meat to be in the juices so that it continues to get the flavor of the onion soup mix, but if you would rather have your veggies get that taste in them, put the vegetables on the bottom and the meat on top.  
[spacer height="20px"]
Tip:  If you're really short on time, just put the washed potatoes in with their peel.