Before we start, many of you have asked me what the best slow cooker you should get is.  It varies for every family, but I tell you all about it here:  Best Slow Cooker Choices.
Another ground beef recipe!  😀  I hope you all don't mind two recipes in a row!
Today's recipe is a little twist off of the regular meatloaf.  It's Pizza meatloaf!  What does that mean?  It is filled with onions,  green peppers and pizza sauce and is topped with pizza sauce and mozzarella cheese.     It was nice having a little twist on an old dish.  Sometimes, just changing a few things on an old recipe, makes it feel fresh and new.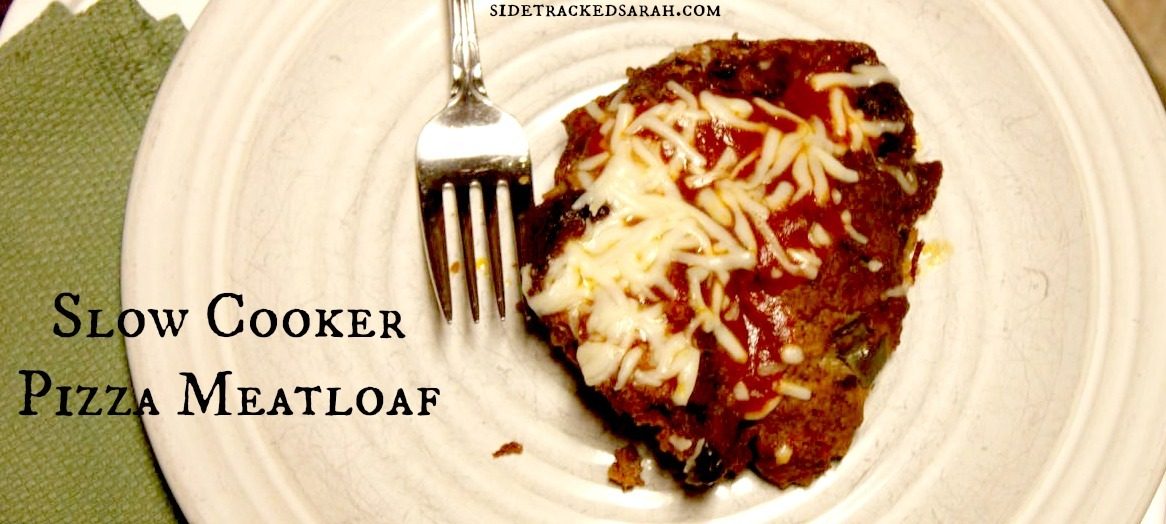 Meatloaf is great for those in your family who love southern cooking.  I tend to prefer fancier dishes or Mexican food, but I don't mind a good meatloaf recipe every now and then either.    (If you want to know my absolute favorite, you should check out the Chicken Fajitas ….mmm).
Pizza Meatloaf in the Slow Cooker
Instructions
Combine 1 1/3 cups of pizza sauce, ground beef, green pepper, onion, eggs, bread crumbs, Italian seasoning, minced garlic and parmesan cheese in a bowl.

Mix well with hands and shape into a loaf.

Make foil balls or put cooling rack, pie pan with holes, or something similar to place meat mixture on top of, so that it doesn't sit in it's own grease for hours.

Place loaf in slow cooker and bake on low for 6-7 hours or high for 3-4 hours.

Top with remaining pizza sauce and mozzarella cheese.

Let cook for another 15 minutes or until cheese is melted.
P.S.  I originally tried this with a pound of sausage in exchange for one of the pounds of hamburger meat.  I much prefer it to be all hamburger meat!   The sausage ended up too greasy and it tasted like it had been cooked together for too long, taking on too much of the grease taste.  Using all hamburger should eliminate this problem.