Before we start, many of you have asked me what the best slow cooker you should get is.  It varies for every family, but I tell you all about it here:  Best Slow Cooker Choices.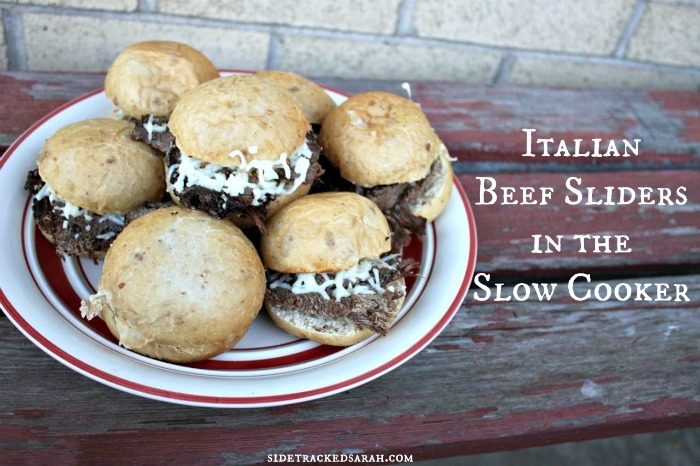 I have been having so much fun finally coming up with some great recipes to have again! I must admit something to you though. We went through a busy season and we were kind of living out of the freezer. And I'm not talking yummy Freezer to Slow Cooker meals. I'm meaning, frozen burritos and pizzas. ICK.  It was time to get back to the basics and start cooking real meals again!
These Italian Beef Sliders were so delicious!! I have not been cooking as much roast lately, because the price of beef has gotten to be so outrageous. I can barely make myself pay the price that it takes to get enough for our family. It's always nice to incorporate something tasty like this every now and then though.  I miss having roasts on a regular basis.  When it came down to it though, paying for this roast and having a hearty, delicious meal wasn't any more than running through the drive thru!  Plus, we ate so much better!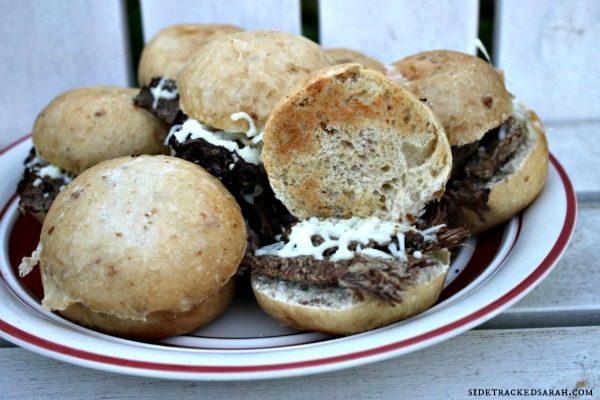 Tweet this recipe!
Click To Tweet
Italian Beef Sliders - Slow Cooker Recipe
Ingredients
4-5 

pound

boneless roast.

6 

garlic cloves

4

tsp

Parmesan cheese

2 - 12

oz

cans beef broth

2

tsp

oregano

2

cups

Mozzarella Cheese to top meat with

Buns or dinner rolls
Instructions
Cut slits in top of roast and place garlic cloves and 1/2 tsp cheese into each slit.

Pour broth over meat.

Sprinkle generously with oregano.

Cover & Cook on low for 10-12 hours (for nice tender beef) or on high for 5-6 hours.

Remove meat and slice thinly for sliders.

Cut rolls in half, put meat on each roll and top with mozzarella cheese.

Put the top bun face up, next to the other bun with the meat and cheese on it and toast in broiler for a few minutes.

Serve on buns or dinner rolls.

Use broth to dip your sandwich in if you like.  It makes it extra tasty!
Freezer to Slow Cooker Instructions
Cut slits in meat and fill slits with garlic and parmesan cheese.

Place in freezer safe bag.

Label & lay flat to freeze.

On cooking day, place roast in slow cooker, pour broth over and sprinkle with oregano.

Cook on low for 10-12 hours or on high for 5-6 hours.

You may want to freeze your buns, too if you're going to wait several days to eat these.
Does this recipe sound good to you?  Don't forget to pin it!