Before we start, many of you have asked me what the best slow cooker you should get is.  It varies for every family, but I tell you all about it here:  Best Slow Cooker Choices.
Welcome back to the April Slow Cooker series!  Have you missed the recipes that have been shared so far this month?  If so, here they are:
April 1st:  Slow Cooker Meatballs with Balsamic Reduction
April 2nd:  Chicken Enchilada Nachos in the Slow Cooker
April 3rd:  Gluten Free Slow Cooker Beef Stew Recipe
April 4th:  Healthy Southwestern Chicken Tortilla Soup
I hope you're enjoying the new recipe ideas!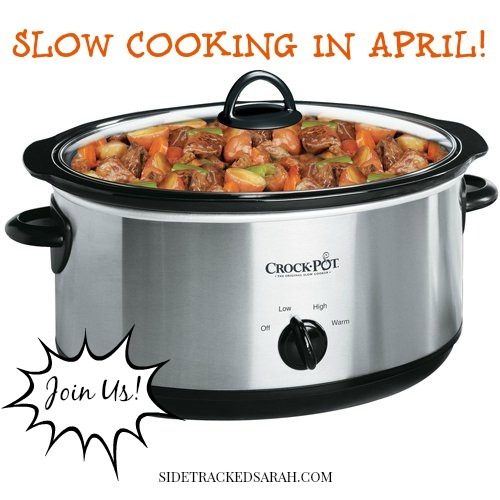 Hi there! Laura Knox here from The School of Hard Knox, where we tend to learn just about everything the hard way, from faith to family to food allergies. Speaking of food allergies, I'm always on the lookout for easy meals that fit our dietary restrictions. This is a FOUR INGREDIENT wonder dish, and it's definitely worth your time.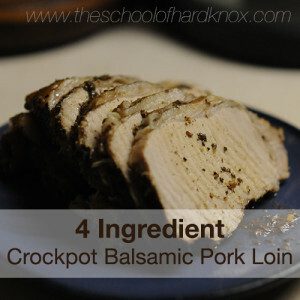 Pork loin is a protein I haven't tackled in the past few years. Besides my husband working his magic on pork chops on the smoker, I have avoided pork at all costs. I cannot stand dry pork. CANNOT STAND IT. But, Sam's Club has had pork loins for $1.68/pound lately, and it definitely caught my attention. You can't beat $1.68/pound for protein, so I've been trying out some pork loin recipes. My mother, who feeds most of her small town at community dinners, roasts pork loins in the oven, so this recipe is inspired by her crowd-pleaser. I believe the crockpot takes an easy recipe & rockets it to "unbelievable" status.
Click to tweet, save and share.
Click To Tweet
Crockpot Balsamic Pork Loin
Ingredients
2

Tbsp.

steak seasoning

Montreal Steak is what I have & it works great

1/2

cup

olive oil

1/2

cup

balsamic vinegar

if you have food allergies, check for gluten free...some brands aren't

2

pound

pork loin

give or take
Instructions
Mix first three ingredients in a gallon bag. Add pork loin & marinate 2 hours to overnight. Place pork loin and marinade in crockpot and don't touch it. Cook on high for 4 hours, until golden brown on top and fork tender.
Notes
I use as large a pork loin as I need and can fit into my crockpot. I have used up to a 4 pound loin with the same amount of marinade with no problems.
You can remove some of the liquid as it is cooking, but the result will be drier. We don't like dry pork, so I leave it alone. I also like to thinly slice the loin with my electric knife, then put it back into the liquid to give even more flavor in each slice.
This recipe is fantastic for taking dinner to a friend. Add my take on Alton Brown Rice, baked sweet potatoes, & steamed sugar snaps and you've got an easy, satisfying meal to share with a family who has just gone through surgery, a birth, or a loss.
I literally threw this recipe in the crockpot while I was dying Easter eggs with these Little Hearts. And let's be honest...this time of year? That's definitely how I'd rather spend my time.
Laura Knox is a wife and mother of three who enjoys spirited Mancala tournaments & popcorn on Sunday afternoons. Laura believes her family learns most things the hard way & writes about her family's adventures in faith, family, & food allergies at The School of Hard Knox.
*This post contains affiliate links.