This post was sponsored by Bear Creek Country Kitchens.  All opinions, stories and information contained within are 100% my own.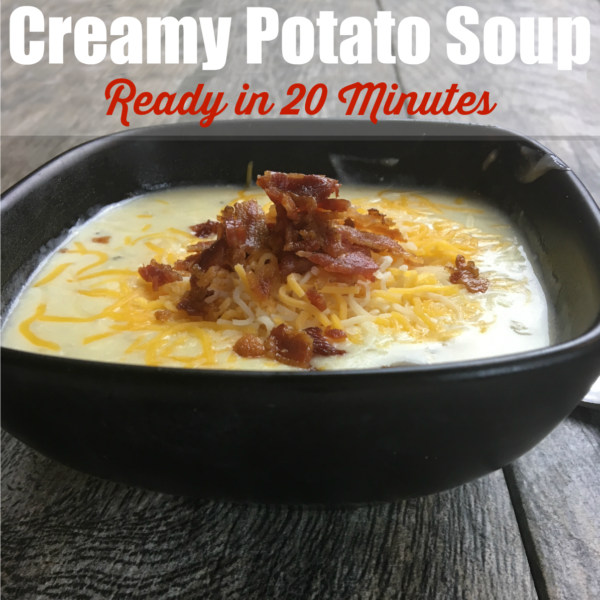 Have you ever just been so busy that you feel your mind shut down a little?  That week had been one of those weeks.
One of my closest friends' newborn baby was in the PICU and was supposed to be there for a month or more.  Even though I was really busy with readying my house for Thanksgiving, I really wanted to help my friend out if I could, so, I offered to help.  We both have a lot of kids, we both homeschool and we both run small businesses from home.  We have a lot in common and love to support one another any time that we can.  She took me up on my offer and I was signed up to help her with six of her ten kids.  I would watch them during the day for 4 days that week, and return home at night.
She lives about an hour away from me, so I had to drive there every morning and return home in the evening.  I was really bad about planning our meals ahead of time that week, as it was so out of my routine to leave first thing in the morning.  (I don't know how you working away from home moms do it!).
Our dinners that week were looking pretty grim, as I wouldn't even get home until 6:30 p.m. We started the week by relying on carry out pizza and gas station food, but finally, on the last night, I remembered that I had something totally easy to make, right there at home and it would only take about 20 minutes!  Yes, you read that right, twenty minutes!!
I had 3 packs of Bear Creek Soup Mixes in my cupboard.  The Creamy Potato version.  My family LOVES potato soup.  Each pack makes 8 one cup servings.  Since we tend to have some hungry ones in our family, I decided to make all 3 packs, so we'd have enough leftovers to last us for some lunches, too.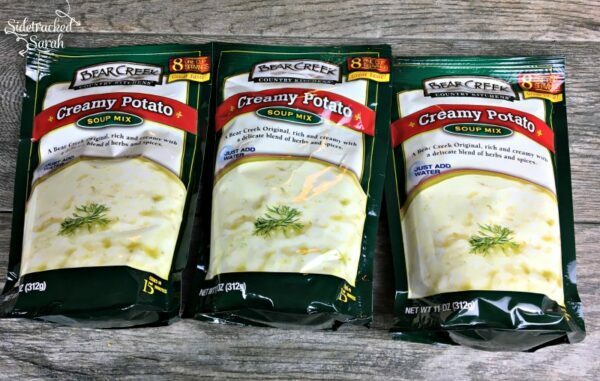 While it would have been perfectly fine to eat the soup just like the package says, I decided to make ours a little creamier and cheesier, too, with some ingredients we already had on hand.
Here's what I did:
Creamy Potato Soup Made in 20 Minutes
Ingredients:
3 Bear Creek Creamy Potato Soup Mixes
1 block of Cream Cheese
1.5 cups of sour cream
3 cups of shredded cheddar cheese
2 pounds of bacon, cooked and crumbled.
Extra Shredded Cheddar cheese for topping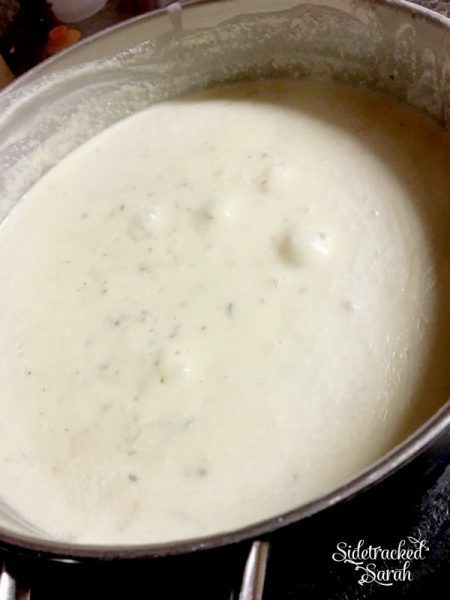 Directions:
Put 24 cups of water in a large stock pot and bring to a rolling boil.
Pour in the 3 packs of Bear Creek Creamy Potato Soup mixes and stir.
Reduce heat to medium and cook for an additional 15 minutes.
When done, stir in cream cheese, shredded cheese and sour cream.
Top with extra shredded cheddar cheese and crumbled bacon.
This soup would have been great paired with a grilled cheese sandwich or some hot bread and butter.  But, since I was in a hurry, we just had it all by itself.  Everyone went back for seconds and some even went back for thirds.  I'd say that Bear Creek Soup Mixes is a hit for those nights that I haven't planned anything for supper in advance.  I think I'll keep several on hand, just in case.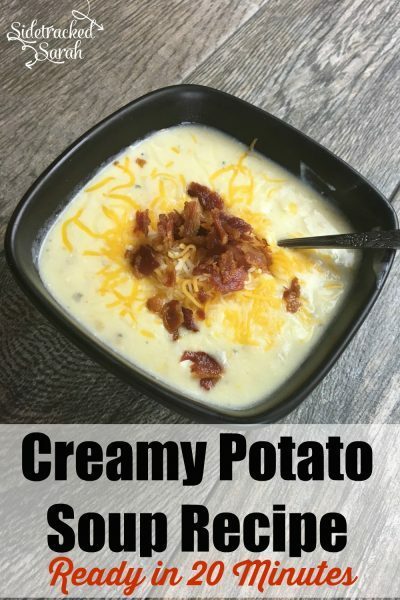 I had to laugh though.  Thinking this was something new for my husband to eat, I asked him if he liked it.  He said, "yeah, but I've had it before".  Thinking I was brilliant for finally learning about this gem, I'm like…. "What?  Where have you had it before?"  He says, "At work".  Apparently, one of his coworkers often brings the individual servings sizes to work and has them for lunch.  She has shared with him before.  He's been keeping food secrets from me!
Apparently, though, I've been living under a rock, because they've been making soup mixes for over 20 years (that's how long I've been married)!  I'm glad I finally found them, especially for when I have a week like I had that week!
For more information about Bear Creek Soup Mixes, be sure to visit their site.
This is a sponsored post written by me on behalf of Bear Creek Soup Mixes.