This Chicken Tortellini with Alfredo Sauce slow cooker recipe, may be one of the easiest recipes EVER, but it DOES NOT show that by the way it tastes.  I threw it together in a few minutes, thinking it may be bland, or not one of the better recipes I've made, and to my surprise, it far exceeded my expectations!  The pot was full, and now it's empty, if that gives you any indication of how popular this meal was.  Seriously, my kids gobbled it down.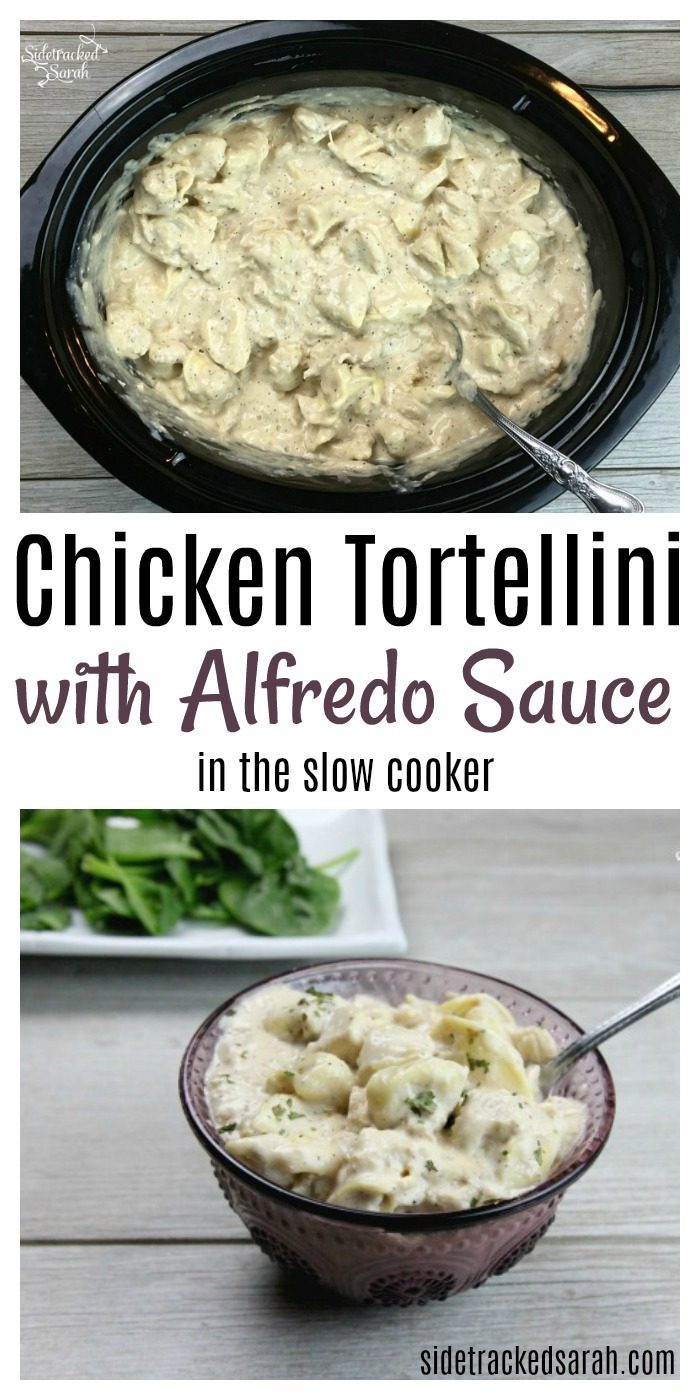 I actually made the Chicken Tortellini with Alfredo sauce for dinner one night, and then we changed our plans and ended up going to the park for a picnic.  The weather has been unseasonably cool this week, so we wanted to take advantage of it while we can!  I stuck the Chicken Tortellini in the refrigerator and decided I'd save it for another meal.  It was so handy to already have this ready for Saturday afternoon lunch, as I didn't feel like cooking AT ALL, and ta-da, a delicious meal was ready in an instant.
My 20 year old son Baylee is normally the one who shows up last, to get his plate of food, as he's often not home or busy doing homework and not able to come to dinner at a normal time.  This time though, he showed up as one of the first people, and assumed he was last.  He took the biggest portion…a great big heaping bowl full …. and then went back for more, thinking everyone had eaten.  We ended up having barely enough for everyone, but we made it stretch.  I may have to send Baylee this recipe to college so he can impress his friends, lol.  They'll think he's some amazing gourmet cook, when actually the recipe and the slow cooker just make you look good!  LOL   Of course, most of my chicken recipes, are pretty easy and taste great, so he can take his pick!
Be sure to scroll to the end of the post to see the recipe being made on video.  If you'd like to subscribe to my YouTube Channel, where I often share these videos, you can do so here.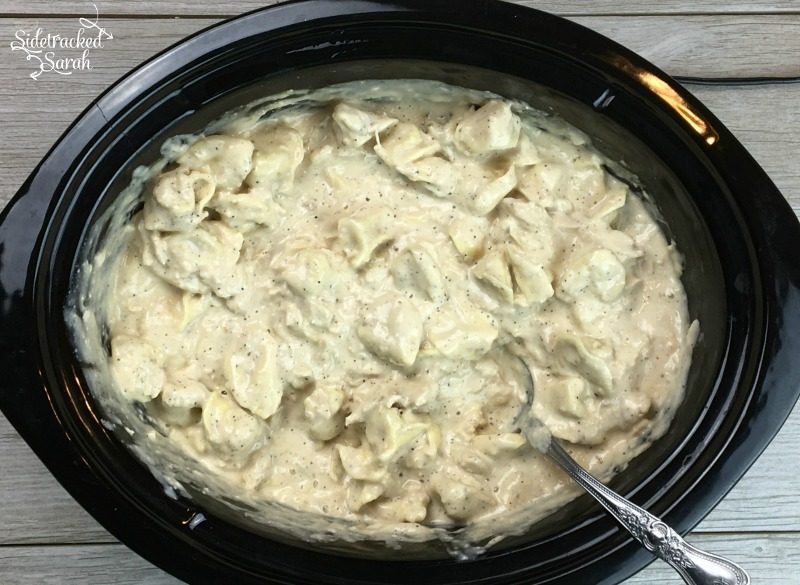 Easy Chicken Tortellini with Alfredo Sauce
Easy Slow Cooker Chicken Tortellini with Alfredo Sauce
Prep Time
3
hours
51
minutes
Cook Time
3
hours
51
minutes
Ingredients
6

boneless skinless chicken breasts

2 15

oz

jars of Alfredo sauce

1

Tbsp

minced garlic

20

oz

tray refrigerated three cheese tortellini

Parsley

for garnish

1

tsp

pepper
Instructions
Place chicken into slow cooker

Add 1 jar of Alfredo sauce

Cook on low 6-8 hours

Shred chicken

Add 2nd jar of Alfredo sauce, minced garlic, pepper & tortellini

Cook on high another 15 minutes

Garnish with pepper & parsley