Is anybody else having trouble getting dinner served in a timely manner?  The other day, I was on my way to a doctor's appointment in a town about an hour away and remembered it.  I hadn't put dinner in the slow cooker!  What?  NOOOO!   Not again!  I'm so bad about remembering dinner.  Isn't that crazy?  The one thing that repeats itself every single day of my life, I manage to forget about until I don't have time to do it.  Do you do that, too?  Please tell me I'm not the only one!
Thankfully, I have a really handy group of tools.  They're called children.  Specifically, I had a teenager still at home, not gone anywhere yet that day.  He's not really confident in his cooking skills, but I assured him, he could just grab some ingredients and throw them in the slow cooker.  The hardest thing he was going to have to do was cut an onion.  That didn't sound so bad.  He agreed he'd save the day for me as long as I'd text him the ingredients I was supposed to add.  So, I pulled over to the side of the road and sent him the list.  And that's how we got to eat this amazing dinner, called Chicken Tetrazzini.
(This post contains affiliate links)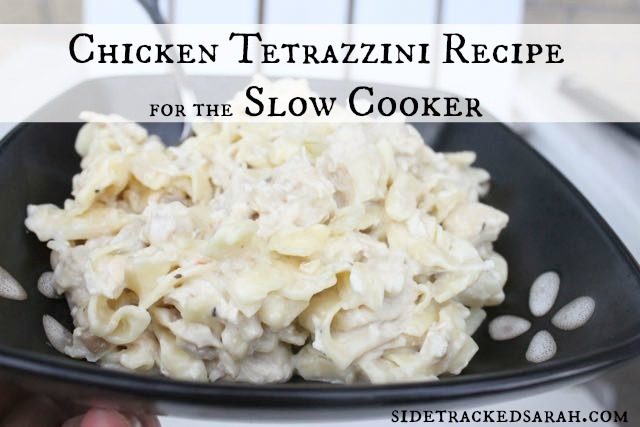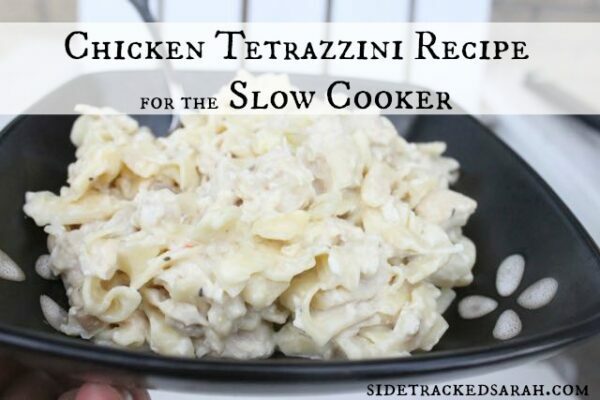 Slow Cooker Chicken Tetrazzini
Tweet this recipe!
Click To Tweet
Ingredients:
6-8 Boneless, Skinless Chicken Breasts
1 (7 oz) package of dry Italian-style salad dressing mix
1 small onion, sliced into rings and separated
1 teaspoon garlic powder
1 teaspoon sesame oil (optional)
1 (10.75 oz) can condensed cream soup (any variety…or make your own)
1/2 cup chicken broth
1 (8 oz) package cream cheese, softened
Egg noodles (to serve over later)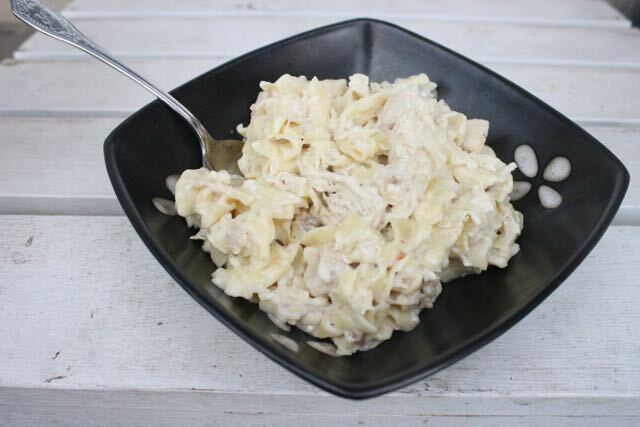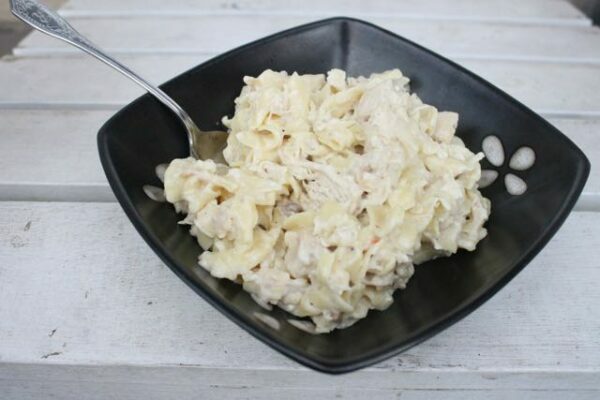 Directions:
Place chicken breasts in the bottom of the slow cooker
Sprinkle Italian-style dressing mix over the top of the chicken, flipping to coat both sides.
Slice onion into rings and place over the top of the chicken.
Mix cream soup, chicken broth, sesame oil, cream cheese and garlic powder together and pour over the top of the chicken.
Cook on low for 7-8 hours and on high for 4 hours.
When you're ready to serve, boil egg noodles and drain.
Chop up the chicken pieces in slow cooker with kitchen scissors and mix the egg noodles into the chicken sauce, for a nice tasty dinner.
Optional:  You could mix in peas or broccoli to make it more of a complete meal.
Freezer to Slow Cooker Instructions:
Slice onions
Mix cream soup, cream cheese, chicken broth and garlic powder together.
Place chicken breasts in gallon size freezer safe bag and put the soup mixture in with it.  (Or you can leave the chicken separate and only have the soup mixture in the bag instead).
Label the bag with Chicken Tetrazzini, and lay as flat as possible before you freeze.
You may want to write the cooking instructions on your bag as well.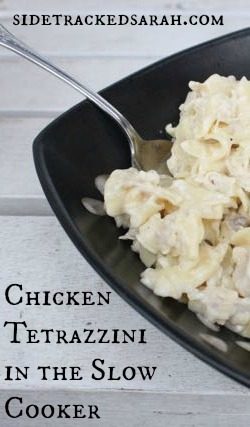 *This post contains affiliate links.