Today, March 14th is National Pi Day
No I didn't misspell that.  I really am talking about Pi.  If you're like me, you may have been too far removed from school to even remember what pi is.  Yes, I homeschool, and yes, my son has been exposed to pi…but for now I haven't had to do much with explaining pi to him yet.  The math program he uses is all on CD and I haven't had to step in much, unless he just can't figure it out.  Anyway, I said all of that to say this.  In case you still can't remember what Pi is, the definition is this:
It is the ratio of a circle's circumference divided by its diameter.  It alway equals a number that goes on and on, but can be rounded up to 3.14. 
And do you have any idea why March 14th was chosen as National Pi Day?  3.14   Get it?  As in the numbers in the number Pi.  Brilliant, huh?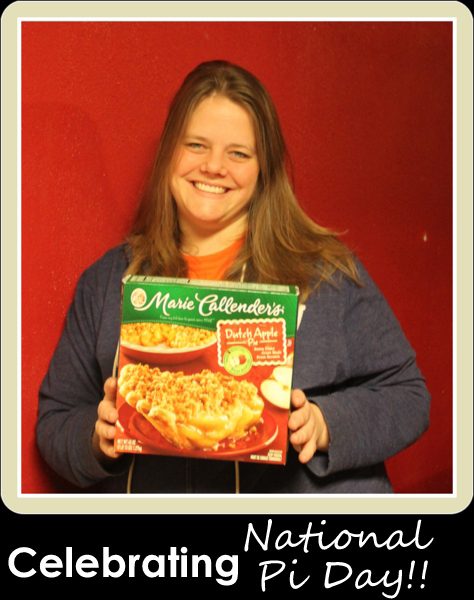 So how does one celebrate National Pi Day?
By eating Pie of course!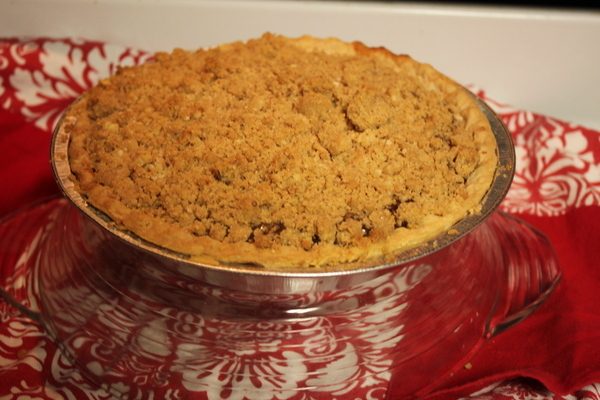 Yesterday, I went to the store to pick out our family's special Marie Callender's pie.  It was a hard decision.  I started by looking at the calories, as I recently started a new diet.  There was Banana Cream, Dutch Apple, Coconut Cream, Lemon Meringue and so on.  I then decided that the Dutch Apple Pie looked so good that I couldn't pass it up!  I knew my kids and husband would be thrilled with my choice and I also knew that I could still eat a small slice as long as I saved enough calories in my day.  I'm sure that my family would be glad to eat any that was left over as they never have a problem consuming anything sugary sweet.
Would you believe that I have never bought a Marie Callender's pie before yesterday?  I tend to be the one who goes for the cheap, no name box, no matter how good it is.  Let me tell you, in this particular case, it is worth paying a little more!  It was absolutely delicious!  Baked to perfection.  I usually don't care too much for the crust when it comes to pie, but in the Marie Callender's Dutch Apple Pie, it is to die for!  I would eat it just for the crust.  It was that good!  My husband came in to tell me that Marie Callender's was the best frozen apple pie he has ever eaten.  Hands down.  Now that is saying something!  He doesn't hand out those complements to just anyone.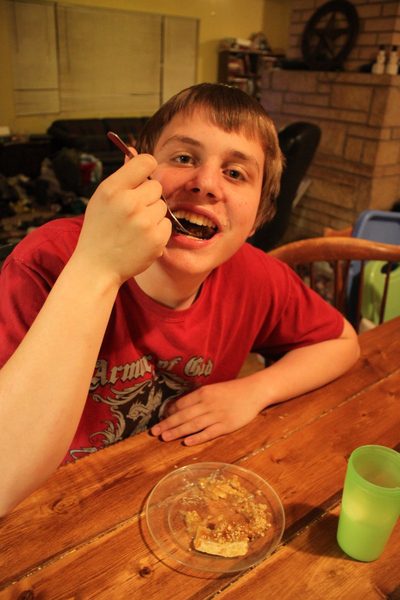 Have you tried Marie Callender's Pie before?
If so, what did you think?  Are you a big fan like I am?  What's your favorite?  You can rate and review any Marie Callender's products on their website.  Just click on the product that you want to rate and then click write a review.  
Are you going to celebrate National Pi Day with your family?   Check out Marie Callender's blog for party ideas, how-to's and more!  If you are planning to eat pie any time in the near future, be sure to take this coupon for $1.50 off a Marie Callender's frozen pie at any national retailer.  The link will not be active after March 21st, 2013.  The coupon expires March 31st, 2013.
I was selected for this opportunity as a member of Clever Girls Collective, and the content and opinions expressed here are all my own.