Before we start, many of you have asked me what is the best slow cooker for your family. There are many variables for every family, but I tell you all about them here:  Best Slow Cooker Choices.
I've been wanting to make more meals that are rich in vegetables.  Not only are they better for us, but they're easier for me to stay on  my eating plan when I have meals like this.  The only problem is that I have 2 children who don't like this wide of an assortment of vegetables.  They survive though, and the rest of us are happy.  We love to add some spice to this recipe, but we just do it to our own bowls, so we don't heat it up for the younger kids.  Tobasco sauce and pepper are great in this soup!!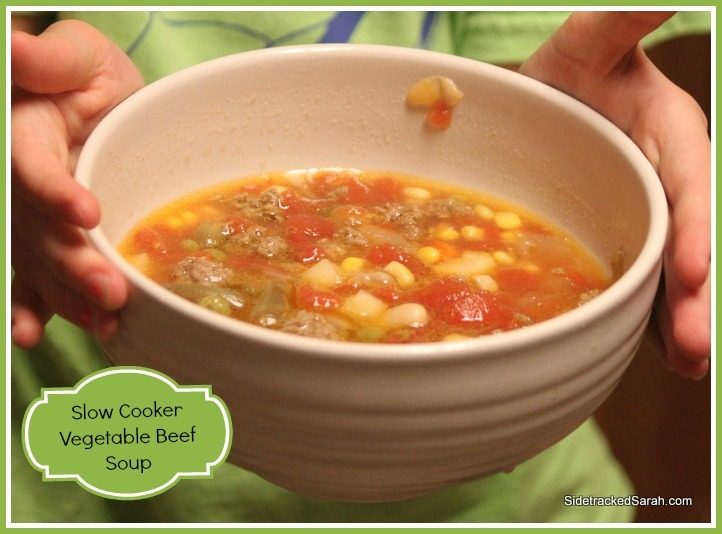 Tweet so save and share this recipe!
Click To Tweet
Slow Cooker Vegetable Beef Soup
Ingredients
2

pounds

ground beef1/2 medium onion

diced.1 16 oz bag of frozen mixed vegetables1 can white beans, drained2 cups of frozen corn (or 1 can)2 cups carrots, sliced5 cans of diced tomatoes and green chilies2 cups of water 
Instructions
Chop onion.

Cook ground beef and onions.

While beef is cooking, chop carrots.

Place all ingredients in Slow Cooker.

Cook on low for 6-8 hours or high for 3-4 hours.
Freezer to Slow Cooker Option:
Place 1st 6 ingredients in a freezer safe bag.

Staple note to the bag that says, "Add 2 cups of water and 5 cans of diced tomatoes and green chilies".

You will love being able to pull this out and not have much to do to get it ready!
When I have little helpers, helping me get pictures, they like to find ways to get their faces in the picture.  Or at least part of their faces!  🙂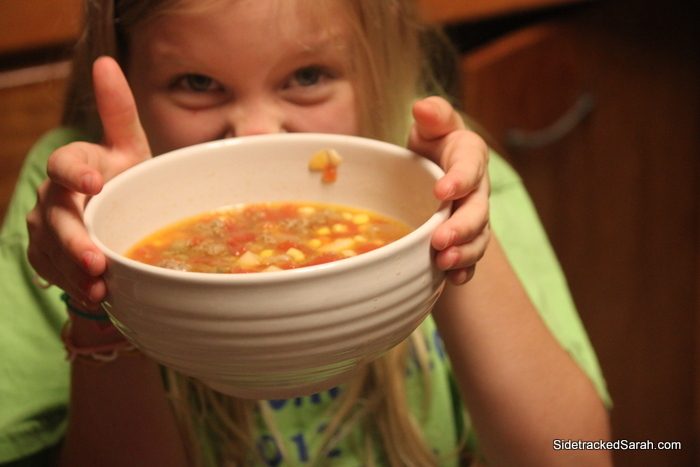 *Some links in this post are affiliate links.