Before we start, many of you have asked me what the best slow cooker you should get is.  It varies for every family, but I tell you all about it here:  Best Slow Cooker Choices.
**This post contains affiliate links**
I've never actually put broccoli in my eggs, but this recipe calls for it.  I was actually VERY impressed with how good it was.  I've always shied away from broccoli in my eggs, thinking it didn't sound good but it did taste good.  Imagine that!  This is one of those recipes that is so easy and doesn't even take that long to cook.  It would be perfect for a Christmas morning dish or a brunch meal, so you don't have to cook first thing in the morning.  Of course, I don't mind a bit eating this for supper either.  I actually sometimes prefer breakfast foods at supper!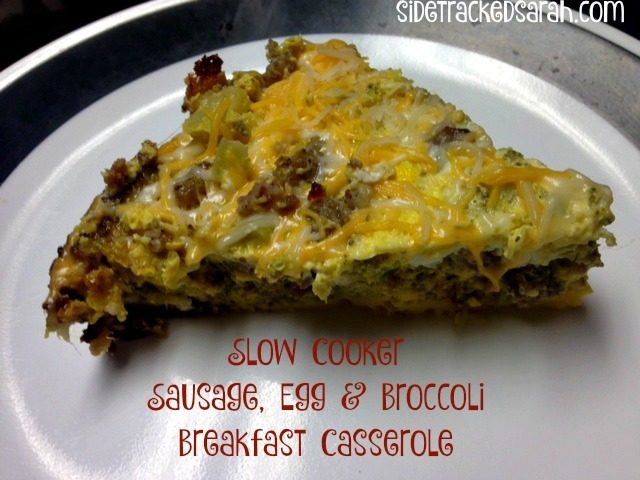 Tweet this recipe!
Click To Tweet
Ingredients:
1 medium head of broccoli, chopped (or use frozen if you prefer)
1 pound of sausage, browned
1 cup shredded Cheddar cheese, divided
10 eggs
3/4 cup whipping cream
2 tsp minced garlic
1/2 tsp salt
1/4 tsp pepper
Directions:  
Grease the insert of your 6 quart slow cooker.
Layer half of the broccoli, half of the sausage and half of the cheese into the slow cooker.
Repeat with remaining broccoli, sausage and cheese.
In a large bowl, stir together eggs, whipping cream, garlic, salt and pepper until will mixed.  Pour over layered ingredients.
Cover & Cook on low for 4 to 5 hours or on high for 2 to 3 hours.  The edges should be slightly browned and the middle should be set, when done.
Freezer to Slow Cooker Instructions:
Brown sausage
Chop broccoli into bite sized pieces (or use the frozen variety if you prefer).
Place browned sausage in a quart sized freezer bag.
Place Broccoli in quart sized freezer bag.
Mix together 10 eggs, whipping cream, garlic, salt and pepper in a gallon sized freezer bag.  (this step could wait to be done on cooking day if you prefer)
Label each bag with "Sausage & Egg Casserole" and lay flat to freeze.
Be sure to thaw your bags the night before you plan to use so that you can easily layer them in the slow cooker when it's time.
On cooking day, layer each layer as explained above.
Cook on low for 4 to 5 hours or on high for 2 to 3.