Before we start, many of you have asked me what the best slow cooker you should get is.  It varies for every family, but I tell you all about it here:  Best Slow Cooker Choices.
My husband has never claimed to be a big pork eater.  I'm not sure why.  He loves the more processed versions of pork (like  sausage, bacon & shaved ham), but when it comes to pork roasts, pulled pork and pork chops, he'd rather eat beef.  In an effort to broaden our horizons a bit, I decide it was time to try a new pork roast recipe.  For starters, I discovered, it's definitely cheaper to eat a pork roast than it is a beef one!
You should've seen the reactions on my kids' faces as they saw it cooking.  They looked into the slow cooker and one of them announced that we were having fish.  LOL.  I assured them that this looks nothing like fish (another meat we don't eat a lot of!).  They said that they thought it may be fish because it was white.  Ahhh, "Pork, the other white meat".  (Have you heard that commercial?)
Somehow my husband got out of trying this amazing roast as he had a busy evening and ended up grabbing something out while he was running around town, but my kids all tried it and proclaimed that I HAVE to make this again because it was SOOOOO good!  I agree, it was very tasty!  Something I'll definitely enjoy serving again and hopefully I'll get my husband to give it a whirl next time!  I think he'll be surprised at how much he likes it!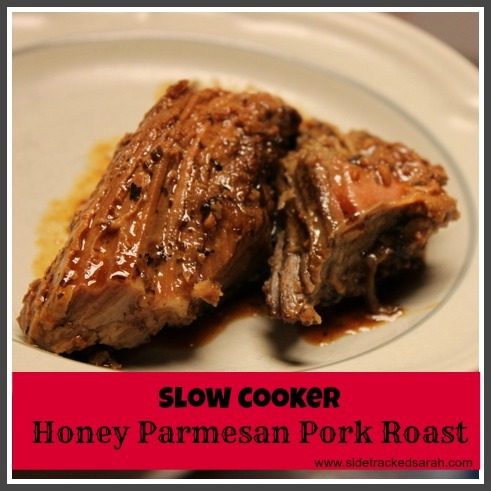 Tweet this recipe to save and share!
Click To Tweet
Slow Cooker Honey Parmesan Pork Roast
Ingredients
1

2-3 pound boneless pork roast

2/3

cup

Parmesan cheese

1/2

cup

honey

3

Tbsp

soy sauce

2

Tbsp

dried basil

2

Tbsp

minced garlic

1/2

tsp

salt
Instructions
Mix last 6 ingredients together in a bowl.  Pour over the top of the pork roast in crockpot.  If you're home while it's cooking, you may want to flip the roast at some point so that you can recoat the top of the roast with the honey/parmesan mixture!  Cook on low for 7-8 hours or on high for 4-5 hours.
Freezer to Slow Cooker Directions:
You can mix the 6 ingredients together and put in a freezer safe bag and freeze beside the pork roast.  OR, you can place it all in a baggie together.  Just remember that you will need to get it out the night before so that it is thawed when you put it into the crockpot and you can nicely coat the roast.
This meal is to be part of my next Crockpot Freezer Meal Weekly plan.  For more weekly meals, go to my Freezer to Slow Cooker section.