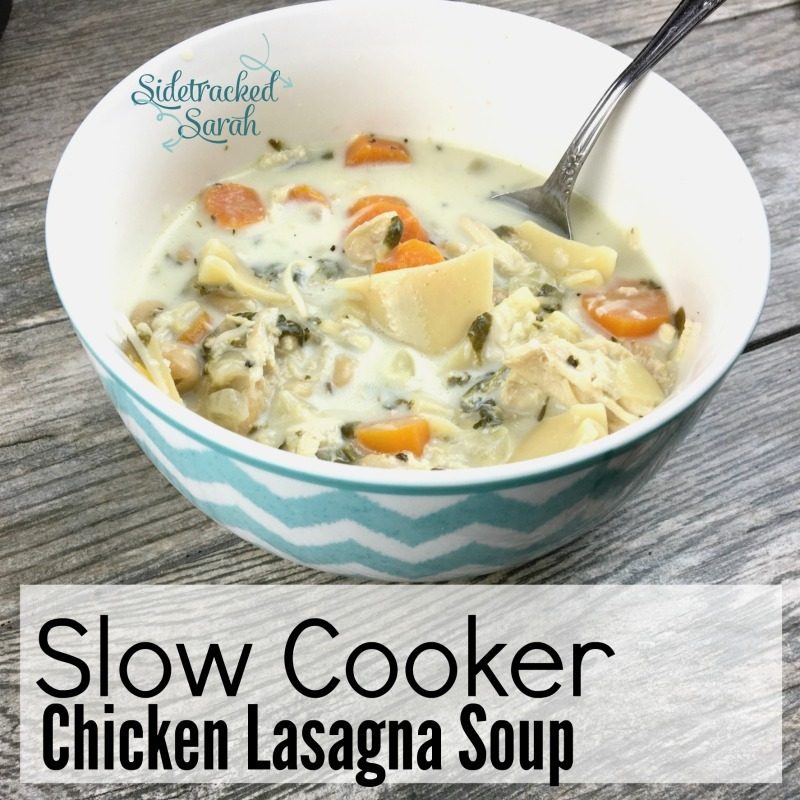 Last week, I had a craving.  I wanted lasagna, but I wanted soup.  Haha, I'm kind of indecisive like that!  So instead of making a decision on that menu, I decided to figure out a way to combine the two.  The answer was chicken lasagna soup!   I wasn't sure how it would turn out, but it was actually pretty good.  My only complaint was that I didn't let the noodles cook long enough.  I was in a hurry and decided to eat it before it was done.  If I had to do it again, I'd either let it sit the full 30 minutes OR I'd boil them on the stove and make sure they were done in only 10 minutes.  Especially if I plan to be impatient, as I tend to be when it comes to food!
This recipe made more than I was expecting.  As you can see from the photo below, the whole 6 quart crock was almost all the way full.  It's a good thing, too, because I think we made pigs of ourselves that night!
If you decide to try it, let me know what you think!  I always love hearing your reviews on recipes that you've tried of mine.
Oh and before you get to this recipe, don't forget that this week, I've got a Spring Sale on my Freezer to Slow Cooker Subscription plan!  You can get a free "Freezer to Slow Cooker Chicken Bulk Cooking eCookbook" with purchase of a subscription PLUS you get $10 off and the $250 One Month Walmart Menu if you purchase the annual version!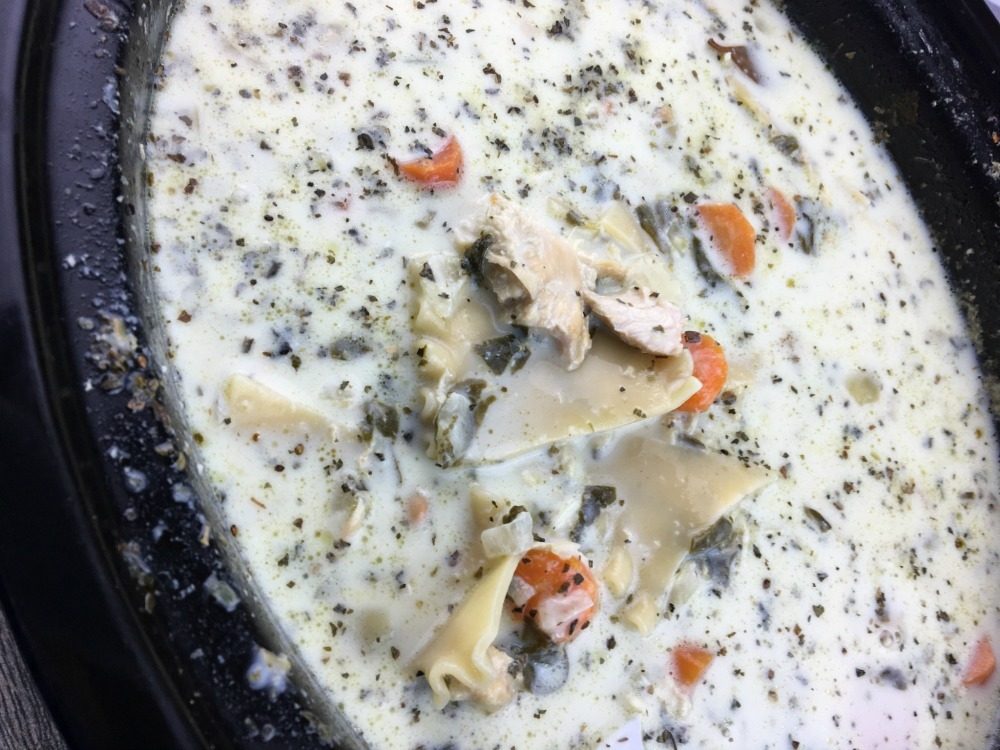 Ingredients:
4 boneless skinless chicken breasts
1 lg onion, diced
2 carrots, peeled & sliced
4 tsp minced garlic
1/3 cup flour
64 oz chicken broth
15 oz can cannellini beans, rinsed & drained
1 Tbsp chicken bouillon
1 tsp dried parsley
1 tsp dried basil
1⁄2 tsp dried oregano
1⁄2 tsp dried thyme
1⁄2 tsp salt
1⁄2 tsp pepper
2 bay leaves
10 lasagna noodles, broken into 1-2" pieces
2 cups half & half
3 cups of chopped, fresh spinach
1 cup grated Parmesan cheese
Directions:  
Chop onion, slice carrots, chop fresh spinach
Whisk together cup of flour with chicken broth.
Put all ingredients except noodles, half & half & cheese into slow cooker
Cook on low 4-6 hours
Chop or Shred chicken
Break noodles in pieces and add noodles, half & half, spinach and Parmesan cheese
Cook on low another 30-45 minutes, until noodles are tender (you may need to add a bit of hot water if it's too thick)
Garnish with mozzarella cheese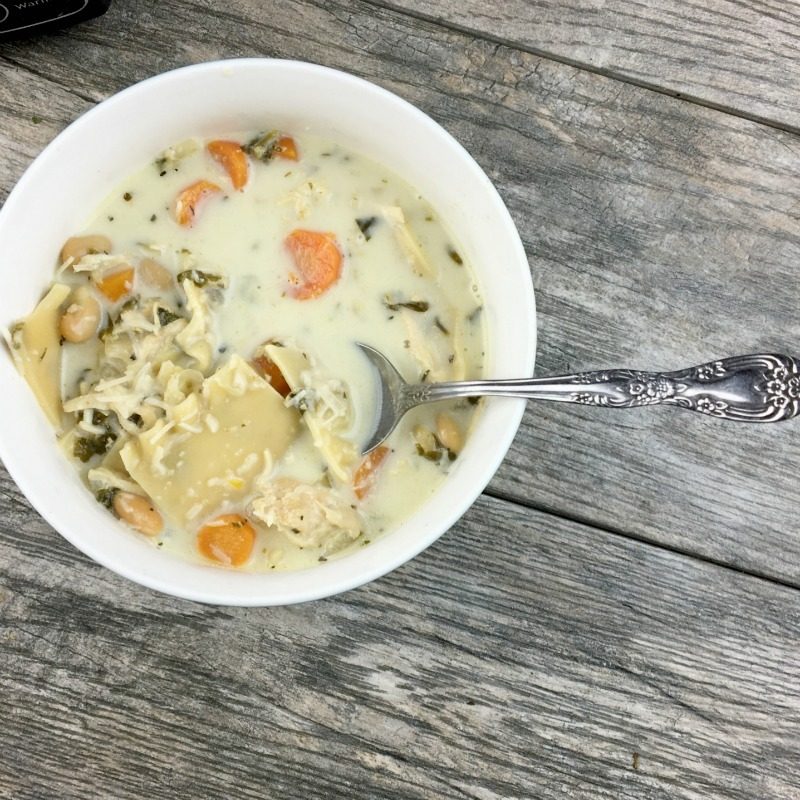 Freezer Bag Instructions:
Chop onions, slice carrots & chop fresh spinach
Whisk together cup of flour with chicken broth.
Put all ingredients except noodles, half & half & cheese into gallon size, freezer safe bag
Label & lay bag flat in freezer
Get bag out of freezer the night before you plan to cook it
In the morning, place contents of bag into slow cooker
Cook on low 4-6 hours
Shred chicken
Add noodles, half & half, spinach and Parmesan cheese, cook on low an additional 30-45 minutes, until noodles are tender
Garnish with mozzarella cheese
Slow Cooker Chicken Lasagna Soup Recipe
Prep Time
3
hours
48
minutes
Cook Time
3
hours
48
minutes
Ingredients
4

boneless skinless chicken breasts

1

lg onion

diced

2

carrots

peeled & sliced

4

tsp

minced garlic

1/3

cup

flour

64

oz

chicken broth

15

oz

can cannellini beans

rinsed & drained

1

Tbsp

chicken bouillon

1

tsp

dried parsley

1

tsp

dried basil

1

⁄2 tsp dried oregano

1

⁄2 tsp dried thyme

1

⁄2 tsp salt

1

⁄2 tsp pepper

2

bay leaves

10

lasagna noodles

broken into 1-2" pieces

2

cups

half & half

3

cups

of chopped

fresh spinach

1

cup

grated Parmesan cheese
Instructions
Directions:  
Chop onion, slice carrots, chop fresh spinach

Whisk together cup of flour with chicken broth.

Put all ingredients except noodles, half & half & cheese into slow cooker

Cook on low 4-6 hours

Chop or Shred chicken

Break noodles in pieces and add noodles, half & half, spinach and Parmesan cheese

Cook on low another 30-45 minutes, until noodles are tender (you may need to add a bit of hot water if it's too thick)

Garnish with mozzarella cheese
Freezer Bag Instructions:
Chop onions, slice carrots & chop fresh spinach

Whisk together cup of flour with chicken broth.

Put all ingredients except noodles, half & half & cheese into gallon size, freezer safe bag

Label & lay bag flat in freezer

Get bag out of freezer the night before you plan to cook it

In the morning, place contents of bag into slow cooker

Cook on low 4-6 hours

Shred chicken

Add noodles, half & half, spinach and Parmesan cheese, cook on low an additional 30-45 minutes, until noodles are tender

Garnish with mozzarella cheese