Before we start, many of you have asked me what is the best slow cooker for your family. There are many variables for every family, but I tell you all about them here:  Best Slow Cooker Choices.
This week, I've been busily trying to make sure that I eat all of the crockpot freezer meals I've prepared.  My goal is to give you a menu, complete with a shopping list and assembly instructions bug I wanted to make sure I included those pictures!  In the past, I've been known to post all the recipes and then never go back to update the picture on the recipe.    Yes, this week is filled with recipes, because I plan to give you the full week's menu at the end! Today, I remembered to take the bag out of the freezer to thaw it, but I didn't think about getting it in until 3:00 p.m.  Guess what?  No big deal.  The directions said that you only have to cook this one for 2 hours on low.  In all honesty, I think it should've gone a little longer than that.  In fact, I did eat it after 2 hours, but I left it on low for a few more hours so it would be better for my husband who was getting home late tonight and planning to eat a late dinner.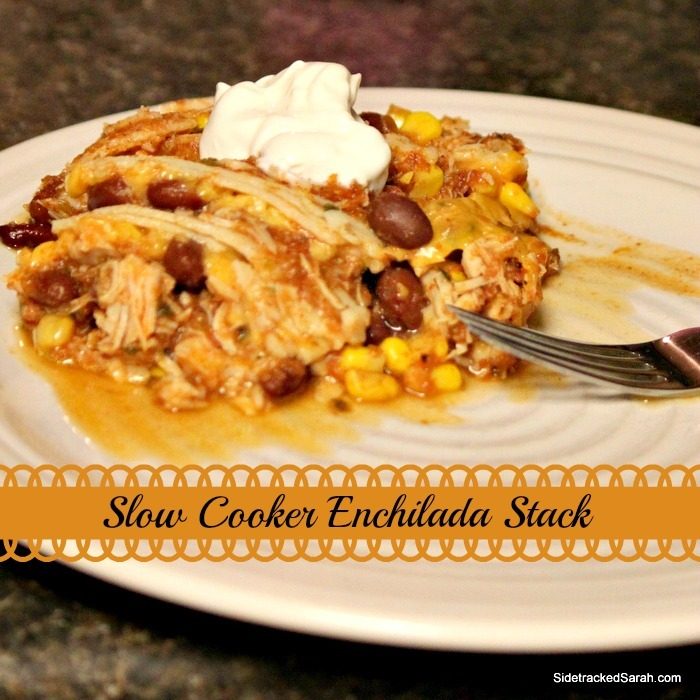 Slow Cooker Chicken Enchilada Stack
Tweet this recipe!
Click To Tweet
Ingredients:
1 chopped onion 1 medium sized Poblano chili pepper, chopped 2 garlic cloves, minced 1 1/2 tsp. 
chili  powder
1 can of
diced tomatoes and green chilies
1 cup of
spaghetti sauce
(Or 1 can
tomato sauce with basil, garlic and oregano
) 2-3 cooked chicken breasts (OR 2 cans of chicken) 1 cup of
frozen corn
1 15 oz can
chili beans
(or
black beans
) 5 corn
tortillas
shredded cheddar cheese
Directions:
Chop onion and Poblano chili
Boil Chicken (unless you're buying cans or buying it precooked)
In a food processor or blender, blend onion, Poblano chili, garlic, tomatoes and green chilies, chili powder and tomato sauce.  Blend until almost smooth.
Combine with chicken, corn and chili beans.
Assemble in a round crockpot by placing about 3 Tablespoons of mixture in bottom of pot, top with a corn tortilla, and then top with 1 cup of chicken mixture and then top with cheese.  Repeat with remaining chicken mixture, tortillas and cheese.
Cover and cook on low for 2-6 hours (or until edges are slightly brown).
Freezer to Slow Cooker Directions:
Follow Steps 1-4 above.
Place mixture in freezer safe bag and label.
To prepare for cooking, remove from freezer the night before.
Layer as described in step 5 above.
Cover & cook on low for 2-6 hours (or until edges are slightly brown).
This dish is excellent, garnished with salsa, sour cream and Jalapeno peppers!
*Some links in this post are affiliate links.