Before we start, many of you have asked me what the best slow cooker you should get is.  It varies for every family, but I tell you all about it here:  Best Slow Cooker Choices.
Today, I was trying to figure out what I could quickly throw into my crockpot using ground beef.  After our chili cook off on Sunday that my husband had entered, we had 2 pounds of ground beef sitting in my fridge, already browned and ready to go.  I would normally choose spaghetti, but my husband has vocalized that I may do that too much in a time pinch.  It was till early enough in the day to use my slow cooker, so I figured I could find a quick and easy recipe that he'd be happy with.
I have another "problem" though.  I always want to use new recipes when I'm cooking in the crock pot so I can test them out and potentially share them with you!  Crockpot Freezer Meals are super popular on this website and I want to keep growing my menus, which leads me to always thinking I need to try new recipes, rather than grabbing for the old ones.  It's a fun problem to have.
Today, I finally decided on Pizza Burgers.  They were easy and didn't require many ingredients.  You know how much I like those easy recipes, right?  The less time I spend in the kitchen, the more time I can spend doing the things that I love!  The Pizza Burgers are similar to sloppy joes, but with pizza sauce instead.  I think your family will enjoy them as much as mine did.
Pizza Burgers
Tweet this recipe!
Click To Tweet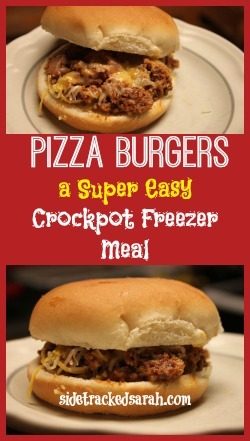 (Pin this)
Ingredients
2 lbs ground beef or turkey (browned)
1 small onion, chopped
24 oz of tomato sauce (I used 3 8oz cans, because that's what I had on hand)
2 tablespoon dried oregano
Dash of Salt (optional)
¼ tsp. pepper
Cheese to top with
Hamburger Buns
Instructions
Cook ground beef in skillet until brown.
Drain
Place meat in slow cooker.
Add remaining ingredients and mix well.
Cover crockpot and cook on low for 2-3 hours until onions are tender.
Serve on hamburger buns.
Optional idea:  Add green peppers and/or other pizza toppings to the mixture.
Freezer to Slow Cooker Instructions:
Mix all ingredients except hamburger buns and cheese together in a freezer safe bag.  Label & lay flat to freeze.
Thaw (if possible) before cooking.  Cook for 2-3 hours on low.