Before we start, many of you have asked me what is the best slow cooker for your family. There are many variables for every family, but I tell you all about them here:  Best Slow Cooker Choices.
Marinara Chicken and vegetables is wonderful.  Let me just tell you, I am usually not a fan of zucchini.  But when it's added to tomato based dishes, I really enjoy it.  This meal was chock full of yummy vegetables and smelled wonderful while it was cooking.  For the chicken, I put in the whole pieces of chicken and then cut it up after it was all the way cooked.  Our whole family raved about the recipe, although the more picky eaters did pick out the green chunks!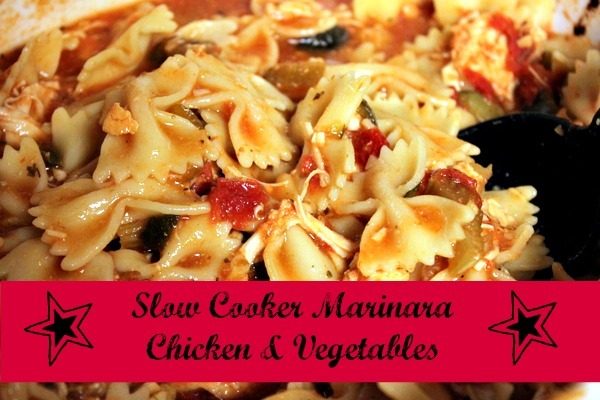 Marinara Chicken & Vegetables
Tweet this recipe!
Click To Tweet
Marinara Chicken & Vegetables Recipe for the Crockpot
Instructions
Chop Vegetables.

Place all ingredients into slow cooker and cook on low for 6-7 hours or on high for 4 hours.

Cook noodles about 10 minutes before dinner.

Shred chicken with a fork

Mix cooked noodles with the chicken marina mixture

Top with cheddar cheese and/or parmesan cheese.

Enjoy!

If you're planning to do this in the 

Freezer to Slow Cooker

way, you'll first chop the vegetables and then mix all of the ingredients into a freezer safe bag (except noodles).  Be sure to label it.  Freezing it flat takes up the least amount of room in your freezer.  I thawed mine in the microwave long enough so that it would come out of the bag and then tossed it into the slow cooker.  The chicken wasn't all the way thawed at the beginning, but it still turned out wonderful.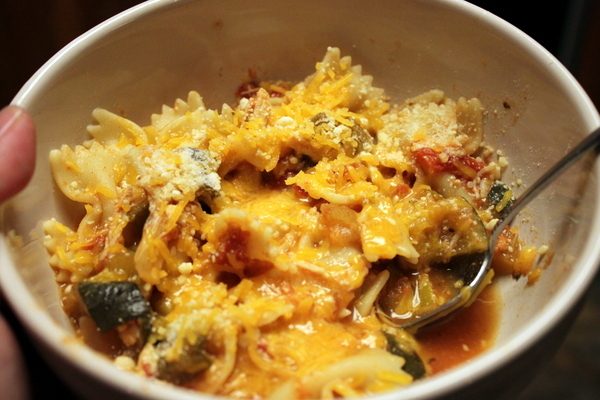 *This post contains affiliate links.