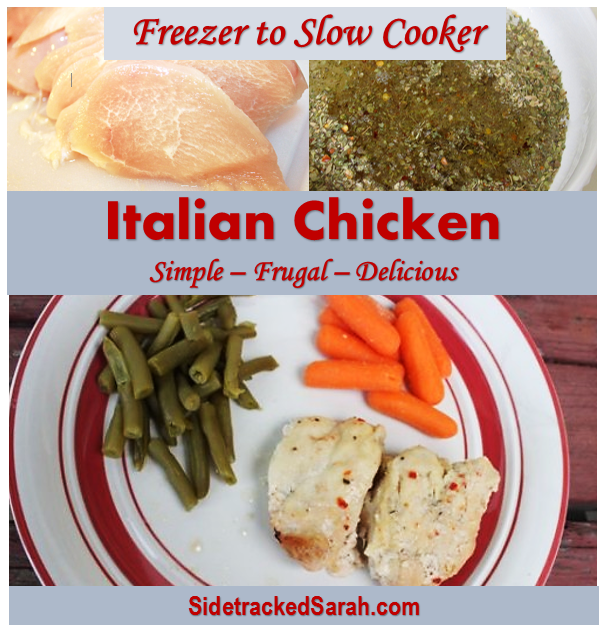 Italian Chicken: Simple and Delicious Slow Cooker Recipe
With chicken, I almost always just throw it into my slow cooker frozen.  It always turns out awesome!
Ingredients
As a matter of fact

it is so simple, it uses only two ingredients: chicken and Italian dressing or marinade.
Instructions
Place a bag of chicken breast with a bottle of Italian Chicken Marinade into your slow cooker.  (Italian Dressing will work just the same).  Cook it on high for 4 hours or on low for 6-8 hours.

The result is a flavorful, moist and savory chicken dish the whole family will love - and your budget will love it too!
Notes
This is one of the simplest, most frugal, delicious recipes that can go from freezer  - straight to the crockpot!
This recipe is part of Week 3 of the Crockpot Freezer Meals.
Also, if you appreciate the work that goes into providing you with quality family recipes, will you take a moment to like my page on Facebook?
If you have a slow cooker recipe that you'd like to see on this list, send me an email at sidetrackedsarah @ gmail . com OR leave it for me on Facebook.  I'm always on the lookout for new recipes to be adding to a new weekly menu and I love to hear from you!
Don't forget to subscribe to my emails for another Free Crockpot Freezer Meals One Week Menu that is not listed on this page (it includes philly beef sandwiches and more!)!    Enter your email address below: