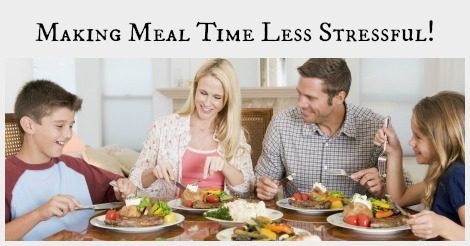 Being the mother of 7 children, I have to think about food A LOT!  My kids can eat and eat and eat.  Everyone has always been impressed with what good little eaters I have.  Now that I have 2, almost 3 teenagers, I am shocked at what that can mean and how many times a person can go back for more food, sometimes long after the rest of the family was finished eating.  If there's food left in the pot, my son is asking if he can have it!  Cooking isn't one of the things I really enjoy doing, it's just a task that has to be done in order to have a functional family, so I have been aiming to streamline my time spent in the kitchen and yet enjoy what we're eating.  Here are several ways that I have been able to accomplish this.
1.  Pick Easy Meals
Think about what you generally cook when you're in a time crunch.  For me, it's things like spaghetti, montereys, taco salad, chili, hamburgers, etc.  Meal plan around these easy meals.  If you don't have a very long list, search for some quick and easy recipes that you can plan around.   You can always throw in your favorite more difficult meal, but spread them out, so they're not on back to back days.
2.  Use Your Slow Cooker 
I decided I wanted to use my slow cooker almost every day.  I just LOVE not having to think about making dinner at 5:00.  You may know me as that Slow Cooker lady by now….and can find many of my slow cooker recipes here:  Crockpot Freezer Meals.
3.  Decide What's For Dinner the Night Before
The reason this is important is so that you make sure to get anything you need to out of the freezer.  It is so frustrating to decide on making something with ground beef, to remember that the only ground beef you have is frozen in a big 10 pound block that doesn't fit into the microwave to defrost.  Which brings me to…..
4.  Save Money by buying in bulk or buying off brands. 
Believe it or not, we normally shop for our groceries in a bigger city.  We try to plan to go to the city around the time we need to stock back up.    I like to coupon in the cities when I can, but haven't become quite that organized to do it regularly yet, nor have I been able to take the time to clip coupons on a regular basis.  We generally go to Aldi and Sams and at least check the other local stores for deals we can score while we're there.  We can save quite a bit on cheese, lunch meat, bread, canned goods, etc.  At Walmart, I can buy a block of cheese for over $4 a pound.  At Sams, I get it in a 5 pound block for $12.  That's getting 2 pounds free!  I usually stock up on produce at Aldi.  The in season fruit and vegetables are always much cheaper than our local stores.  The fruit that is in season will sell for around $1.50 – $2 per 3 to 4 pound bag.  Strawberries for a dollar a pound and Pineapples for a dollar each as well.  This isn't all the time, but these are the prices that I regularly look for.
5.  Make Freezer meals
For me, that means, make extremely easy freezer meals.  I decided to line up my recipes for a week and make a list of what I need to do in order to prep them.  I do all of the preparation work at once for the week, including chopping and browning of meat.  I place all of my ingredients in freezer bags and freeze them for the week so that they stay as fresh as possible.
6.  Involve the Children
There is  nothing wrong with your children helping in the kitchen!!  It is wonderful training for their future and sometimes, if the family wants to eat, it's downright unavoidable!  My 11 year old enjoys knowing that she was able to be a big part of getting everyone fed.  If you don't have kids that old, they can always be right next to you, helping to put ingredients in bowls or bags or even just "washing dishes" by playing in the dish water.  My younger children always think it is a treat to help mommy!
7.  Table Chores
This next tip is more for me than for you…because it is a place we still struggle.  Clean up the dishes and the table right after each meal!  It doesn't take long and we're always thankful when we do it.
8.  Streamline Breakfast & Lunch
My kids know that there are certain things that they can choose from for breakfast and lunch.  I'm not one who is willing to cook a hot breakfast every day.  That's usually a special occasion.  I'm a zombie in the morning!!  Their breakfast choices are generally cereal, toast, fruit, boiled eggs or oatmeal (made in the microwave).  Lunches are generally cheese quesadillas, ham sandwiches, tuna sandwiches, bean & cheese burritos, mac & cheese, hot dogs, salads or leftovers.  They're all super easy to prepare and overall, I don't care if they choose different things to eat…unless it involves making a pot of something (i.e. mac & cheese)…then I require more than 1 person has to want to eat it.
How do you make your meal times less stressful?
This post was updated and modified from one that I originally posted in October of 2011.  I have since added a large section of Crockpot Freezer Meals to my site.  Be sure to check them out.  You can have the recipes for free, and if you'd like the opportunity to save time and let me completely plan the meals for you, I have 8 weeks of Crockpot Freezer Meals that come with assembly instructions and grocery list that you can purchase for a low price of $2.99 per week.