Do your CD's and DVD's get all scratched up like mine do?  I  hate it when we have sat down for a nice evening movie and then…it happens.  It won't work!  Or it skips like crazy!  We try to be really careful, but it seems that the longer they're around our home, the more likely they are to get ruined.  There are things you can do to save them…..they're not guaranteed to work, but they're definitely worth a try!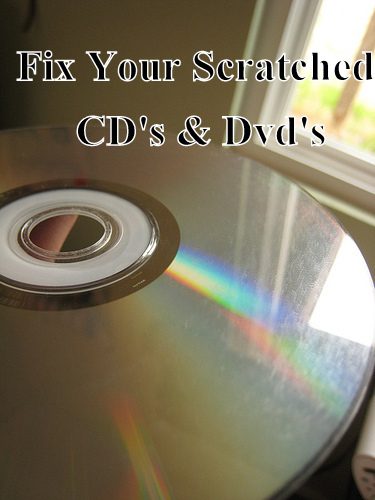 (This post contains affiliate links)
10 Ways to Repair a Scratched CD or DVD
Rub it with toothpaste and then carefully rub it back off, followed by a good rinsing in cold water.
Rub it with Crisco, making sure that all the residue is off before you try playing your CD or DVD again.
Wash it with dish soap.  Sometimes, this easy remedy is all it takes.
Use a Jewelry Polishing Cloth.  You know the kind with a polisher and a buffer?  Polish it first, then buff it.
Try using furniture wax.  Rub it on, polish it off and then rinse it with cold water.  Let it sit overnight after you've rinsed it.
Try using brass cleaner in the same way as the tip above.  Rub on, buff off, rinse with cold water, sit overnight.
Consider that it could be your DVD/CD Player is too sensitive.  Try your disc in another player.
Try the light bulb method.  Hold it about 4 inches in front of a 60 Watt bulb for about 20 seconds, while rotating it around your finger and then put it in your player while it is still hot.
Take it to a professional.  If you still have DVD rental companies, they will often do it for a fee.  Music stores may do the same.
Buy a Disc Repair System.  Amazon has several different ones that you can choose from.    I will show a few different ones below.