French Stew is by far one of my husband's favorite recipes!  The meat always tastes so amazing!  When it is a good soup kind of day, my husband routinely requests that we make this stew.  The red wine vinegar gives it a bit of a zing, that gives the meat a great taste.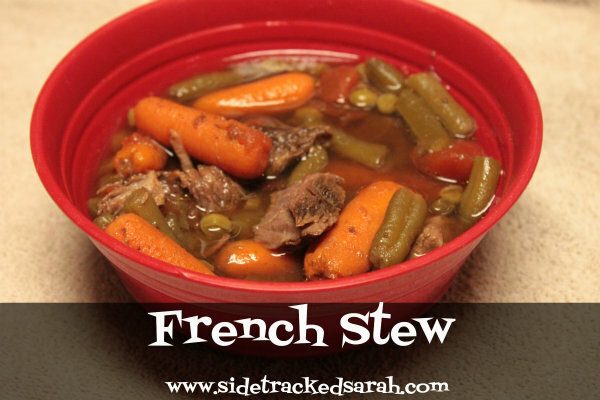 French Stew
Tweet this recipe!
Click To Tweet
3 large peeled and sliced carrots
1 can green beans, drained
2 10 oz packages of peas and pearl onions (or just use peas and chop some onions)
____________________
Cooking Instructions:
Place all ingredients into crockpot and cook on low for 8 hours or high for 4
Freezer Instructions:
Freeze all ingredients together in a gallon size freezer safe bag.
On cooking day, thaw and put in crockpot on low for 8 hours or high for 4.
*Some of the links in this post are affiliate links.