Before we start, many of you have asked me what is the best slow cooker for your family. There are many variables for every family, but I tell you all about them here:  Best Slow Cooker Choices.
This last recipe for the next freezer to slow cooker meal plan is probably the most time consuming.  Don't worry though, it's not THAT bad, it's just because you're rolling out little meatballs (or in our case, slightly bigger than they should be meatballs!).
The original recipe called for you to cook the meatballs in the slow cooker with spaghetti sauce over the top.  But, I just happened to use the 70/30 meat mixture and I knew I'd have a lot of grease if they aren't precooked.
There was no way that I was cooking my sauce in all that grease.  Blech.  
I had a choice to make.  I could cook the meatballs in the crockpot by themselves OR I could precook them in the oven and then mix them up with the sauce.  I decided to do an experiment and try both ways.
The Verdict?  
They taste a lot better when cooked in the oven!  The ones cooked in the slow cooker without any sauce over the top while cooking, had a weird aftertaste that ground beef tends to get when it's slow cooked by itself.
The Moral of this Story?
If you want to cook them immersed in sauce within your crockpot, make sure you get a package of ground beef that is low in fat, so that you won't have a lot of grease floating to the top, that is, unless you like the grease.  I don't!  (Oh I guess I already told you that, didn't I?)  But in all seriousness, I think that you'll NEED to be putting the sauce over it while it's cooking so that it doesn't have as much aftertaste.  That way it will take on more of the tomato-y flavor.
If you prefer to precook them in the oven, you could do that before you freeze them, and then all you have to do is put the frozen meatballs in the slow cooker when you're ready to cook and cover them with spaghetti sauce.  Your choice.  Do whatever sounds easiest to you!
After all that, are you ready for the recipe?  Here goes….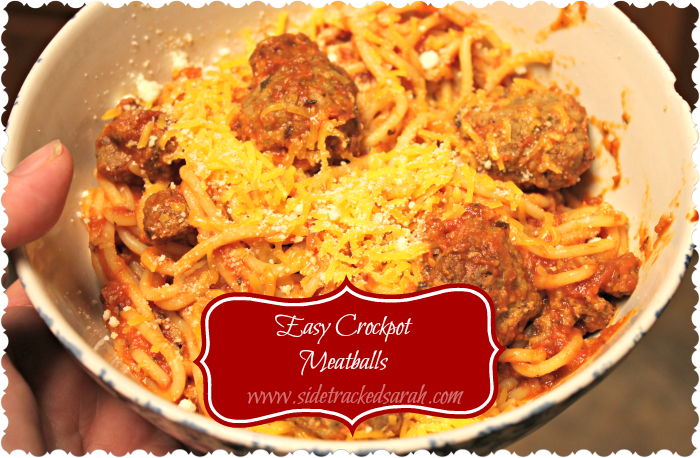 Easy Crockpot Meatballs Recipe
Tweet this recipe!
Click To Tweet
Ingredients:
1.5 pounds ground beef (low fat content if you plan to cook with sauce) 1.25 cups
Italian bread crumbs
2 cloves garlic, minced 1 medium onion, chopped 1 egg 2 28 oz jars of
spaghetti sauce
Spaghetti Noodles
(for cooking before you serve)  
Directions:
Mix first 5 ingredients together.  Shape into 16 meatballs.
Either precook them as described in paragraphs above OR place sauce in slow cooker and then put meatballs over the top of the sauce, allowing it to cook for 6-8 hours on low.
Serve over cooked spaghetti noodles.
Freezer to Slow Cooker Instructions:
We rolled them into balls and placed them onto a cookie sheet.  We then placed the cookie sheet into the freezer so that they wouldn't stick together when frozen.  Once they were all frozen, we threw them into the bag, making sure the bag was labeled.  Of course, if you plan to precook them before you freeze them you wouldn't have to worry about it.  Always be sure to label your bag with the date and the name of the meal.
*Some links in this post are affiliate links.