[spacer height="20px"]
I know, I was pregnant when I first made and ate this, but this one was definitely one of my favorites.
You know why?
I confess.
I love anything with peppers and onions.  
It's true.  They are so yummy to my taste buds!  I could eat them plain (although they're much better cooked).  If you happen to love the taste just as much as me, you'll love this meal.
I did however, have a bit of resistance from a couple of my pickier eaters.  They tried it like I told them to, but they picked out the peppers and onions.  I didn't mind that, I just took them and ate them up for myself.  That meant that I got more!  Win, win for me!   The kids did love the meat and sauce!  🙂
If you're not sure which slow cooker you should be making this in, be sure to check out my post on what the best slow cooker for your family is here:  Best Slow Cooker Choices.
Crockpot Sausage and Peppers Recipe
Tweet this recipe!
Click To Tweet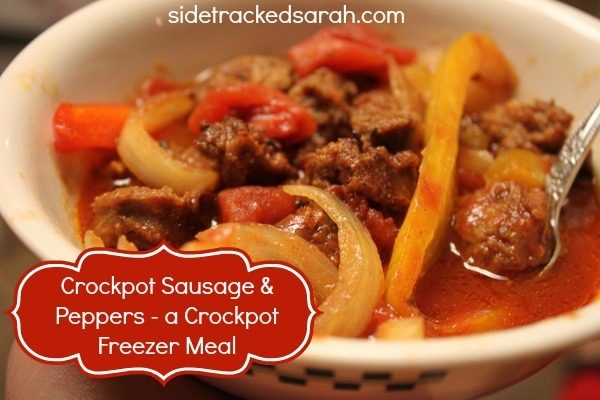 Ingredients:
2 lbs sweet or hot Italian sausages 2 onions 3 red, yellow or green peppers, cut into 2″ slices 2 cloves of garlic 14 oz can
diced tomatoes
6 oz can of
tomato paste
1/2 cup
beef broth
1 T.
dried Italian seasoning
1/4 t. pepper  
Directions:
Brown the Italian Sausages in a skillet.  (I usually start with them whole, then slice them up while they're cooking….they stay in tact and keep their shape better that way).  Layer half of the onions on bottom of slow cooker, then add half of the peppers.  Put all of the browned sausage on top of that, followed by the rest of the onions and peppers.  Mix together diced tomatoes, tomato paste and beef broth and pour over the top.  Cook on low for 6 hours.  One hour before mixture is done, add the spices.  Stir.  Cover and cook an additional hour.
Freezer to Slow Cooker Instructions:
Brown Italian Sausages
While browning, slice peppers and onions.
Place onions and peppers and browned meat in freezer safe bag.
Mix together diced tomatoes, tomato paste and beef broth and place in a 2nd freezer bag.
Label & Freeze
Follow instructions on cooking day.
It helps to at least have the sauce thawed out when you're putting it in the slow cooker, but not required.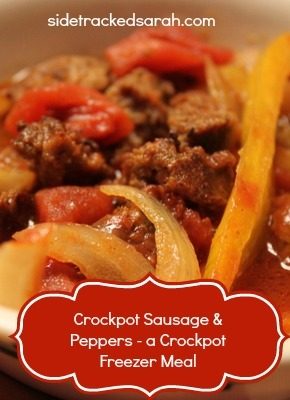 Can you do me a great big favor and pin this picture on Pinterest and/or share it on Facebook!
P.S.  You may notice that it doesn't look like there's any spices in these pictures.  I completely forgot to add the spices, but it was still really good!  SO, if you forget it, don't worry about it.  You'll still like it.  🙂
*Some links in this post are affiliate links.