Chicken & Rice Casserole
[spacer height="20px"]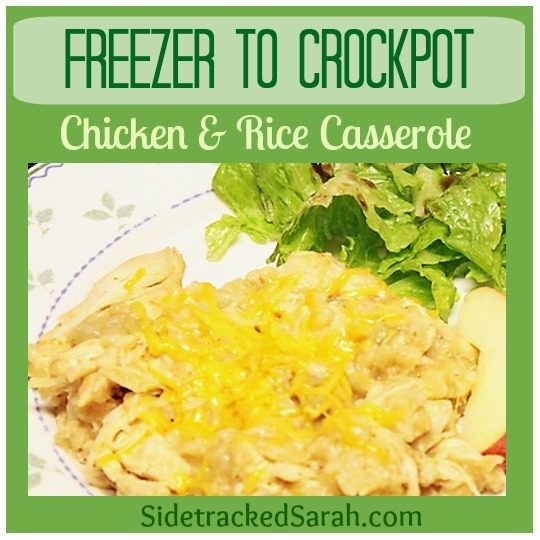 Ingredients:
3 c. Water
1 16 oz bag Broccoli
2-3 Chicken Breasts, frozen
1 c. grated Cheddar Cheese
Combine all ingredients in freezer bag, label and freeze.
On cooking day, cook on high 3-4 hours.  Once cooked, chop up chicken breasts.  If too runny, remove lid from slow cooker for 15 minutes while cooking on high
If the Crockpot Freezer Meals have been helpful to you, I'd love it if you'd take a minute to like Sidetracked Sarah on Facebook.
I've got 8 weeks (so far) of weekly menus!  The plans are here on the site, but I've received many requests that I provide them as a printable option as well!  I'm slowly converting my weekly menus into printable menus.
Also, for a Free 1 Week Printable Crockpot Freezer Meals Menu, be sure to subscribe to my email updates. Your free menu will be emailed as soon as you confirm your subscription.

To see how we built our own dining room table where we eat our meals, see this post.