Chicken Pot Pie Freezer Recipe
This Chicken Pot Pie is a Freezer recipe and not a slow cooker recipe.  This is one of the only ones that I use that does not use the slow cooker.   Try it though!  It's yummy!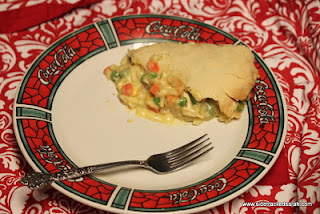 3 Chicken Breasts (boiled and chopped)
1 large Onion (chopped)
2 9" deep dish Pie Crusts
2 9" Pie Crusts (refrigerator section, for top)
2 16 oz bags frozen Mixed Veggies
2/3 16 oz bag  Hash Browned Potatoes
2 10 oz cans Cream of Chicken Soup
2 t. Parsley
1/2 c. Milk
Salt and Pepper to taste.
Assembly Directions:
Combine all ingredients, pour into pie crust.
Freezing Directions:
Wrap in foil.
Serving Directions:
Top with second crust. Cut four slits in top crust, bake at 350 degrees for an hour, or until the top crust is light brown and bubbly inside.