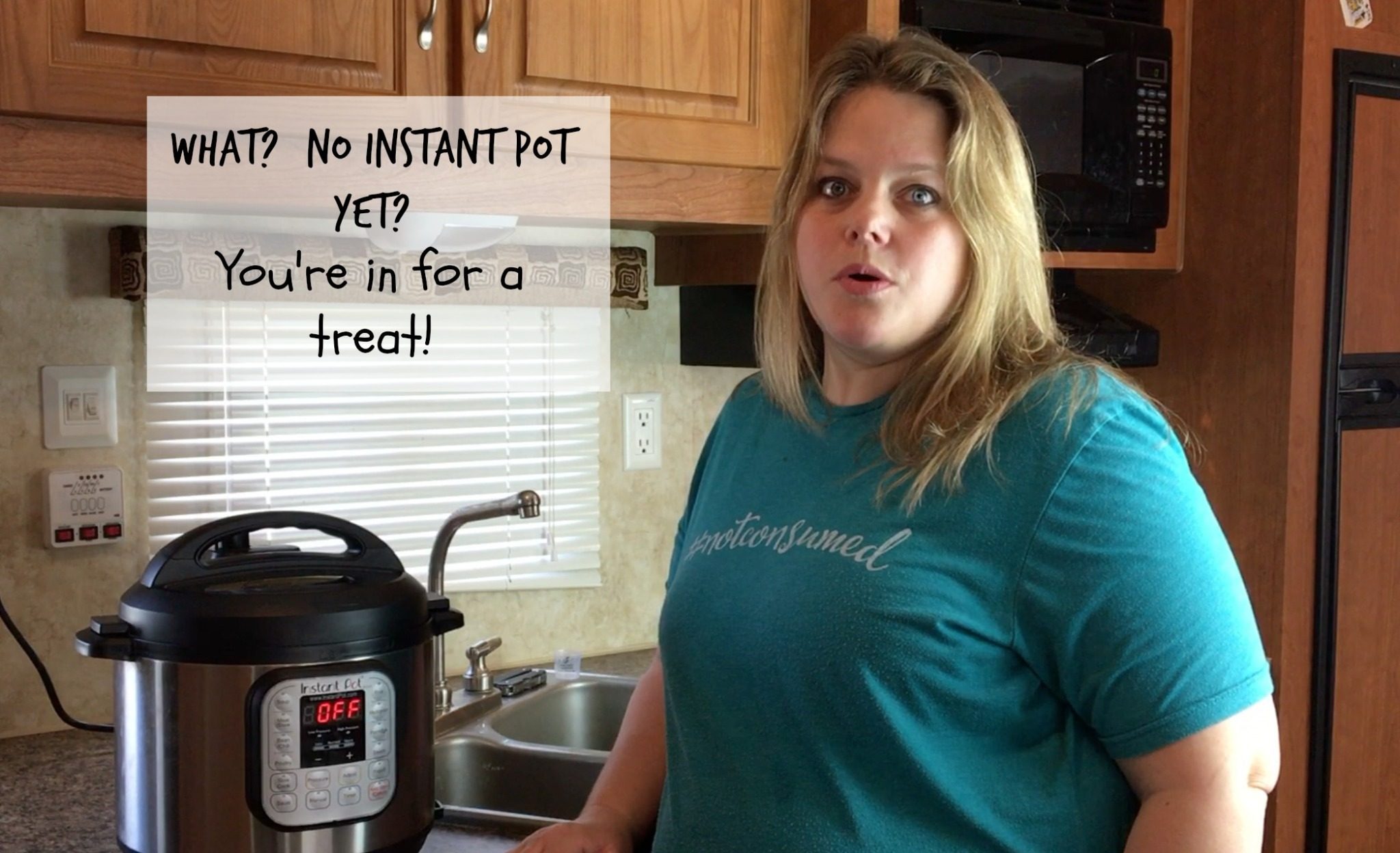 I had heard about the Instant Pot Pressure Cooker craze, last year, but I finally got an Instant Pot of my own for my birthday, in September.  I was so excited and a little overwhelmed!
(this post contains affiliate links)
Now that I've had time to try it out for several months, I feel like I have the knowledge to tell you all about it and write an honest and hopefully helpful Instant Pot Review.  I wanted to tell you what I like about it and what I don't like about it, too.  First though, let me show you my video review…..

You can purchase a new Instant Pot Pressure Cooker, here.
My Pressure Cooker Background
Growing up, I remember my mom cooking in the pressure cooker.  It seemed like everything she cooked in that pot took FOREVER to cook.  Probably because I was SOOO hungry.  LOL.  Little did I know she was actually speeding up the cook time when she was using it.  We had a gas stove, and of course a stove-top pressure cooker, as this was long before electric pressure cookers were made.  I would hear the noise that the pot made while it cooked and I was usually just ready for it to stop making that noise so I could eat.  LOL
Fast forward to when I got married.  Everyone said, "Don't get a pressure cooker, they can explode".  I don't know if there was an exploding epidemic or what, but honestly, a pressure cooker never appealed to me anyway.  I did know though, that I definitely didn't want one exploding under my watch.  No one ever took the time to explain to me why I may want one and I didn't ever look twice at it.  That is, until….the rest of the world started taking note of the electric pressure cookers.  Specifically, the Instant Pot Pressure Cooker had caught my eye.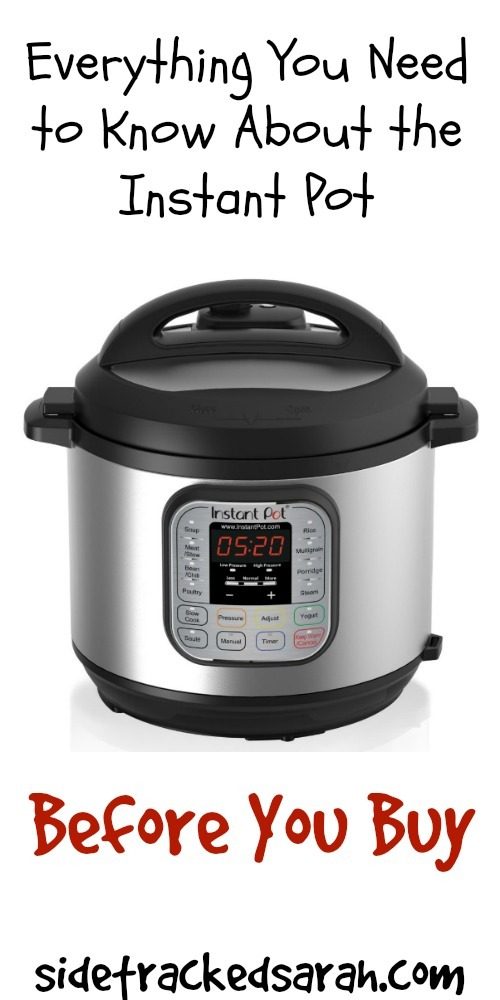 My Instant Pot Review: What I Like (in a nutshell)
I like ALMOST everything about the Instant Pot Pressure Cooker.  
I like the safety features. For instance, the lid will not open if it's under pressure, it actually locks into place and won't release until all the steam has!
I like the fact that I can cook a tough piece of meat for an hour and it will taste like it has been cooking in a slow cooker for 10 hours.  I'm talking fall off the bone, the most tender meat that you'll ever eat!
I LOVE the stainless steel pot.  It's so easy to clean and so much better than aluminum that other brands sell.  Plus, it's very sturdy.  The whole pot is just very well built and will not be falling apart easily.
I like the fact that I can use it as a slow cooker.  That's one of those features that almost seems too good to be true for this writer of Freezer to Slow Cooker Meal plans, lol.
I like the fact that I can have dinner done relatively fast (even a roast!), especially on those days that I forget to put something in the slow cooker!
I love the fact that it won't heat my house up like an oven will in the summer months.
I really love that I can take it camping with us in our camper and make quick meals!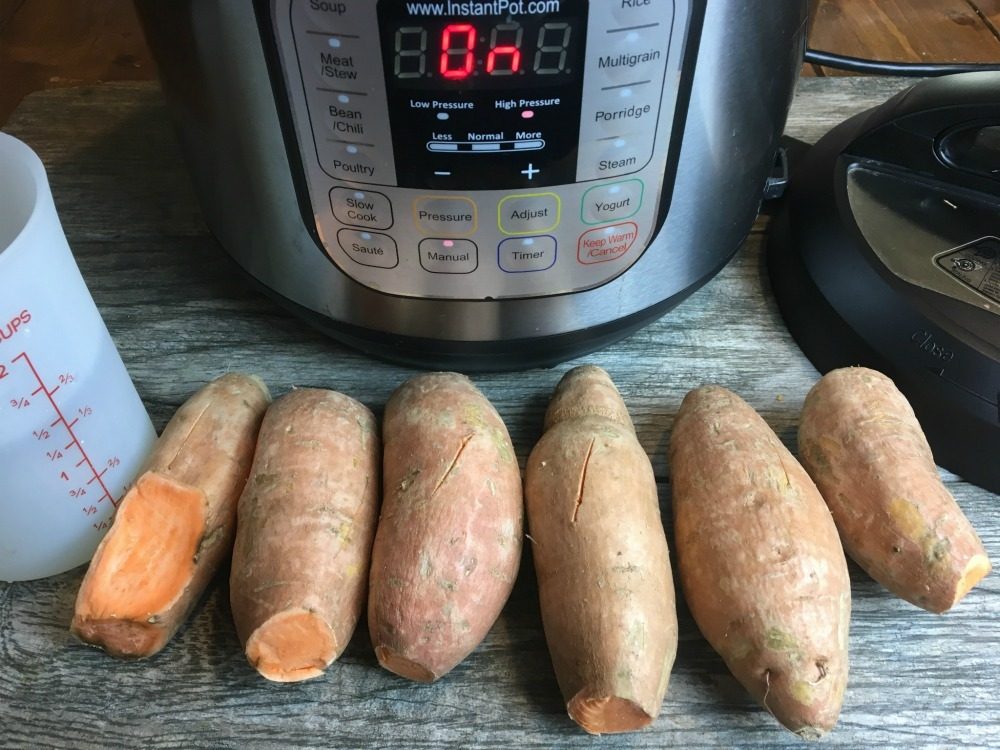 My Instant Pot Review: What I Don't Like
Now, for the things I don't really like about the Instant Pot Pressure Cooker.  None of them are huge deals, but you should definitely know about them before you decide to buy.
I don't like that I can't cook my veggies and meat together the full amount of time.  (I tried this once and the vegetables disintegrated.  Lesson learned, you must cook the meat the full time that the Instant Pot recommends for meat and then add the vegetables for a very short time at the end.)
I don't like the learning curve.  I was so intimidated at first.  It didn't take too long though and I was feeling  like a pro in no time!
I don't like that the steam release can get clogged.  Of course, the only time this happened to me was when I overfilled my pressure cooker, but it took me a while to figure out why my pressure cooker wasn't working right.  If you know that it CAN happen going in, you'll know what to do if your pressure cooker never gets to full pressure.
I don't like how long it takes to heat up.  I'm the type of person who likes instant results, so when I set the timer for 10 minutes, I think it will take 10 minutes, but really, you have to wait about 10-20 minutes for it to get to full pressure before the timer begins that 10 minutes of cooking.
Now, let's dig a little deeper….
Which Instant Pot Should I Buy?
Personally, I have the 6 quart 7-in-1 Duo60.  In most cases, I believe this is the one you should get.  It is the best size to fit larger cuts of meat and meals that have the veggies and meats included.  If you have a large family, you should probably consider getting the 8 quart instead.
What's the Difference between the 6-in-1 and the 7-in-1 Instant Pot?
Now, you will find that they have updated their models, so they don't say 6-in-1 and 7-in-1, because they've added a cake and egg button to all models.  However, you still may see it somewhere on Amazon's main listing.  The main difference I've been able to find is the yogurt button.  If you think you'll ever consider making yogurt, go with the 7-in-1 (DUO60) as it has that feature on it.  The 6-in-1 LUX60 is slightly less expensive and does not come in the 8 quart variety.

Main Instant Pot Functions I Use
In all honesty, I usually only use 3 of the buttons on the Instant Pot's front panel very regularly.
The first one is MANUAL.
I bet you didn't expect that, did you?   Manual just seems like it's straight to the point.  You set it for the time you're supposed to cook it for and go.  You can check the chart that they provide in the book for just how long your cut of meat or your grain of rice is supposed to cook and then you set the timer for that amount of time.
The 2nd button I use is SLOW COOK.  I think that one is self explanatory, but… one thing I love about it is that you can set that timer to go for up to 20 hours.  No matter how long you set it to cook, after it's done cooking, it will move to Keep Warm and it will keep your food very warm until you're ready to eat it!  Or, say your husband is going to get home late from work, you can just leave the food in the Instant Pot cooking and it will be perfectly warm for him when he gets home.
The 3rd button I use is sauté.  At first it felt a little weird to be browning something or sautéing something in the bottom of this deep pot, but really, it's so handy!  I love how I can start it in the same pot that I finish it in.  It helps me to dirty less dishes in the kitchen!  I use this function if I need to sauté some onions and garlic or if i need to brown any meat.
Things You May Not Know About using an Instant Pot Pressure Cooker That You May Wish that You Did……
You may have to cook your meal in rounds.  What I mean is this….  It takes meat longer to cook than vegetables, so instead of putting everything in the pot at the same time to cook, like you would in the slow cooker, you'll cook the meat first, and toward the end of the meat's cycle, you'll vent the pressure cooker and add the vegetables, and then cook for the remainder of the time.  Alternatively, you could wait until the very end of the meat's cycle and just add the veggies on the steam setting.  I usually check the manual that came with the Instant Pot to find out the best cook times for each thing that I place in the pressure cooker.
10 minutes of cook time does not = 10 minutes from when you pushed Start.  I think this one thing was the biggest surprise for me.  The Instant Pot has to warm up and build up pressure.  That can take 20-30 minutes to get to the right temperature and pressure, before the timer kicks in and starts counting down.  Be sure to allot enough time for that warm up period.  To speed this up, sometimes I get my pressure cooker started up by pushing the setting it will be cooking on and then the pot is already getting warmed up and ready to go.  I've noticed that it shaves a few minutes off of the process when I do this.
The metal part of the lid can get VERY hot, BE CAREFUL!  My daughter was reaching across the top of the lid and didn't realize just how hot it was.  She rested her arm on the metal and burned her arm.  So, just be careful.  I like to use the top of the lid to lightly tap and make sure that it is working correctly, as I can feel it getting warm when I lightly touch it.  There's been a couple of times that I didn't have the setting done correctly and it had not started up.  I wouldn't have known what I did wrong if they did not leave this metal part of the lid to where I check the heat in that way.
What If I'm Overwhelmed with my Instant Pot?
Good news, Craftsy has a course on how to get started with your Instant Pot or other pressure cooker that will teach you everything you need to know.  If you'd like a course to take you through the basic steps, be sure to check out the course here.  It's called Make the Most of Your Pressure Cooker.  They also have another course to follow up with that one that is called Make Even More of Your Pressure Cooker.
Related posts: