[spacer height="20px"]
Welcome back to Day 3 of the 5 Days of Mothering & Homemaking Series.  My series title is 5 Days of Summer Activities with Children.  Today, we're talking about what to do when it's raining all day.
[spacer height="20px"]
Do you love rainy days?  or dread the chaos it brings?  I do a little of both.  Some days, I can't wait until it all dries up so I can send energetic children out the door to run some energy off, but other days, I welcome the down time!  Sometimes it's nice to know that it's OK to just lay around and be lazy, you know?  A lot of times, it depends on how rowdy the kids of the house are being.
[spacer height="20px"]
Today's post will be dedicated to some extra activities that you can do with your children if they're getting bored or needing to run some extra energy off.  These may divert their attention for a little while!
[spacer height="20px"]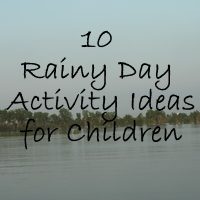 1.  Play Dress Up – Keep a dress up box full of things they can dress up with.  We have hats, jewelry, play shoes, dresses, etc.  I have lots of girls, so they're always decked out in frilly clothes!  Once they're dressed up, invite them to a tea party at the kitchen table.
[spacer height="20px"]
2.  Make Finger Paint – This was a super easy recipe to whip up in a hurry.
[spacer height="20px"]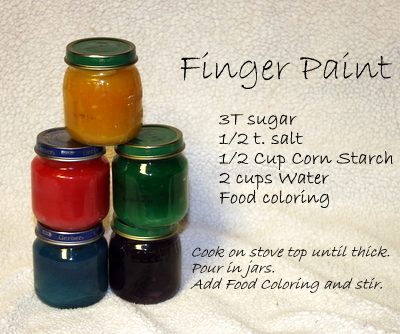 3.  Make Your Own Play Dough – Apparently making play dough is really easy.  Why have I not been making it for years?  My children let it dry out and then I don't buy it for a long time.  The toddler really loves to play with it with knives and cookie cutters.  Here's a recipe that I found:
[spacer height="20px"]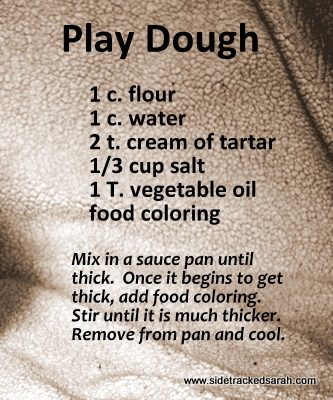 4.  Build tents out of sheets & blankets – or better yet, let them put up the tent in your living room!
[spacer height="20px"]
5.  Read Aloud – We just finished a book from The Freedom Girls called The Story of Ruth Through a Child's Eyes.  We're thinking of reading Anne of Green Gables next.  Do you have a favorite summer read aloud?
[spacer height="20px"]
6.  Bake Brownies – We love baking Chocolate Chip Cookie Dough Brownies.  In fact, we just made them the other day.  Here's the recipe: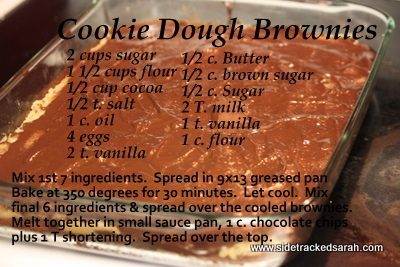 7.  Indoor Scavenger Hunt – Make a list of some common things that each child can find.  Whoever finds their list first, wins the game!
[spacer height="20px"]
8.  Go "Swimming" in the tub – My girls love to pretend.  Pretending that you're at the pool, all while getting wet is so much fun to them. They get decked out in their swim suits and go splish and splash at the "pool". They bring their dolls that can get wet and any other water toys they feel like playing with.
[spacer height="20px"]
9.  Indoor Bowling – If you don't have a toy bowling set, no worries.  Save up your Pringles chips cans or other cans or toys that can be knocked over.  Use any ball and see how many they can get each time they roll the ball at them.  Keep score if you want to.  Just remember to HAVE FUN!
[spacer height="20px"]
10.  Blow Bubbles inside – I know, I know, that just really sounds WRONG to some of you.  Have you ever considered that it really doesn't make that big of a mess?  Well, yes, maybe if little hands dump the bubbles it may, but…lay out a few towels or a sheet in the kitchen and let them enjoy blowing bubbles for a while.
[spacer height="20px"]
Don't forget to like Sidetracked Sarah on Facebook.