Do the record high temperatures have you down?
It has been so hot lately!   Why not embrace those high temperatures and bake some cookies…..without warming your house up any more than it already is.  Last year, I heard about someone baking cookies in their car, but I didn't have a chance to try it.  I had just had a baby via C-section, so I was doing the minimum when it came to baking (or anything else for that matter)!  As the temperatures here recently have gotten hotter and hotter, we decided to give it a try.  Whatever I can do to keep from heating the house up, right?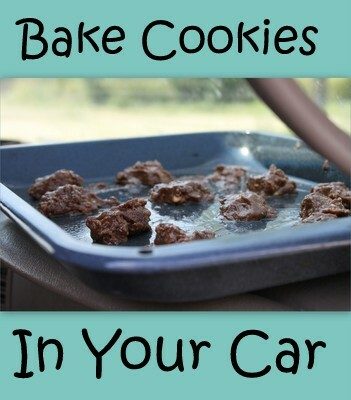 A Fun Idea for Hot Summer Days
Here's how to do it.
Mix up your favorite cookie dough recipe.  We had a cookie mix in a jar, so it made ours super quick & easy.  We just added some eggs, butter, milk and vanilla to it.  After it was all mixed up, we put it on cookie sheets and placed them in the really hot van.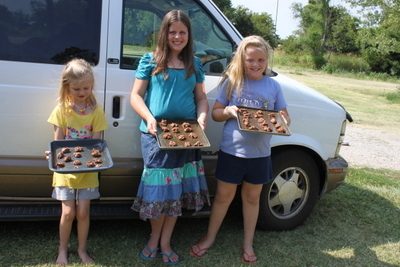 Keep in mind that you may want to "preheat" your automobile by leaving it in the sun, closed up.  Once  you place your cookies in the dash, make sure not to open the door to check on them, that way you don't lose a bunch of your heat.    If you need to check on them, look through the window.  Let them bake for 2-4 hours, until they look like cookies you'd enjoy eating.  They will not turn a golden brown because the temps aren't hot enough to carmelize the sugar.  Mine were already brown, so it was even harder for me to tell.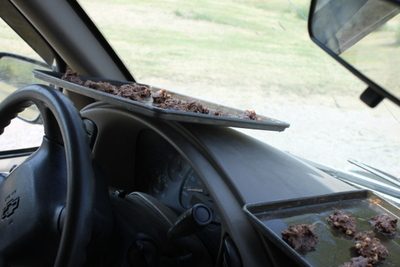 I highly recommend starting them earlier in the afternoon.  We did ours at 4 and let them bake until about 8 and they were still a tiny bit gooey, but the temps had dropped while they were finishing and the sun was going down.  It was also a slightly cooler day than it has been, "only" in the upper 90's.  For best results, bake when the temps are 100 or higher.  The prime hours for baking in a car would be sometime between 12 & 5 p.m.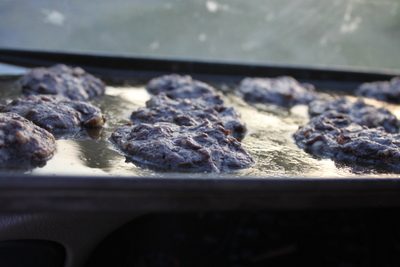 After they're done, pass them around and enjoy!  Delish!
Related posts: