Remember how I love all things easy when it comes to the kitchen and cooking? Yes, here I am again!  I also happen to LOVE Mexican food!  I could eat at our local Mexican restaurant every day if we could afford it.  Because of this love, I wanted to share with you some of my go-to Mexican meals when I'm in a pinch.  They use 3 simple ingredients.  Some of the recipes, you would add more to it, but this is the staple of the recipe.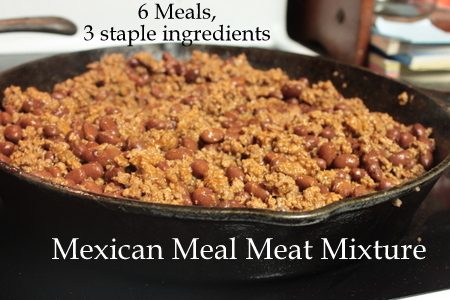 Ingredients
For every pound of ground beef, I add a can of chili beans.  Tonight, I made 3 pounds of ground beef and still only used one packet of taco seasoning and the  meat had a great taste, so you may not want to duplicate it per pound.  The reason that I made the taco seasoning optional is because the chili beans actually do flavor the meat a little, so if you happened to run out of seasoning, you can still do most of these meals without it.
So what can you make with this amazing meat mixture?  Here's my list.  Of course, there may be more, so if you know of something else, please add it in the comments!
Montereys – the meat mixture over a fried tortilla and topped with cheese, sour cream & salsa.
Taco Salad – meat mixture over chips and lettuce and then topped with cheese, sour cream & Salsa.
Deluxe Nachos – Meat mixture over chips & topped with lots of cheese.
Chili – meat mixture, including taco seasoning, add in diced tomatoes & green chilies, tomato sauce and diced onion.
Mexican Casserole – [1st layer] flour tortillas, [2nd layer]meat mixture, [3rd layer] cheese & chopped (green) onions, [4th layer] cover with tortillas [5th layer]spread 1 can of Rotel and 1 can Cream of chicken soup, mixed together  [6th layer] top with cheese
Tacos – meat mixture inside of taco shells, topped however you like your tacos.
I'm sure we could throw that into a flour tortilla, top it with cheese and wrap it up as a burrito, too.  I've never tried it, so I didn't include it.  I wanted to be sure to only offer you things that I've actually tried!  That way I know it's good, too!
Freezer Idea:  You could mix this up in a large quantity and freeze it in meal size quantities so that it's ready for whatever meal you're wanting that day.
What about you?  Do you have a favorite, super easy go to meal?
For more easy recipes, check out my Freezer to Slow Cooker section of the blog.
*This post contains affiliate links.
Related posts: