I was a brave soul.  I found a recipe for this Cheesy Chicken Pasta.  I'd never eaten it before, but it sounded so good, I decided to make it for a friend who had just had her baby.  I made a double batch.  One for her family and one for ours.  I'm just hoping her family liked it, because everyone but one person in our family LOVED it.  The one who didn't like it complained about the melted cheese.  Sometimes she loves melted cheese, other times, she doesn't.  I'm never quite sure when it will turn her off….or what exactly she doesn't like about melted cheese!  I happen to love it a little TOO much!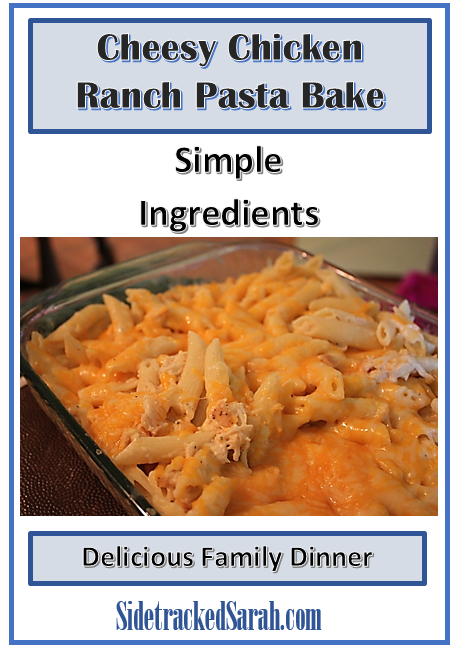 Tweet this recipe!
Click To Tweet
This is my modified version of the original recipe.  It calls for cubed or shredded chicken.  I made it super easy on myself and put several chicken breasts  in the crockpot covered with some Italian dressing and then shredded it when I was ready to put it in.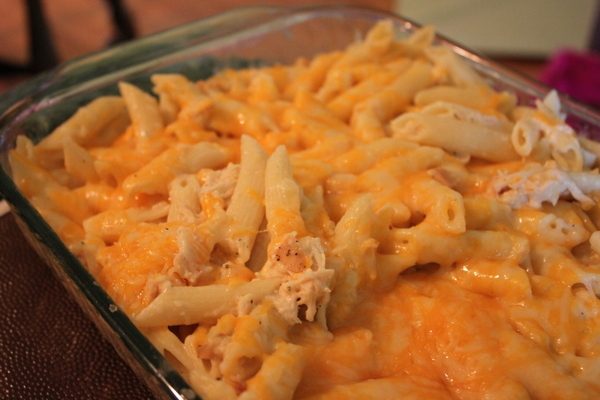 Cheesy Chicken Ranch Pasta Bake

Ingredients:

3 cups of  milk
1 (1 oz) pkg. Ranch Dressing Mix (not the dip blend)
3 C. shredded or cubed, cooked, chicken (I used 3 breasts)
1/8 teaspoon pepper
1 box of Penne Noodles
3 Cups of Colby Jack Cheese (or cheese of your choice)

Directions:

Mix the 3 cups of milk with the ranch dressing mix and pepper.  Simmer on the stove for about 20-25 minutes.  It should thicken.  Stir frequently.  While that is going, boil some water and cook your Penne noodles.

At the end of your 20-25 minutes add 1/2 of the cheese to the milk/ranch mix.  This should help it to thicken a bit, but it will still seem too runny.  It's OK.  Combine the sauce with the noodles and the chicken.  Mix well.  Pour into cake or lasagna pan.  Cover with remaining cheese and bake long enough for the cheese on top to melt.  Let cool and dig in!
I hope you enjoy it as much as we did!
*This post contains affiliate links.

Related posts: