[spacer height="20px"]
Do you know how to be a trim, healthy mama?  For me, I think I know a lot of the right answers, but sometimes, no matter what I do, it doesn't seem to help.  Plus, it seems like I learn something new about health and nutrition and then I don't have the time or money to implement it.  I mean, who has enough money to eat all organic?  and who has enough time to cook completely by scratch, soaking grains and nuts all in the name of health?  I guess those are rhetorical questions.  I do understand that there are plenty of people who can do that, but….overall, out of all my friends, there aren't many of us who can afford a complete whole foods eating plan.  We especially can't afford much time in the kitchen.  I, for one, do all that I can to minimize the amount of time I spend in the kitchen.
[spacer height="20px"]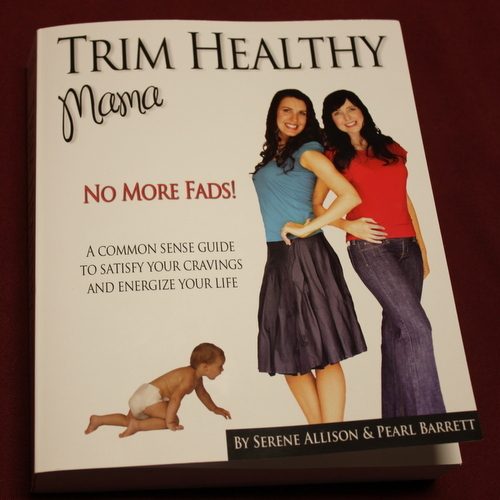 Trim Healthy Mama
Sisters, Serene Allison and Pearl Barrett have really gone above and beyond in providing some wonderful information while writing this book.  It could not have been an easy task, as the book has 607 pages in it, not including the index.  The pages of the book a are absolutely chock full of helpful information and recipes!
[spacer height="20px"]
Do you get a feeling of dread when thinking about healthy eating?  I remember as a child, I would dread the "healthy" foods that my mom would try to feed me.  I wanted to eat the normal foods that everyone else was eating.  I remember one day, discovering the sugar bowl and how yummy it was to just eat it plain when no one was looking.  My mom was not a dictator when it came to health food, but she was definitely health food conscious and took healthy eating very seriously.  In fact, she still does!
[spacer height="20px"]
I've been a subscriber of the Above Rubies magazine for years.  There's something about knowing there are plenty of other Christian women with lots of kids that are out there.  I love reading the stories and seeing the tips that the Campbell family shares several times a year.  After reading their health tips throughout the years, I knew the book, Trim Healthy Mama that Serene and Pearl were writing would be one of great value.
[spacer height="20px"]
Still Tastes Good!
In the book, they have outlined how to eat healthy while allowing it to still taste good!  I know, for me….I'm not going to choke it down if it doesn't have some enjoyment for me in it.  I'm not one who will just choose to drink that nasty tasting green smoothie with too much chard in it.  I will gag, I tell you.  🙂  I would rather just be fat.
[spacer height="20px"]
Backed by Scripture
Serene and Pearl have been researching healthy eating for years.  Pearl even transformed her junk food loving husband into a lover of healthful foods.  Serene's husband battled cancer.  They have tried out different diets, from Vegetarian/Vegan to Atkins, but found that they were not happy with any of them.  So where did they turn?  The Bible.  What?  The Bible tells us about how to eat, too?  Read Chapter 6 in their book and they will tell you all about what the Bible says about food.  In fact, you'll find that it has a whole lot to say about it!
[spacer height="20px"]
What Will I Be Eating?
Serene & Pearl walk you through which foods you can eat, and how to combine it with other foods to get the best "bang for your buck".  They will help you to eat S meals (Satisifying) and E meals (Energizing) and still lose weight if you need to.  They share all kinds of recipes and helps to get you going.
You have to learn to eat fats in a smart way, and you also have to eat some carbs in a smart way as both are necessary for optimum health.  Pull either of these macronutrients out adn you'll likely end up in an imbalanced state of health, craving so-called "forbidden" foods that God actually designed for you to eat.  Fighting off cravings only lasts for so long.  We want you to learn to indulge your cravings in wise yet yummy ways.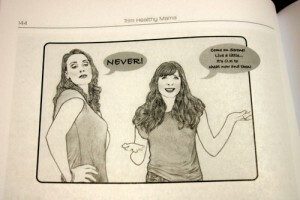 Recipes
I know you're wondering what kinds of recipes will be approved in this new healthy eating plan, aren't you?  Let me tell you, it all looks so tasty, I don't know where to begin.  You'll be eating things like:
[spacer height="20px"]
fajitas
salmon
beef stew
chicken curry
alfredo chicken
meat loaf
+many more very normal options.
They walk you through how to make each recipe a little more healthy and how to transform it into not adding inches to your waist.
[spacer height="20px"]
More than Food
Not only does this book talk about food, it also talks about other health related issues.  We're talking hormones, sex, fitness and they even help you to be more educated on your man's health.  Did you know that testosterone levels begin to decline at age 30?!  They tell you what to look for and what they recommend when and if you see some of the warning signs that health in these areas are deteriorating.
[spacer height="20px"]
What I Like Most About the Book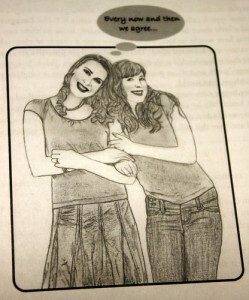 I love the silly cartoons that are intertwined throughout the book, but most of all, I love the no nonsense, nonjudgmental tone that the book carries with it.  They understand that moms are busy.  Moms want their soda or their coffee.   Moms want their chocolate, too.  It's OK.  They're not here to tell you that you're a horrible person for eating this or that.  They're here to help you find a plan that will work for you.  One that makes sense and that isn't too hard to follow, all while telling you the best way to do it inexpensively.  Now that's my kind of book!
[spacer height="20px"]
Buy It
You can buy Trim Healthy Mama at the Above Rubies Store for the cost of $30 (currently $5 off the normal price of $35).  Let me tell you, it is worth every penny!  If you click the link, you can get an overview of what all the chapters are called, to give you an idea of what you're getting.  There are 43 thorough chapters to educate you and to motivate you.
Win it
This giveaway has ended 
Would you like a chance to win Trim Healthy Mama?  Above Rubies is giving away a copy to one blessed winner.  All you have to do is enter in one of may ways in the Rafflecopter Widget below.  If you're reading this in an email, you'll need to click over to the blog to do that.
a Rafflecopter giveaway
[spacer height="20px"]

You're invited to a Facebook Party Tonight!

Don't forget that we're going to be talking about this book and other Meaningful Christmas ideas tonight on the Sidetracked Sarah Facebook wall during the Mommy Time Facebook Party.  We'll be sharing at 10:00 ET, 9:00 CT, 8:00 MT, 7:00 PT on my wall.  If this time is not convenient for you, my 3 co-hosts will be having their portion of the Mommy Time Facebook party 2 hours before and one hour after me.  They have different topics and more giveaways!  If you want to see what other topics we'll discuss, you can do so by going here.  Don't forget to RSVP for a chance at winning a prize package of Christmas gifts!
This post contains affiliate links