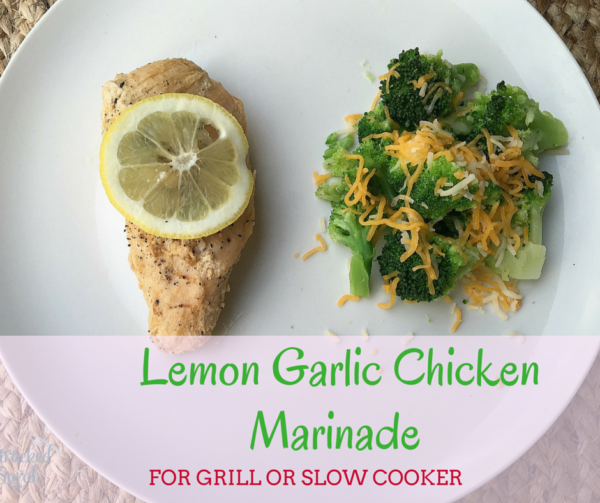 I love making chicken in the slow cooker.  I like how the slow cooker makes the meat so tender that it falls apart.  Of course, on the grill, it's pretty amazing, too. The grill gives it a different kind of taste that is absolutely delicious, too!  This lemon garlic chicken recipe is perfect for either one.
This recipe is another one of those easy recipes that starts out with a marinade (like Steak I shared last week).  You do have to plan ahead a little bit, since it's a marinade.  You can make it the same day by letting it marinade for a few hours, or you can put it in a freezer bag and make it as a Crockpot Freezer Meal if you prefer.
I really like having the occasional option to make some of my Crockpot Freezer Meals on the grill.  I'm guilty of forgetting to put my food in the slow cooker at times, so on days like this, I would just defrost the bag in the microwave, and then go outside and throw it on the grill.  Not quite as handy as getting to 5:00 and having dinner ready, but it's definitely a great Plan B!
Now, let's get to the recipe!
Lemon Garlic Chicken Marinade Recipe for Grill or Slow Cooker
Tweet this recipe!
Click To Tweet

Ingredients:
1/2 cup Olive Oil
1 TBSP Dijon Mustard
2 TBSP Garlic Powder
1 1/2 tsp Salt
1/2 tsp Black Pepper
1/2 cup Lemon Juice
1 Lemon, sliced
6-8 boneless, skinless Chicken Breasts
Instructions: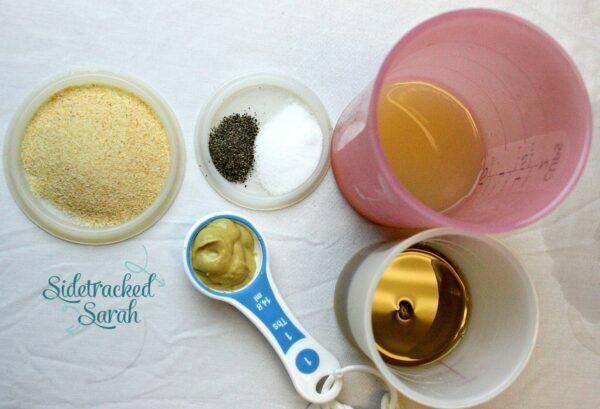 Place all ingredients in a one gallon sized freezer safe bag.
Close the bag and then swish the bag around until the chicken is nicely coated with ingredients.
Let sit in marinade for at least 2-3 hours in the refrigerator if you plan to grill it.
If you plan to cook in the slow cooker, let it site for as long as you can before you put in the slow cooker, but if you don't have time, it will be sitting in the ingredients all day while it's cooking, so it will still work out.
Cook on low for 7-8 hours in slow cooker or on high for 4 hours.
Or if cooking on grill, cook over medium heat, until chicken is done all the way through with no pink in the middle when you cut it.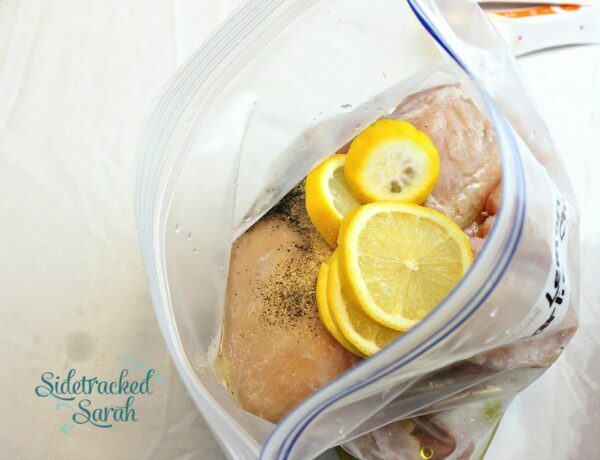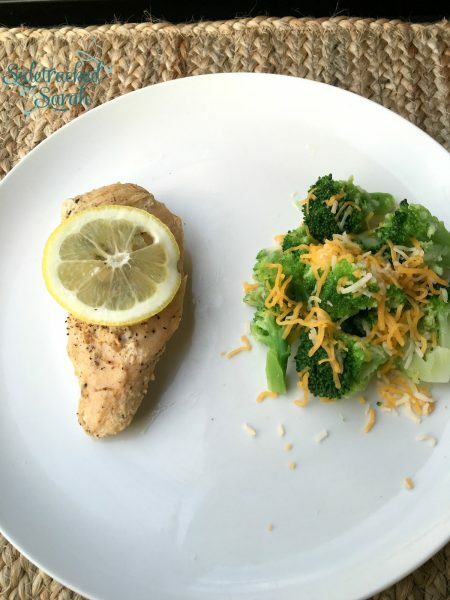 Freezer to Slow Cooker Instructions:
Slice lemon
Place all ingredients, including chicken into a freezer safe bag.
Seal bag and swish around to evenly coat the chicken.
Label the bag and lay flat to freeze.
The evening before you plan to cook it, remove bag from freezer and let defrost in the refrigerator or on counter if it won't be more than 5-6 hours.
Follow cooking instructions above.