Sometimes, it seems like there are only two types of people……
Organized People
or
Disorganized People
I've always fallen in the disorganized group.  I'm OK with a bit of a mess.  My car is often full of trash, my dishes are often overflowing in the sink and I find that I have to put things away all over the house on a regular basis.  I have several shelves and drawers in my house that need to be reorganized and it seems like as soon as I do it, I need to do it again.
I've definitely improved through the years, but I have always flew by the seat of my pants, when it comes to life.  I always take the hottest fire and tackle it.  But, sometimes I confuse myself.  Sometimes I forget what I was going to do, or do the wrong thing first.  I miss deadlines and as I get older and have more people and projects to manage, I find that I am  VERY forgetful!
In years past, I've been known to look dreamily at a planner and think, "I'm going to use a planner this year".  And…..then, when it came down to it, that planner that I thought I'd use, did not fit me at all.  It was too structured.  There were too many things to fill in.  It had too many things wrong with it and I could never find a planner that fit me.
So instead, I would leave myself random notes all around the house.
And I often lose those notes.
So then I started keeping notes in my phone.  Which definitely helps, but it's still a mess and I forget where I put the information sometimes.
So, this year, I decided I'd love to try my hand at using a planner again and I happened on the PERFECT one, for organized people AND disorganized people.
It's called the 2018 Daily Planner:  Homemaker's Friend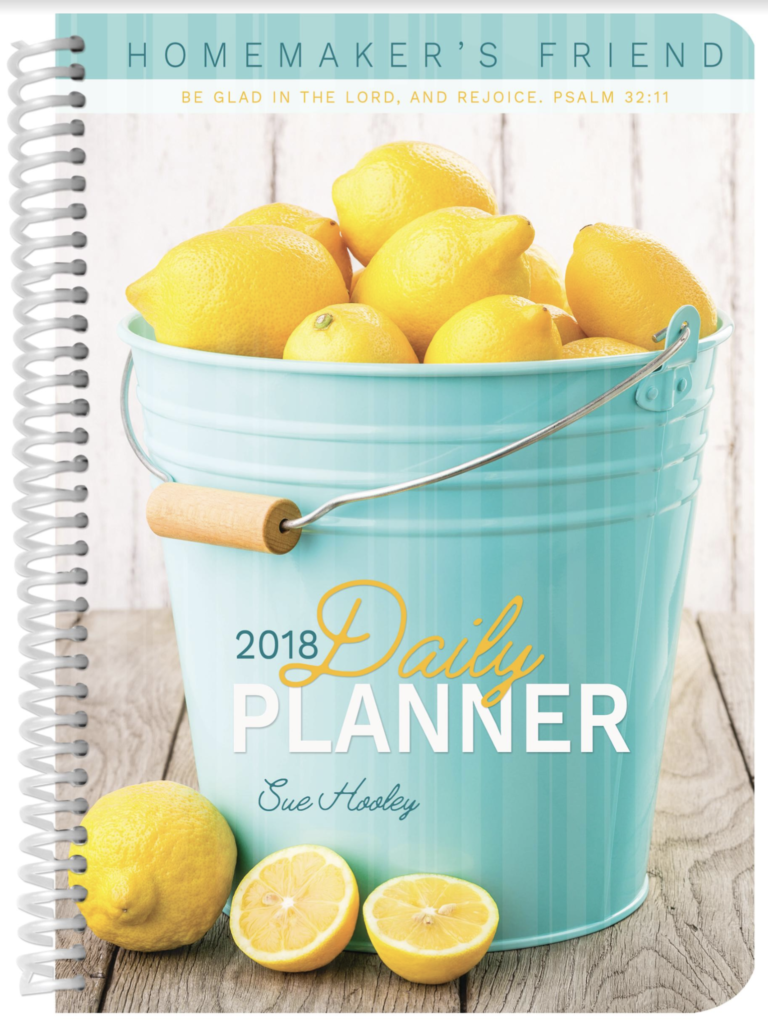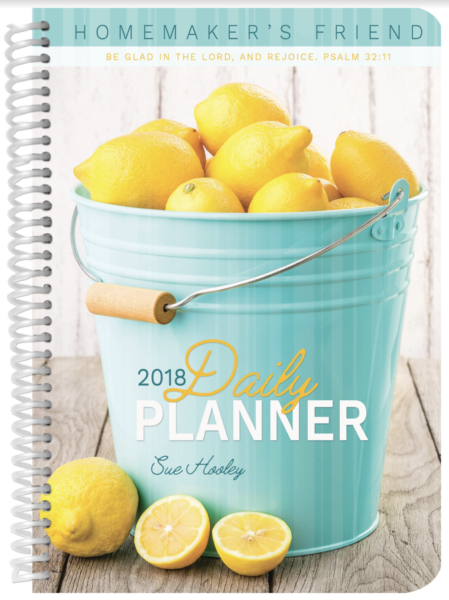 It's the planner that will do as much or as little as you want it to.  There's no hard fast rules.  It's flexible and that's why I love it and plan to start using it on December 4th, when my first weekly planner pages become available.
Why I Love my 2018 Homemakers Friend Daily Planner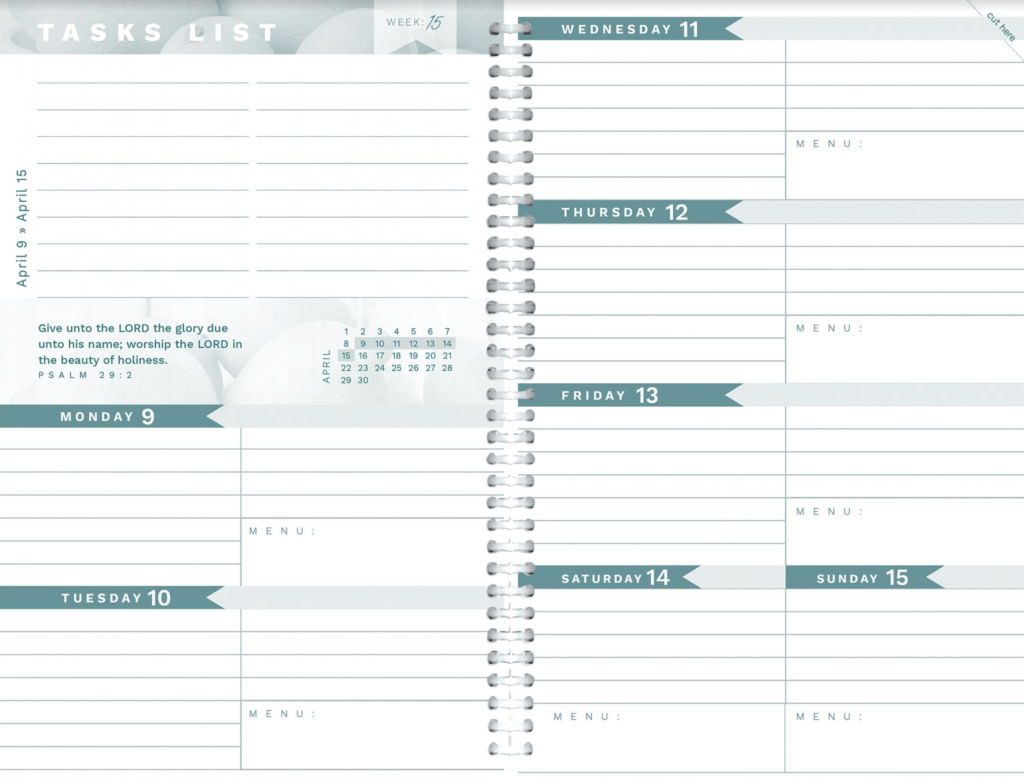 It gives me freedom!  When you're a busy mom like me, it's important to have freedom in your schedule.  I can pencil in everything that I know that I have for the month in the monthly calendar and then move to the weekly calendar and get a little more specific and write down some of the important tasks that I want to accomplish each day.  Some days I have a list of 10 things to get done, that are really not optional.  If I don't write them down, I'll forget something.  Many times, I write them down and forget where I wrote them down at.  If I do it right in my planner, then I'm more likely to accomplish my goals.  Plus, there's no timed slots.  You can write times in, but it doesn't all have to have a time to happen.  It's a great way to tackle your goals for the day and to always know what those goals actually are.
The Yearly Calendar.  This section has a place for basic notes AND it has 52 sections (for each week of the year) that are blank.  You can use them to journal, write prayer requests, birthdays or even funny things your kids said that week.  Did I tell you how much I love the flexibility of this planner yet?  🙂
It fits in my purse.  I don't carry a tiny purse, but I also don't carry a huge purse either and this book will fit right in my purse so that I can carry it with me shopping and wherever I need to go.  When I have tried other planners, they were much larger books or even a great big binder, and there was no way I was carrying it around wherever I went.
The perforated running shopping list.  Seriously guys, if I realize I need something from the store, I can add it to my list, then tear it out and send it with my husband OR I can stuff it in my pocket.  If I want to leave it in my planner and just use it like that, too, I can do so.  But perforated?!  I think that was a brilliant addition to this planner and one I'll use regularly.
The Tasks List.   Once again, these are left blank, so that you can use them as you see fit.  For me, I can see me using it when I'm planning an event (like a birthday party or Thanksgiving dinner), where I would jot down everything that needs done before that event.  Or, I could see me using it as a place to write down the steps that I want my kids to take when cleaning a certain room, as a reusable checklist that we can return to again and again.
The master shopping list.  Do you keep a master list of all of your grocery, cleaning and toiletry staples for your house?  I never have, but this would make it so simple to quickly run through and see if you're low on anything.  It's got all of the grocery categories you would need listed.  Then, you would add your master staples to the list and when you're ready, you can check to see if you're out of that item or not and add it to your list.  Or, you can just use that list at the grocery store to remind you what you're low on.
The fact that it starts in December of 2017.  Granted, this will not be exciting to someone who is purchasing this after December, but…if you own it early, like me, I'm excited that I get to start using it in December.  It'll help me keep my Christmas a little more in line!  Maybe, just maybe, I won't be too behind on everything I want to accomplish.
The 2 page weekly and monthly overviews.  I love how you can open your planner and see a month at a glance, stretched across 2 pages, and then a week at a glance, also stretched across the 2 pages, as the book lays open in that section.
The free downloadable menu plan printable sheets.  One thing I really appreciate about this planner, is that they provide printable menu pages, that you can put on your refrigerator.  They're for a month at a time.  You don't even have to own the planner to get them.  Just go here, to see what I'm talking about.
I don't have to print this planner though.  Like I said, this is an actual spiral bound book that you can buy and have shipped to your door.  It's 5.5″ x 8.5″ and the perfect size to carry in a medium sized purse.  The fact that it is spiral bound makes it easy for me to open it up, right where I need it and let it lay flat so that I can see what I need to see.
It's inexpensive!  The retail price is only $14.99, and I am going to give you a $2 off coupon!  It's the perfect Christmas present for your friends and family who have to manage their homes.  Whether they are a working mom, or a stay-at-home mom, it will work well for them.
The encouraging words scattered throughout.  There's so many encouraging little quotes that will encourage you as you go about your day.  Each week has a Scripture verse printed on it, and each section has an encouraging quote.  My plan is to read the Scripture each day, for just a bit more encouragement as I go about my daily tasks.
It's Pretty!  I don't know about you, but I love to look at beautiful things.  This planner, just makes me happy when I see it.  The colors are so nice and cheerful!
Free Printable Monthly Menu Planning Sheets
And don't forget, whether you buy the planner or not, you can download these Menu Planning sheets by going here.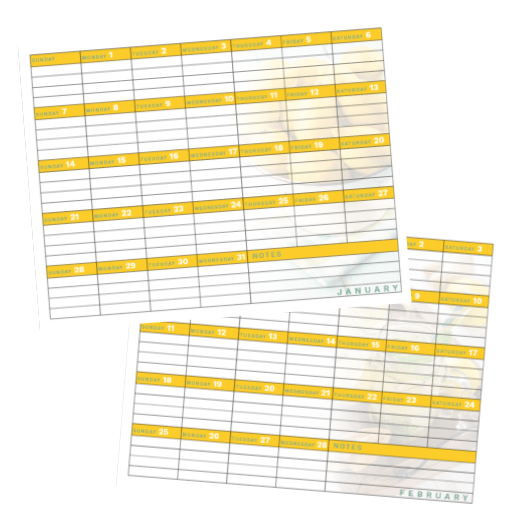 Want to Buy One?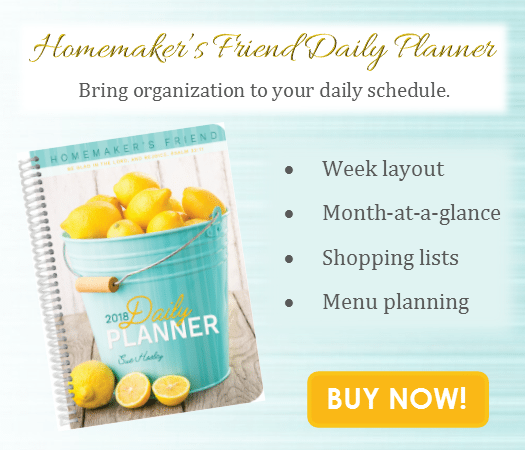 Go to Homemakers Depot and place your order on their site.  But be sure to use coupon code: SS200 to get $2 off!  If you order multiple copies (say for Christmas gifts), you can have free shipping if your order total is $49 or more.
Enter for a Chance to Win One!
Would you like the chance to win one?  Get entered into the giveaway by leaving a comment below, sharing what you like about the planner.  You can read even more about it here.
If you are the winner, your purchase price will be reimbursed (should you decide to purchase).