Before we start, many of you have asked me what the 
best slow cooker
 you should get is.  It varies for every family, but I tell you all about it here:  
Best Slow Cooker Choices
.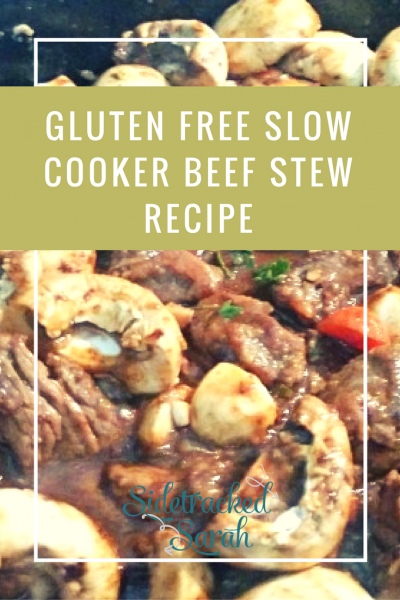 [clickToTweet tweet="Gluten Free Slow Cooker Beef Stew Recipe #sidetrackedsarah #slowcooked " quote="Tweet this recipe!"]
There are those days, and I know you all know of them, that you just want some comfort food.  Anything that can be prepared in a slow cooker, to me, is comforting.  The other day, we needed just that.  I hope you enjoy our recipe for Beef Stew.  Below is the gluten-free version, but you can always replace the gluten-free ingredients with conventional ones.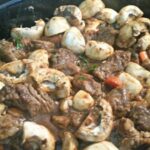 Print Recipe
Gluten Free Slow Cooker Beef Stew Recipe
Instructions
Add 1/4 cup olive oil in a large pan or dutch oven over medium-high heat.

Meanwhile, add flour in a shallow dish along with onion and garlic powder.

Dredge the stew meat in the flour, shaking any excess off.  Season the meat  with salt and pepper.  Cook the meat in the dutch oven, browning all sides (approximately 6-8 minutes total).

Remove browned meat and place in slow cooker.  Add pancetta, onion, carrots, celery to the dutch oven and cook for 8-10 minutes, until softened (not browned).  Stir occasionally adding about 1/2 teaspoon each of salt and pepper.

Add garlic and cook for an additional minute.  Stir occasionally.  Thyme and parsley are added next, cooking for one minute.

Remove vegetable and pancetta mixture from dutch oven and put into the slow cooker.

Now add wine, tomato paste and packet of demi-glace to dutch oven, stirring to combine.  Cook for 2 - 3 minutes, making sure to get all of the brown bits off the bottom of the pan using a wooden spoon - that's where all of the flavor is.

Add wine mixture to the slow cooker along with the mushrooms.  Stir all ingredients together and place slow cooker on high for 8 hours or until meat is fork tender.
Notes
Serve with wide noodles (gluten free!), rice or small roasted potatoes.  Pair this with your favorite red wine, preferably the varietal that was used to cook with!
Dana is a full time marketer who loves to spend time with her family.  She dubs herself a blogger of all things fashion, beauty, motherhood, gluten-free, work-related, reading – you name it!  Visit her at Pellerini Proclaims!