[This post contains affiliate links]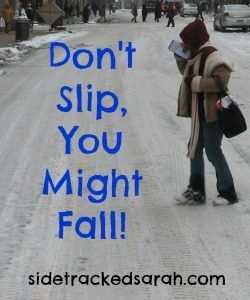 Our church had a float in our local town's Christmas parade this past weekend.  The float was chock full of kids, so I opted to walk along behind and supervise the edges, assuring that no kids went overboard.  All was going well, when the float began to go faster as we reached the end of the route.  Me and my big pregnant self, was trying to keep up the pace, when my foot hit one of the yellow lines in the middle of the road.  It was as slick as ice….but ironically; there was no ice on that line.  One leg went one way, the other leg went the other way and bam, I was on my rear end and side, in front of all the parade attendees and everyone walking along with us.  Can you say embarrassing?  That's actually an understatement.  EVERYBODY freaks out when a pregnant lady falls, and I mean everybody, lol.  I was quickly surrounded by about 10 people, all who were asking me if I was OK and if I was sure I was OK and if I was sure, that I was sure that I was OK.  Yes, I'm sure.  Just a little humiliated, that's all.  😛  Oh and that horrible scrape that I got on the top of my foot of all places.  That was throbbing like the dickens.  But yes, I'm OK.  We finished out the parade by returning to the church and eating cookies.  Now that makes it all better! 
My little story of slipping and falling, got me thinking though.  We moms, we get going in a great groove and think we're on top of the world.  But, we better be careful, as sometimes there's a slick spot on our route and we can "fall", just as easy as I fell on that road.  Our slips can come in many different ways.  We may be suddenly struggling with depression, disciplining the kids, keeping the house clean, getting the laundry done, getting dinner on the table, etc., when we never really struggled in that area before.
Why Do We Fall?
Why is it that we can be doing so well and suddenly crash?  It's frustrating isn't it?
There's many reasons, let's discuss them for a minute:
The Bible says that pride goes before a fall.  Sometimes this is God's way of humbling us.  He allows us to go through harder times so that we can learn from them.  I have learned so many great lessons from the harder times I've been through.  I would not be the person that I am today had I not had those trials.  Don't wish them away, just embrace them, learn from them and do better with each one.  Cling to God, He will give you that strength!
We're Not Taking Care of Ourselves
The Bible also says that our bodies are a temple of the Lord.  We are commanded to take care of that temple.  Why then, do we think we can survive on only 4-5 hours of sleep on a regular basis?  Why do we think it's OK not to drink enough water?  Why do we think we can eat unhealthy foods for years on end without suffering the consequences?  Let me encourage you to take a step of faith and move towards a healthier lifestyle.  If you don't know where to begin, may I encourage you to check out the book  Trim, Healthy Mama.
It is exhausting having to get up from your comfortable spot 10 times in a row to discipline that child, but consistency is the only way that you are going to see disciplined children.  Consistency is also the only way you're going to have a clean home, finished laundry, be caught up on your Bible reading, etc.  Being consistent should be the biggest priority in the lives of moms everywhere.
We are too busy worrying about what others will think or do, when really, all we ever need to be concerned with is: a) What will God think?; b)  Is this beneficial to my family?.  It really doesn't matter what your friend thinks you should do, as long as you have prayed about it and sought the counsel of both God and your family, specifically, your husband if you are married.  Knowing that you are within God's will, should be enough confidence to make you want to soar!
Big surprise, right?  We have a me attitude.  We want to make everything all about me.  Humans, by nature are very greedy, unkind, mean, and nasty.  We often have to work really hard to become like those fruits of the Spirit that He tells us about in Galations.  Love, joy, peace, patience, kindness, goodness, and self-control.  The truth is, even though these fruits don't come to us naturally, we can still obtain them.  First, we must pray and ask God to help us to become them, but we can't stop there.  We become like them, by becoming like God.  We become like God, by spending time with Him.  We spend time with Him, by talking to him regularly and learning all about Him and His ways In the Bible.  (Yes, we need to read it regularly!)
Do you feel yourself spiraling out of control?
Pause.
Take a Deep Breath.
Focus.
What is it that you need to do, to keep from slipping?
Is it one of things I've listed above?  Or is it something that hasn't been mentioned yet?  Whatever it is, YOU CAN DO IT!
If I can pray for you, leave me a comment and tell me how I can be praying.  I'd love the chance to be in prayer for you, fellow moms, while we're all in the trenches of motherhood together!  HUGS!
___________________________________________________
P.S.
If you are in the midst of finishing up (or even starting) your Christmas shopping, let me encourage you to check out these amazing deals that Amazon will be having today!!  I'm trying to finish my shopping up so that I can relax a lot of December, and Amazon always helps me with that!
If you want to see all the deals of the day, check out the Gold Box page and scroll down.
Remember, these offers sell out quickly. Browse the products now and set your reminders. Then, come back to make your purchase.
Beginning at 5:40 AM CST/ 3:40 AM PST


Franklin Sports Rod Hockey Pro Game
Beginning at 7:50 AM CST/ 5:50 AM PST


Crayola 5.1 MP Digital Camera, Green (28070)
Beginning at 9 AM CST/ 7 AM PST


Lionel Wizard of Oz Little Lines Playset

Zoolarious Animal Jokes for Kids
Beginning at 10 AM CST/ 8 AM PST


Fisher-Price Coco Sorbet Soothing Motions Glider
Beginning at 10:20 AM CST/ 8:20 AM PST


Doctor Who: The Doctors Revisited 1-4
Beginning at 11:00 AM CST/ 9:00 AM PST


Lionel Little Lines Polar Express Train Set
Beginning at 11:10 AM CST/ 9:10 AM PST


Disney's Planes video games
Beginning at 12:00 PM CST/ 10:00 AM PST


Estes Maxi Alpha III Model Rocket Kit
Beginning at 12:40 PM CST/ 10:40 AM PST


ASUS Q200E-BSI3T08 11.6-Inch Touchscreen Laptop (Slate Grey)

Franklin Sports Flag Football Field Set
Beginning at 1:00 PM CST/ 11:00 AM PST


Skip Hop Treetop Friends Flapping Owl Pull Toy
Beginning at 2:00 PM CST/ 12:00 PM PST


Lionel Polar Express Remote Train Set – O-Gauge

Star Wars Millennium Falcon Model Kit
Beginning at 2:40 PM CST/ 12:40 PM PST


Diggin Active Skuut Wooden Balance Bike (Red)
Beginning at 3:00 PM CST/ 1:00 PM PST


LEGO Education DUPLO Creative Builder Set 745000 (124 Bricks, 4 Building Cards)
Beginning at 4:00 PM CST/ 2:00 PM PST


Fisher-Price 3-in-1 Apptivity Entertainer

Life-Like Champions Speedway Fold n' Go Kid Powered Slot Car Race Set