The latest e-Cookbook from Sidetracked Sarah is here!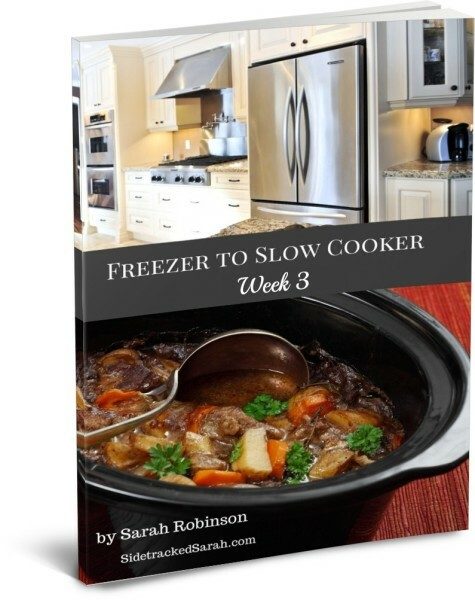 Freezer to Slow Cooker, Week 3 is now available for purchase for a low price of $3.99.
Crockpot Freezer Meals are a hot commodity here on SidetrackedSarah!  Over 13,000 people have subscribed by email to Sidetracked Sarah, most of whom arrived because they wanted to get their hands on a free printable menu!
You asked and I listened.  You wanted to know if I would convert the other menus on my site into a printable menu.   Slowly, but surely, I'm getting them done.  Today, I'm releasing Week 3 of the printable menus!   If you love the Crockpot Freezer Meals but want an easier way to print them, this is your chance.  For just $3.99, you can have that week's menu in a PDF file.  This way you can have it printed out on your counter while you're cooking and not leaning over a tablet, phone or computer!
In this very special cookbook, you'll find:
Photos of each recipe
6 recipes
Shopping list
Assembly instructions
Labels for your freezer bags
The following recipes will be included:
Slow Cooker Potato Soup
Roast, Potatoes & Carrots
BBQ Chicken Sandwiches
Italian Chicken
Montereys
Slow Cooker Pinto Beans
Many others have said what an amazing difference these meal plans have made in their lives!  Just the fact that you can prepare all your dinners for the week in an hour or two is amazing!  You'll save so much time, the $3 you'll spend is more than worth it!  Many people have shared how much their grocery bill goes down, too.
So what are you waiting for?  Buy it today!
If you're also interested in the other printable menus, you can go here:
and if you'd like an absolutely free one, just subscribe by email and one will be emailed to you immediately!